2011 NBA Mock Draft: Will New Jersey Nets Go Big in the 2011 NBA Draft?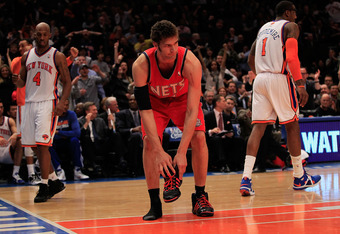 2011 NBA Mock Draft Has New Jersey Nets Needing Every Position
The New Jersey Nets traded away what would have been the 3rd overall selection in the 2011 NBA draft in their deal for Deron Williams. They acquired the All-Star point guard in hopes that he will sign an extension and agree to become the face of the franchise during their transition to Brooklyn.
The Nets have a lot of holes at positions besides PG and center, and will look to fill one of them with their first round draft pick they acquired from the Lakers in the Sasha Vujacic deal.
Nets' GM Billy King has been looking at big men in workouts, which is surprising considering they took PF Derrick Favors with the 3rd overall selection last year and have had Brook Lopez develop nicely for them. They also are hoping to retain Kris Humphries, who had a career season last year coinciding with his dating of Kim Kardashian.
Billy King may be working out a ton of big men as a screen, as many people see them taking Boston College guard Reggie Jackson. Jackson is an electric scorer and could play either guard position at the next level. He would be a great backup to Deron Williams, and possibly a starter if Williams decides to leave after his contract is up.
If the Nets want to have a successful 2011-2012 season, they need to snatch a prospect who can contribute immediately, as they had an awful year and need to have a good season as they get ready to challenge the Knicks for fan support in the Big Apple.
No. 1 Cleveland Cavaliers: Kyrie Irving
No. 2 Minnesota Timberwolves: Derrick Williams
No. 3 Utah Jazz: Brandon Knight
No. 4 Cleveland Cavaliers: Enes Kanter
No. 5 Toronto Raptors: Jonas Valanciunas
No. 6 Washington Wizards: Kawhi Leonard
No. 7 Sacramento Kings: Kemba Walker
No. 8 Detroit Pistons: Jan Vesely
No. 9 Charlotte Bobcats: Marcus Morris
No. 10 Milwaukee Bucks: Klay Thompson
No. 11 Golden State Warriors: Alec Burks
No. 12 Utah Jazz: Tristan Thompson
No. 13 Phoenix Suns: Jimmer Fredette
No. 14 Houston Rockets: Chris Singleton
No. 15 Indiana Pacers: Bismack Biyombo
No. 16 Philadelphia 76ers: Donatas Montiejunas
No. 17 New York Knicks: Josh Selby
No. 18 Washington Wizards: Marshon Brooks
No. 19 Charlotte Bobcats: Markieff Morris
No. 20 Minnesota Timberwolves: Davis Bertans
No. 21 Portland Trail Blazers: Jordan Hamilton
No. 22 Denver Nuggets: Tobias Harris
No. 23 Houston Rockets: Darius Morris
No. 24 Oklahoma City Thunder: Reggie Jackson
No. 25 Boston Celtics: Nikola Vucevic
No. 26 Dallas Mavericks: Trey Thompkins
No. 27 New Jersey Nets: Justin Harper
No. 28 Chicago Bulls: Kenneth Faried
No. 29 San Antonio Spurs: Jeremy Tyler
No. 30 Chicago Bulls: Tyler Honeycutt
Most recent updates:
This article is
What is the duplicate article?
Why is this article offensive?
Where is this article plagiarized from?
Why is this article poorly edited?