2011 NBA Mock Draft: Will Cleveland Cavaliers Make Playoff Run After 2011 Draft?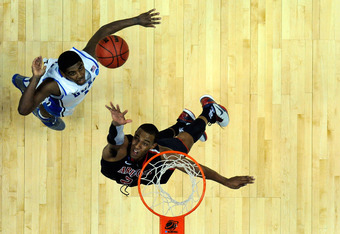 2011 NBA Mock Draft Has Cavaliers Making Playoff Push After Draft
The Cavaliers have the first and fourth overall selections in the 2011 NBA Draft. They are primed to pick up two great assets in the lottery to help rebuild a team and city deeply wounded by the departure of LeBron James.
Barring something crazy happening, such as the Cavaliers selecting Bismack Biyombo with the first overall selection, they will likely draft Kyrie Irving first. They are currently trying to get a deal in place to move up their 4th pick to the 2nd spot and take Derrick Williams as well.
If the Cavaliers are able to pull off a deal in time and get the first two selections of the 2011 NBA Draft, they might have the pieces in place to make the playoffs as an 8 seed in the East.
J.J. Hickson, a healthy Anderson Varejao, Kyrie Irving, Derrick Williams, and whatever body they throw at shooting guard (which could potentially be a veteran acquired by the large trade exception the Cavs currently hold), might just be a good enough team to reach the playoffs in the East. The East has five to six solid teams and the fall off is dramatic from there.
If the Cavs can get a few surprising wins against some of the better teams over the course of the season, they might find themselves in the 2012 NBA Playoffs.
No. 1 Cleveland Cavaliers: Kyrie Irving
No. 2 Minnesota Timberwolves: Derrick Williams
No. 3 Utah Jazz: Brandon Knight
No. 4 Cleveland Cavaliers: Enes Kanter
No. 5 Toronto Raptors: Jonas Valanciunas
No. 6 Washington Wizards: Kawhi Leonard
No. 7 Sacramento Kings: Kemba Walker
No. 8 Detroit Pistons: Jan Vesely
No. 9 Charlotte Bobcats: Marcus Morris
No. 10 Milwaukee Bucks: Klay Thompson
No. 11 Golden State Warriors: Alec Burks
No. 12 Utah Jazz: Tristan Thompson
No. 13 Phoenix Suns: Jimmer Fredette
No. 14 Houston Rockets: Chris Singleton
No. 15 Indiana Pacers: Bismack Biyombo
No. 16 Philadelphia 76ers: Donatas Montiejunas
No. 17 New York Knicks: Josh Selby
No. 18 Washington Wizards: Marshon Brooks
No. 19 Charlotte Bobcats: Markieff Morris
No. 20 Minnesota Timberwolves: Davis Bertans
No. 21 Portland Trail Blazers: Jordan Hamilton
No. 22 Denver Nuggets: Tobias Harris
No. 23 Houston Rockets: Darius Morris
No. 24 Oklahoma City Thunder: Reggie Jackson
No. 25 Boston Celtics: Nikola Vucevic
No. 26 Dallas Mavericks: Trey Thompkins
No. 27 New Jersey Nets: Justin Harper
No. 28 Chicago Bulls: Kenneth Faried
No. 29 San Antonio Spurs: Jeremy Tyler
No. 30 Chicago Bulls: Tyler Honeycutt
Most recent updates:
This article is
What is the duplicate article?
Why is this article offensive?
Where is this article plagiarized from?
Why is this article poorly edited?