Miami Heat: How Many Championships Does LeBron James Have to Win?
July 8, 2011
Mike Ehrmann/Getty Images
I was reading another sports website the other day, and it had asked its so-called experts if LeBron James had made the right decision in going to Miami—as if you can accurately answer that question after one season. The general consensus was yes, he had, and the so-called experts cited a variety of bullcrap reasons for this.
Not one single person said he/she couldn't answer the question yet, that more time was needed to see how it turns out. It seems pretty obvious to me that if the Heat don't win any championships while James is there it will be a colossal failure, especially if the Bulls win two or three titles over the next years.
That got me wondering how many titles James needs to win for this whole thing to be justified.
What I mean is this: What if the Heat win the championship next season but Dwyane Wade starts to break down and the Heat face salary cap issues that don't let them add to the team? What if, instead of building on that core and getting better—like all of the idiot talking heads believe—they aren't able to add anything and this really is the best Heat team we're going to see? What if they only win one championship? What if they win next season but only manage to win one more after that?
James signed with the Heat and talked about winning six or seven championships. Is it enough if he only wins one or two?
Realistically, that is a more likely scenario than six or seven. The owners are adamant they want a hard cap. They're adamant they need a way to limit player movement. They're not going to allow there to be another season without some form of those things. Any new CBA is going to be prohibitive to the Heat building on their current roster, not in an effort to help it. If the owners get their hard cap the Heat may be facing a scenario where they have to move one of their "Big Three" instead of adding to them. If that happens they are not going to be better. Say what you want about Chris Bosh, he was the reason the Heat beat the Bulls in the Eastern Conference Finals. What are they like without him?
You also have to look at the current list of the greatest of all time.
Michael Jordan has six rings. Kareem Abdul-Jabbar has six. Magic Johnson has five. Bill Russell has 11. Kobe Bryant has five. Even Tim Duncan has four. Hell, Robert Horry has six. If James plays long enough to break Abdul-Jabbar's point record—which he may but it will be difficult—but he only has two championships, is it enough? Will the damage going to Miami caused his legacy, the increasing appearance that he isn't good enough to win on his own or lift a team to a title, the fact he actively sought out another superstar, will those things hurt him more in the long run than those two championships? This is a guy Rick Bucher predicted would win three championships—in Cleveland. After he signed his initial extension.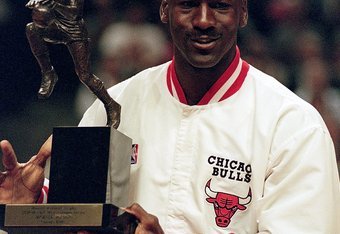 Jonathan Daniel/Getty Images
Here we are four seasons later and he not only hasn't won a championship, but he never took Cleveland back to the NBA Finals. His last two years in Cleveland were major letdowns as his teams underperformed during the playoffs. He underperformed in the playoffs. Then that massive flame out in the finals against Dallas.
Forget the MJ comparisons, which one "expert" used as the reason he shouldn't have gone to Chicago (as if they wouldn't have won the championship if he'd have gone there); right now James is more Dominique Wilkins and Karl Malone than he is anything like MJ. 
I know one thing for sure, though. If he retires and Danny Ferry and Shannon Brown still have more championships than James, his dream of being in the greatest-of-all-time conversation will be a nightmare.