2011 Stanley Cup Finals: The View from Vancouver on the First Period of Game 5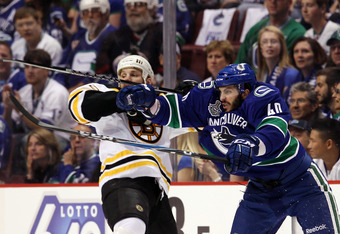 VANCOUVER - Some thoughts from Rogers Arena on the first period of the Boston Bruins and Vancouver Canucks in Game 5 of the Stanley Cup Finals.
The ice quality is much better than it was in Boston. Pass are crisper, and the ice crews are doing a better job of scraping up all the snow between whistles. This should hopefully help the Canucks, who by all accounts are the more skilled team.
The crowd is as loud as they were in Games 1 and 2. No fear from the fans so far.
Reminiscent of the 2010 Olympics, there are a lot of Canadian flags flying in the arena during the national anthems. The Canucks may not be Canada's team, but it may be becoming more of a Canada vs USA thing as the series goes on.
The officials are keeping a tighter lid on tonight's game. Milan Lucic and Alex Burrows were jostling for position off a draw, and after being warned once, both were hit with minors.
Raffi Torres got called for tripping less than two minutes in, a call that would have gone unpenalized in earlier games. Andrew Alberts got a penalty for roughing that wouldn't have even draw a look from the refs in earlier games either.
We'll have to see if the power plays even out later, right now Boston has had 3, and the Canucks none.
The Canucks have done a good job of playing whistle to whistle, but they seem to be looking for the big hit more often than is safe tonight. It has led to a few Boston rushes, but has also engaged the crowd.
Manny Malhotra drew huge "Manny! Manny!" cheers when he chipped the puck out of the zone and took it end to end to shoot on Thomas while on the PK, single handedly killing around 30 seconds.
Alex Edler has thrown some big hits in the game, including dropping Krejci on the penalty kill. Hopefully that bodes well for his physicality over the entire game.
Mason Raymond and Jannik Hansen are flying tonight, using their speed to throw several big hits, including putting Hansen putting Andrew Ference into the Canucks bench. They could stand to use that speed more in offense plays though, if the Canucks can stop taking penalties.
Tim Thomas has looked beatable tonight, bobbling pucks and giving up rebounds that he wasn't in the earlier games.
Conversely Roberto Luongo is looking good, and he has had to be with his team being out shot 12 to 6
We are about to head into the second period, which was the bane of the Canucks in Games 3 and 4. We'll have to see if they can turn that around.
Most recent updates:
This article is
What is the duplicate article?
Why is this article offensive?
Where is this article plagiarized from?
Why is this article poorly edited?

Vancouver Canucks: Like this team?