FIFA, Cristiano Ronaldo and Oil Money: Top 10 Problems in World Soccer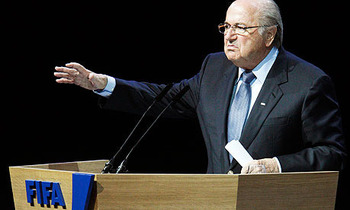 Sepp Heil!
These days, it seems that every silver lining in the world of football has a dark cloud towering above it, smothering it with its own shiny bands of hope.
Every time Lionel Messi enthralls the world with an exquisite chip, the chip on Cristiano Ronaldo's shoulder seems to double in size. Every time Ashley Young gets around another defence and swings in a beautiful ball, another dozen women receive a photo of...well, Ashley Young swinging those balls round back.
Mario Balotelli recently engaged Joey Barton in a fight to the death for the dubious honour of most despised footballer ever.
Additionally, there is the influx of Russian oil barons, Qatari billionaires and Indian chicken farmers who wish to treat English Premier League clubs as their personal playthings.
While Russia sent in the oil baron with a shady past, the UAE sent in a Sheikh and even Thailand managed to contribute a disgraced Prime Minister. However, the Indian representative at the spoiled-brat owners table turned out to be a group of chicken farmers who apparently know as much about football contracts as Emile Heskey does about goalscoring.
Factor in the rampant corruption involving the Fuhrer Internationale de Football Association—the artist formerly known as FIFA—and the people that should be the cure are quickly turning into the ("Sepptically" transmitted) disease.
So join us on a (mostly) light-hearted journey from the deepest abscess recess of Ashley Cole's loins, through the darkest corner of Ashley Cole's cell phone, to the barrel-bottom of Ashley Cole's air rifle as we reveal the Top 10 Problems plaguing the beautiful game today...
10. Encroachment by the International Olympic Committee: Sergio Busquets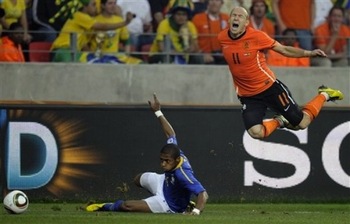 Swan Dive!
To start off, the easiest topic was tackled. No one can debate that diving and play-acting leaves a bigger stain on the sport of football than John Terry left on Wayne Bridge's sheets.
It is unclear whether diving has become prevalent only during the last couple of decades or if video replays have attracted a firestorm of media attention to the subject. But some of the recent high-profile incidents of play-acting on the football pitch have become just another reason to push for video technology.
Whether Arjen Robben is showing the swans of Amsterdam how it's done (pic), Sergio Busquets and Dani Alves are practicing for their synchronized event at the 2012 Olympics or whether Bryan Carrasco is playing his opponent like a fiddle that packs a punch, it is clear that this disgraceful behaviour must be slide-tackled into oblivion.
Note: For all the abuse that critics hurl at the sport, they would do well to keep in mind that baseball, boxing, hockey, Formula 1 and every other sport has its fair share of cheats. And "critics" is a generous term seeing as Wayne Rooney with Down syndrome would exceed the average IQ of those that "hate football because it is a sissy sport full of divers" (actual quote from elsewhere on B/R—*sigh*).
In hockey, they call it "embellishment" or "selling a call." In boxing it is "biting, chewing, digesting, regurgitating and spitting out Holyfield's ear" (or, you know, throwing a match). In baseball they call it "being shot so full of drugs that you hit 762 homers." At least football fans have the good grace to spot, label and denounce the cheats in our sport.
9. Metrosexual Madness: Cristiano Ronaldo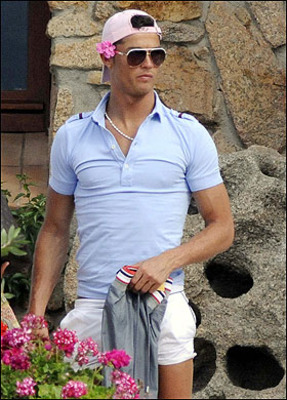 Pretty In Pink
There was a time when footballers were real men. Men in the mold of Chuck Norris: rough, tough, gruff and buff.
That was the day of legendary moustaches. That was the day when even those guys unfortunate enough to be named Franz played on despite dislocating a shoulder. That was the day when any player haranguing the referee to send off an opponent would receive a boot from Oliver Kahn so far up the backside that it would tickle his tonsils.
In the past, Cristiano Ronaldo was spotted (pic) auditioning for a role on "Sailor Poon: Revenge of the Hot Pants". And recently, Messrs Joe Hart and Gareth Barry were spotted on vacation: as Barry rubbed lotion down the back of his Manchester City teammate, rumour has it that he giggled and ask Hart who his favourite Backstreet Boy was.
So it seems that now is the age of the haute-couture footballer. In an era where medleys of mohawk and mullet exist in harmony with hair-removal creams, tanning creams and moisturizing lotion, traditional football fans feel slightly disoriented—their fashion compass spinning wildly.
Which begs the question: when did our heroes—our warriors on the pitch—become content to wax away their dignity along with their man-jewels?
Serious Edit: It has been brought to our attention that this section may come off as slightly homophobic and/or Cristo-phobic. No such offence is intended, and any and all jokes are purely that: comic licence. Please note that the author is regularly on the giving and receiving end of as much man-love as the average football fan and has no issues with homophobia. With Cristiano Ronaldo, on the other hand...
8. Hypersexual Histrionics: John Terry, Ashley Cole, Wayne Rooney, Peter Crouch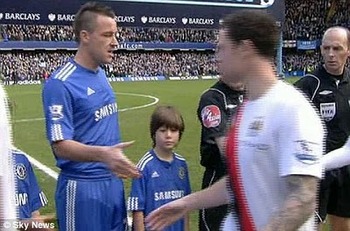 Several rumours are circulating that the Queen is considering several England players for a knighthood as part of her upcoming honours list. These rumours caused much uproar in the country until a spokesperson clarified:
"The impending honours have nothing to do with our nation's disastrous performance in the World Cup. The Queen merely felt that certain sportsmen merit recognition for their commitment to upholding the marital values in the image of illustrious figures such as the Prince of Wales."
With that in mind, we present the newest knights of the British Empire, for own goals in both the arenas of football as well as marriage:
- to Wayne Rooney for his version of the Bruno Mars hit song, "I'll catch a granny for ya"
- to Peter Crouch for showing Spanish prostitutes that footballers can be gentlemen
- to John Terry (pic) for his cover of the Chili Peppers song "Under the Bridge", beginning with the words, "Wayne, mate, I was showing Vanessa how to take a penalty—I slipped and she fell"
- to Ashley Cole for teaching an entire generation of girls to beware the text messages they open
The author wishes to clarify that Ryan Giggs has been left off this list because the allegations against him (at least those that have surfaced thus far) remain unproven, because the author has idolized Giggs for many a year and because he can scarcely believe what he is hearing. And finally because there remains that last shred of hope—however deluded it may be—that Giggs will turn out to be innocent.
7. Mes Que Un Clown: FC Barcelona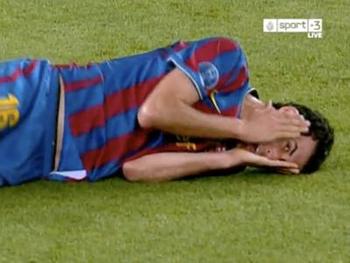 Peekaboo! Sergio Busquets Unsure If the Hide-and-Seek Event Is Over
There will be those who agree and more certainly, there will be those who disagree. But before lighting the fuse and hurling your vitriol through the editor's windows, give it a read.
Barcelona are undoubtedly the best footballing team in the world. They could pass the road runner into submission. They could pass their way through a brick wall. And on the biggest stage of all, they made the second-best team in the world—Manchester United—look exactly that. Second best.
So why? Why the diving? Why the play-acting? Why the intimidation of referees? Why ruin the beautiful game that they, more than anyone else, have done so much to promote?
It can be argued that this only surfaced during the Clasicos, when they were being shunted about by a more physical Real Madrid. So what? It was popular knowledge that Real Madrid had no intention of playing football.
It was also popular knowledge that Barcelona clearly had the talent to make Madrid look distinctly ordinary despite those tactics.
The original fire of the Clasicos may have died and gone, but that questions burns stronger than ever. What if Barca had taken up the challenge? What if they had not descended to Madrid's level—or even lower, for that matter?
To be fairly honest, the what ifs that linger on from the spate of Clasicos are more torturous than the six hours of our lives wasted in watching those farcical games.
And while everyone knew the ruckus that Real Madrid would create, fans of the beautiful game looked to Barcelona—who embody everything that is good about the game—to set an example. Only for a couple of rotten apples to spoil the basket.
For shame, Sergio. Mes que un club? Mes que un clown, more like...
6. Just Because They Can: Real Madrid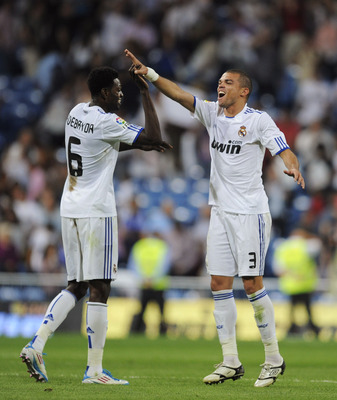 Relax, Thats Not What You Think...
Denis Doyle/Getty Images
Just for the record, let it be stated that Mourinho is a great manager. His work at Porto did not depend on money, his work at Chelsea did not depend on negative tactics and his work at Inter produced a Champions League win from a team with which Rafa Benitez struggled to beat Tottenham Hotspur.
Some find his tactics too defensive, others judge them to be unsporting. Putting out a defensive team is not unsporting behaviour. Neither is demanding that your players give every last inch of themselves.
And when such demands are made, risky challenges are bound to occur. Claiming that he intended to "kick Barcelona off the pitch" is both unwarranted and short-sighted.
As such, the problem with Los Blancos is not Mourinho. Rather, the problem lies with Real Madrid's footballing philosophy. As part-time club president and full-time madman Florentino Perez is learning, "buy every single player and when that is done, buy everything else" is not a sustainable footballing philosophy.
It was rumoured that Perez even tried to buy Paul the (psychic) Octopus at one point, claiming that, above all, he valued Paul's vision and his ability to kick eight shades of sh** out of the opposition. And while that is a really verbose way to make a point, the hope is that the laughs provided along the way will earn your forgiveness.
Sir Alex Ferguson was once quoted as growling that he wouldn't "sell that bunch a virus." And his words ring true in that the character and attitude that has permeated this historic club is nowadays finding its way into a host of other clubs.
Take the multitudes of promising youngsters in the academy system—Alvaro Negredo, for instance. He would have been a great front man if Madrid had given him the slightest whiff of first-team football. Instead, they went chasing after the greener grass on the other side that was Karim Benzema.
Net result: Negredo is scoring for fun at Sevilla, while Benzema continues to be a divisive figure at best among the Bernabeu faithful.
And then there are the fans. Obviously there are hordes of loyal Madridistas. However, it is the select few who boo their team whenever things go even slightly against them that ruin the reputation for everyone.
Those fans would do well to remember that victory is never a birth right. It has always had to be wrested away from the opponent, and it is impossible to succeed every time. Those players leave their blood, sweat and tears on the field every week, and it is beneath us as fans to deride them when things go against us.
Take it from Blackpool fans—learn to treasure the victories, forget the losses and most of all, never boo your players. That is loyalty, that is passion and that is an example some of today's Bernabeu patrons could learn from.
5. Oil Barons, Oil Sheikhs, Slippery Thais and...Poultry Farmers?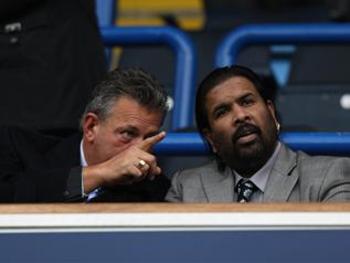 "That Is A Football"
Anyone who has observed the rise of the "Roman Empire" in London is quite aware that the eccentric (for editorial and legal reasons) Russian billionaire should leave the managerial decisions at Chelsea to the men he pays several millions to make those decisions for him.
Abramovich has made two key signings over the last few seasons. Both were high profile, both were helicoptered in over the heads of the respective managers at the time and both destroyed the team dynamic.
Oh, and both blew up in Roman's face like the Molotov cocktail that this author will probably find in his car tomorrow morning.
At a far lower-profile club in Birmingham, American owner Randy Lerner relieved Martin O'Neill of his duties over a request for more transfer funds. This was the same manager who took Aston Villa from regularly flirting with that greasy old boyfriend—relegation—at a dingy bar to almost getting their name on the guest-list for the swanky Champions League.
Then there is the case of the Sheikh who paid £32m for Robinho, £26m for James Milner and £28m for Edin Dzeko, inflating the market to such an extent that Blackburn's new owners are asking £25m for unproven defender Phil Jones...
...which brings us to Venky's. It is one thing to invest in a football club and leave the negotiating of transfer fees to the experts on your payroll. It is completely another to invest in the club, sack the manager, complain about the instability and then attempt to misinterpret a player's contract so as to net an extra £10m.
Especially when your own legal team is asking you, in the politest of terms, if you could possibly extricate your head from your backside.
4. Hooligans: Only a Shadow of Days Past, but a Shade Too Much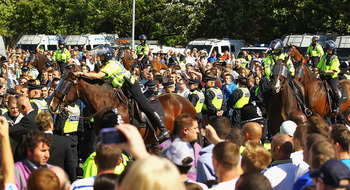 Matthew Lewis/Getty Images
Having left office as one of the most hated Prime Ministers of all time, the crackdown on hooliganism in football is easily the best thing about Margaret Thatcher's time at 10 Downing Street.
Yet, the ugly beast refuses to die down. Most recently, it reared its head when Leeds met fierce rivals Millwall and groups of supporters clashed. When it was revealed that some were as old as 65, a small portion of readers were suitably impressed, though the thought that crossed most minds had to be, "Oh boy, there goes grandpa, thinking he's in Vietnam again."
Seriously Grandpa, fighting at 65? If you miss Grandma that badly, I told you Wayne Rooney has the hook-ups. For God's sake!
3. Racism: Sergio Busquets, That German Fan and Half of Eastern Europe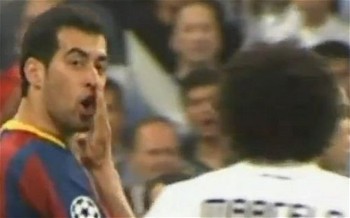 If there is one player who would appear twice on a list of problems we hate about football, trust that it would be Sergio Busquets. Whether or not he called Marcelo a monkey (and let us face it, he clearly did), racism is not something we like to see tarnish the reputation of the sport.
Then there was the fan who threw a banana at Neymar during a Brazil-Scotland friendly. When it turned out the fan was a German, Scottish supporters demanded an apology from the stunned Neymar.
Neymar should indeed apologize for forcing the fans to stand idly by and watch someone commit a blatant act of racism against him. It is not everyday that words literally fail this author, but that day...
Like it or not (and we most sincerely hope it is the latter), racism continues to be significantly more common in Eastern Europe than in other parts of the continent, which begs the question as to why FIFA awarded Russia the 2018 World Cup. It is a sad commentary on the state of affairs when we find ourselves hoping that it was corruption that made FIFA select Russia because the alternative would be them turning a blind eye towards racism.
Everyday, thousands of kids in Africa forget about their daily struggles through a program called "Right to Play." In Asia, children with a ball at their feet are transported to another plane of existence—one where they rule the universe, where they write the laws of physics and where they are Zidane...they are Messi...they are Pele.
Who are we to decide who is worthy or playing the beautiful game and who is not?
2. Douchebag-in-Chief: Marco Materazzi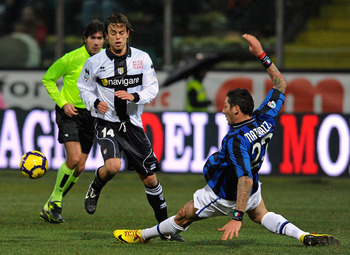 Dino Panato/Getty Images
Sketchy greaseball? Check.
Dirty tackles? Check.
Dives? Check.
Being so wildly tattooed that he resembles nothing more than Satan's drawing board? Check.
Cheating the best player of our generation out of a World Cup? Check.
Cards on the table, Materazzi isn't really more despicable than racism. It just so happened that there was an extra slot remaining on the "Hate Train" and Marco here was the first on the waiting list for a first class ticket.
1. FIFA: Enough Said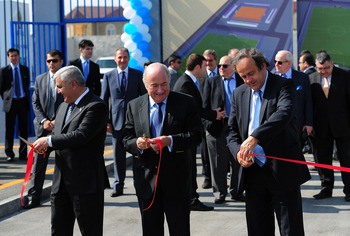 Drowning In Red Tape
Stu Forster/Getty Images
Recently, Sepp Blatter has become synonymous with everything that is wrong about FIFA.
Consider the example of the most recent presidential election of this once-respected organization. Shortly before the election, emails surfaced from within the organization with evidence linking Blatter's only rival to a bribery scandal involving the 2022 World Cup awarded to Qatar.
Blatter has since admitted that he was aware of it, but "did not participate in any way." Of course his argument makes perfect sense, using precedent set by the case of Adolf Hitler who was aware of the gassing of over six million Jews, but since he did not pull the switch...oh wait.
To cut a long story short, FIFA decided to look into allegations made by FIFA that FIFA was corrupt. FIFA conducted an investigation into FIFA and (surprise surprise!) upon finding FIFA innocent, FIFA declared that FIFA was unequivocally cleared of all charges. Wrap your heads around that one, my friends.
Note: It is interesting to note that Roman Abramovich, who has rarely given a press conference—if ever—recently threw his support behind Sepp Blatter's bid for a fourth term as FIFA Evil Overlord President. Of course, this cannot have any connection whatsoever to the fact that Russia was controversially awarded the 2018 World Cup only a couple of months ago.
In Conclusion...

Hope Eternal

While it is easy to point out all the flaws present in a sport, it is less commonly observed that every sport has its merits. Football is probably blessed with more positives than most sports and as such, the guardians of the game have a responsibility to protect it from the malicious intentions of a select few fans.
In order to end this discussion on a bright note, picture Lionel Messi slaloming his way past an entire back four. A drop of the shoulder here, a burst of pace there, before he plays a beautiful ball across goal for the onrushing Xavi to tap home.
That, my friends, is the beauty of this sport and no amount of corruption, racism, violence or money can taint the purity of the ball.
So even in our darkest hours, there is hope. There is always hope.
Disclaimer: Bleacher Report withdraws any comments made about the Royal Family, Sepp Blatter, FIFA, Roman Abramovich, Russia...uhh, Bleacher Report withdraws any comments made at all.
It must also be revealed that when the Duke of Edinburgh was asked to comment on our shameless abuse of his son's marital infidelity for the amusement of several football fans worldwide, he merely glanced at our reporter in disdain.
Stating dyslexia as an excuse to end the interview, he turned back to his alphabet soup and demanded why the palace chef had spelled out "GINGERS IDE" in his bowl. Having been warned about his racist tendencies, we really failed to see what all the fuss was about: the Duke came across as a really nice person who liked alphabet soup.
Keep Reading

Manchester United: Like this team?