Impact Wrestling Review 6/9/11: Final Show Before Slammiversary IX
June 10, 2011
The final IMPACT before Slammiversary has pasted and the ninth anniversary of TNA/IMPACT Wrestling is this Sunday!
I will have this review, my Top 10 Contenders for the week, Slammiversary predictions and Top 10 Contenders after Slammiversary. You can expect my predictions on Saturday, Top 10 Contenders Sunday afternoon and Post Slammiversary Top 10 Contenders on Monday or Tuesday.
Enough about me, let's get started!
The show starts off with Hogan and Bischoff coming to the ring.
They pretty much "lay down the law" and talk about Foley being gone and The Network. Bischoff says that The Network likes the X Division so he'll try to do something positive with them.
Hogan wants to lay everything on the line between Sting and Anderson. He calls their Slammiversary match the "biggest match in IMPACT Wrestling history." Sure, Hulk, sure.
Sting and Anderson talk about the same old thing. Anderson says he'll be champion; Sting says he has to beat him first.
Then Sting does something interesting.
He turns his attention to Hogan. Sting says that if he and Bischoff ride this company into the ground, he'll be in their face the whole time and make their lives miserable. 
Sting tells Hogan to "take the scalpel out of his pocket and cut the cancer off (looking at Bischoff)."
Match 1: Knockouts Champion Mickie James and Tara vs. Winter and Angelina Love
The beginning of the match had Mickie and Tara beating down Winter. Winter and Angelina made some quick tags.
Winter and Angelina took over the match after Winter reversed a hurricanranna from Mickie into a powerbomb out of the corner. From there, Angelina and Winter continued to beat down the Knockouts Champion.
Mickie slowed down Winter and Angelina's offense with a neckbreaker/drop kick combo.
Mickie crawled to Tara but out of nowhere Madison Rayne pulled Tara off the apron.
Angelina grabbed Mickie and hit her finisher for the three.
Good opening ma—Wait. Angelina choked out Mickie after the match.
Angelina Love vs. Mickie James for the Knockouts title at Slammiversary.
Good tag team action by the Knockouts.
Bobby Roode, James Storm and Alex Shelley are backstage. Storm and Shelley are getting ready for tag team action against Mexican America. Roode doesn't like being on the sidelines but couldn't think of a better replacement then Alex Shelley.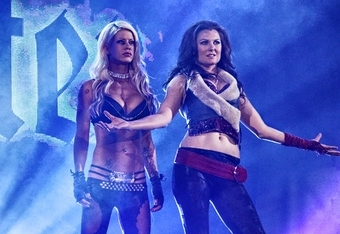 Mexican America is backstage. They talk about "gringos" and being held back for being Mexican. They want tag team title shots.
They show a video of Samoa Joe's attack on Crimson in a bar Saturday night. 
Jeff Jarrett enters the IMPACT Zone and the cameraman asks about Karen. Jeff doesn't answer and keeps walking.
The British Invasion joins the broadcast table for Gun Money vs. Mexican America.
Match 2: Mexican America vs. Gun Money (James Storm and Alex Shelley)
Alex Shelley and James Storm take turns beating on Anarquia, while Magnus rips Beer Money and Shelley at the announcers table.
Shelley and Storm hit a double team and Magnus makes the quote of the night.
*Magnus was calling the whole Gun Money thing BS.*
Taz: Sounds like you need to have a conversation with Bischoff and Hogan.
Magnus: I tried finding their office doors, it's a bit hard to find.
Taz: They're not hard to find, they're easy to find.
Magnus: Well yeah, they're in the ring most of the time.
Classic.
Shelley and Storm lay out Anarquia and Hernandez. The crowd is really behind them. Hernandez stops their onslaught by pushing Shelley off the top rope.
Mexican America takes over the match and does some nice double teaming on Shelley with some near falls.
Hernandez misses a splash off the top rope and both, Hernandez and Shelley, tag out.
Storm comes in and is on fire. Storm unloads a ton of offense and goes for a pin which gets broken up by Hernandez. Storm clotheslines Hernandez over the ropes then Shelley suicide dives through Storm's legs. Vintage Machine Guns style move.
Storm hits Anarquia with a backstabber and then a pin attempt. Sarita and Rosita get the referee's attention but Storm takes his beer and spits it at both Knockouts!
Shelley attempts a superkick on Anarquia but misses and hits Storm. Anarquia throws Shelley out of the ring and gets the win.
Great tag team matchup.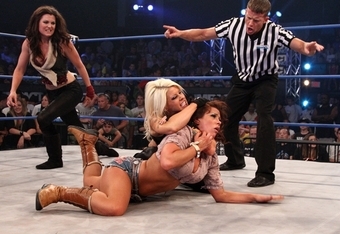 Gunner and Anderson talk backstage. Anderson wants Gunner to hurt Sting tonight and Gunner agrees.
Mexican America visit Hogan backstage. They ask why they aren't getting a title shot. They bring up their race again. Hogan gets pissed off and shoots them down. Sarita and Rosita start yelling in Spanish and Hernandez starts to talk but it's tough to hear him with the Knockouts yelling. Hernandez tells Hogan "when he least expects it."
A video airs highlighting the entire Jarrett/Angle feud.
Jarrett and Angle meet in the ring.
Jarrett does all the talking. He talks about bringing Angle into TNA, talks about Karen, blah, blah, blah. Jarrett can certainly talk a guy's ear off. Angle says his wrestling will do the talking.
Bully Ray comes out and issues an open challenge and takes a shot at AJ in the process.
Who accepts? RVD!
Match 3: Bully Ray vs. Rob Van Dam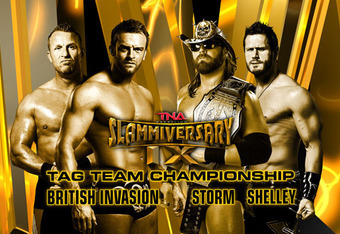 RVD was jobbing to Bully Ray majority of the match.
Bully Ray spots AJ Styles in the IMPACT audience and is distracted. Ray grabs RVD in a piledriver and starts yelling at AJ.
RVD flips Bully Ray over head, hits a Frog Splash and wins.
This match was a good way of putting Bully Ray over as a dominant heel. RVD gained pretty much nothing from this win.
Kazarian and Kendrick are walking backstage with Janice. Abyss approaches them and issues a challenge. Abyss challenges Kazarian and Kendrick in a three-way match at Slammiversary for the X Division title. Abyss refers to the title as the "Xtreme Championship" now. Not an official name change you TNA haters!
Match 4: ODB vs. Velvet Sky
ODB doesn't use the entrance ramp and gets no theme music because, apparently, she is "not under contract with IMPACT Wrestling." 
Velvet attacks ODB as she enter the IMPACT Zone.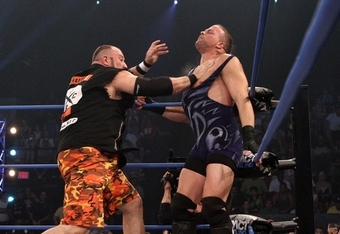 The Knockouts enter the ring and ODB takes full control of this match. It's like a brawl. ODB either tackles Velvet and beats her down or unloads a flurry of offense in the corner.
Velvet fights back with shoulder blocks in the corner.
The fight spills outside the ring where ODB slams Velvet back first into the ring post. In the ring again, ODB grabs Velvet by the throat and starts yelling at her. Out of nowhere Velvet hits a DDT for a three count.
Velvet wins but I doubt this feud is over.
Then a video from the international show, Xplosion, airs. Devon is getting beat down by Mexican America and The Pope saves Devon? Yes, The Pope saves Devon. Possible face turn for Pope? Or will his next feud be against Devon?
Main Event: Gunner and Mr. Anderson vs. World Champion Sting and TV Champion Eric Young
There was good back and forth action in the main event.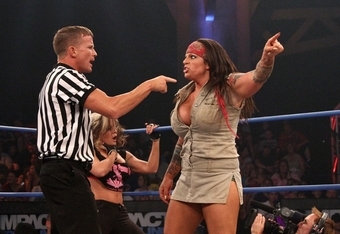 The ending had Sting and Anderson down. They tag in their partners and EY comes in on fire.
Eric Young hit Gunner with some clothesline then hit an elbow drop off the ropes. Anderson tried to slow EY down but ended up getting hit with a drop kick.
Eric was flipping out and the crowd was cheering. Gunner pushed Eric into Sting, causing an unintentional tag. EY fell out of the ring and Gunner hit Sting with his finisher for a three.
Gunner beat the World Heavyweight Champion.
Post match Gunner and Anderson celebrate while leaving ringside.
After commercials, Sting is angry in the backstage parking lot. Eric Young goes up to him and is confused. He was beating up Anderson and Gunner and doesn't know how they lost. Sting shoves EY away and keeps walking.
AJ Styles is on camera next saying that he got in Bully Ray's head. Ray comes out of nowhere and the two start screaming at each other. They both get held back by security and other people.
We cut to Anderson who is bragging about the match. He says he didn't even break a sweat. He says that Gunner beat Sting and Gunner's not even on Sting's level. Anderson starts mocking Sting until The Icon shows up.
Anderson runs away and hides in a nearby trailer. Sting breaks in and beats down Anderson. Sting starts yelling, "You wanna mock me?!" and takes out a bottle of red paint. Sting rubs paint over parts of his face then rubs red paint all over Anderson's face.
Sting proceeds to choke out Anderson in the trailer to end the show.
Overall, it was a good show.  
The Knockouts tag match was a good way to "open" the show. Madison was finally back on IMPACT after not appearing for while. I was glad to see her interference and continue piling onto the heated feud with Tara.
Gun Money vs. Mexican America was nothing short of awesome. Storm and Shelley are both one half of the two best tag teams in the world today. I'm glad they lost because it was their first time teaming up and if they won it would've been BS.
Bully Ray always has good heel promos and I was glad to see RVD get buried in the match, even for a little bit. RVD has been overrated since his debut.
I see the Velvet/ODB feud continuing. They've had a good feud so far and I hope it keeps going.
The main event was cool because Anderson was himself, EY was good in the match and Gunner scored a clean pin on the World Champion, Sting!
I couldn't believe it! Gunner F5'd Sting and won? Yeah, it was awesome.
I think TNA should've promoted Steiner/Morgan and Joe/Crimson this week. Joe/Crimson more so than Morgan/Steiner because of that bar attack video that aired on IMPACT.
Slammiversary looks to be a stacked card for this Sunday.
World Heavyweight Championship: Mr. Anderson vs. (c) Sting
Number One Contender and Winner gets the Olympic Gold Medal: Jeff Jarrett vs. Kurt Angle
Tag Team Championship: British Invasion vs. (c) James Storm and Alex Shelley
Last Man Standing Match: Bully Ray vs. AJ Styles
X Division Championship: Kendrick vs. Kazarian vs. Abyss
Knockouts Championship: Angelina Love vs. (c) Mickie James
Matt Morgan vs. Scott Steiner
Samoa Joe vs. Crimson
Also, check Bleacher Report this weekend for my Top 10 Contenders and Slammiversary predictions!
Your Home For Opinions On All Things Pro Wrestling starts here.