NBA Finals 2011 Live Blog: Miami Heat vs. Dallas Mavericks Game 5 Coverage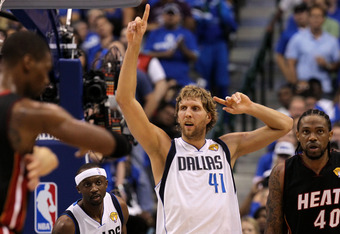 Ronald Martinez/Getty Images
For tonight's live blog, we feature Game 5 of the NBA Finals between the Miami Heat and Dallas Mavericks.
After another late game collapse by the Miami Heat in Game 4, the Mavericks were able to knot up the series at two games apiece with an 86-83 victory.
The big headline of the game was the disappearance of Miami superstar LeBron James, who had an uncharacteristic eight points on 3-of-11 shooting.
Despite his subpar game, the Heat had a chance to tie the game at the end of regulation, but Mike Miller air balled a three-pointer that would have sent the game into overtime.
Despite a 101-plus fever, Dirk Nowitzki led the Mavericks to the victory with 21 points, 10 of them coming in the fourth quarter.
Dwyane Wade continued his MVP-caliber ball, leading the Heat once again with 32 points.
Miami will need Wade's best ball, as well as a rebound game from James, if they are going to want to return home with a 3-2 series lead.
So, the Finals becomes a best-of-three series as Dallas plays its final home game of the year. Without further ado, here is the live blog for Game 5.
Miami calls timeout. Heat up 50-46.
Dirk owns Joel Anthony, draws Dallas within 4.
Weird seqeunces- back-to-back turnovers by both teams.
Eddie House way off- airballs 3 ball.
And Coach Carlisle looks like Jim Carrey. Ok Im Done.
Okay, I have to say this. How similar does Dirk look to the Geiko caveman- like its an very very eery resemblance.
Bosh playing well- back at the charity stripe.
LeBron forces 5th Dallas TO.
Wade already with 8 free throws.
Wade hits 1-of-2 free throws. Miami up 4.
Wade right back to work since his return. 2 quick points, then draws a shooting foul on his infamous pump fake move.
It feels like it's his first minutes of the season.
I don't know why, but I am unusually happy about Eddie House's apperance into the game.
Who likes LeBron's mini violin commercial?
Miami up 47-44 midway in the second quarter..
Wade's hip seems to be fine- he nails a tough banker on a fade away. Heat fans- In Wade you trust.
Eddie House checks in! What?!
Chalmers playing like a starting point guard says Marc Jackson. Well, he used to be one. And I think Bibby is pretty much just a spot filler by this point.
It's been an early three-point flurry. Dallas 5-of-6, Miami 4-5 from beyond the arc.
Chalmers nails another three. he has 9 points in 7 minutes off the bench.
Terry on fire early. His third field goal already off the bench.
Bosh nails a pretty jumper on a step back. He is roasting Bahimi.
It would have had to be "left hip replacement" for him not to return- good one JVG.
This is the Finals- you knew Wade would return. He's Dwyane Wade.
Miami up 40-38. Wade checking back in with a slight limp.
This article is
What is the duplicate article?
Why is this article offensive?
Where is this article plagiarized from?
Why is this article poorly edited?

Miami Heat: Like this team?