Stanley Cup Finals 2011: Tim Thomas Channels Ron Hextall in the Finals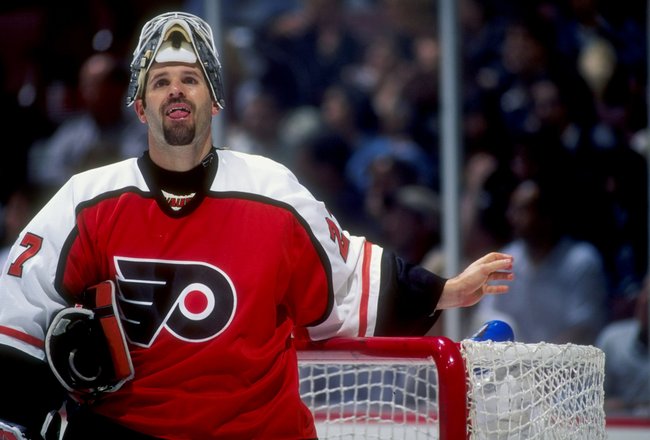 Elsa/Getty Images
Boston Bruins goaltender Tim Thomas has been receiving some attention as of late for his, should we say, exuberant play in the crease during the Boston Bruins Stanley Cup Final series with the Vancouver Canucks.
Philadelphia Flyers fans are not known for their love of the Boston Bruins, but the play of Thomas has to bring a smile to the faces of fans of long retired Flyers goalie Ron Hextall.
Hextall, taking over where Islanders Billy Smith left off, set the standard for "aggressive" play in the crease, setting records for most penalty minutes in a season for a goalie (113) and most penalty minutes in a career for a goalie (548)
What follows are videos of some of Hextall's most memorable moments along with Tim Thomas' highlights from this year's Cup finals.
Tim Thomas Takes the Body
During Game 3 of the Stanley Cup Finals, Bruins goalie Tim Thomas decided that he had no interest whatsoever in playing the puck that was rolling through his crease, instead opting to take the body on Henrik Sedin.
Tim Thomas Lets Alexandre Burrows Know Its His Crease
Following Game 4 of the Stanley Cup Finals, Thomas spoke about what inspired him to unleash his wrath on Alexandre Burrows.
Thomas said that the Canucks had been chopping at his stick during the game and "I thought I'd give him a little love tap and let him know I know what you're doing, but I'm not going to let you do it forever."
Ron Hextall Goes After Chris Chelios
As time ticked down during Game 6 of the 1989 Stanley Cup Final, Flyers goalie Ron Hextall left his crease to exact revenge on Chris Chelios for a hit that Chelios had delivered to the Flyers Brian Propp during Game 1 of the Cup Finals.
The incident earned Hextall a 12-game suspension to start the next season.
Ron Hextall and Felix Potvin Have a Go
In one of the best goalie fights in NHL history, Ron Hextall skated the length of the ice to square off with the Maple Leafs Felix Potvin.
A classic.
Ron Hextall Not Happy
The Edmonton Oilers Kent Nilsson found himself at the wrong place at the wrong time as Ron Hextall made him pay for another players slight against him.
Keep Reading

Boston Bruins: Like this team?