The 25 Most Entertaining Athletes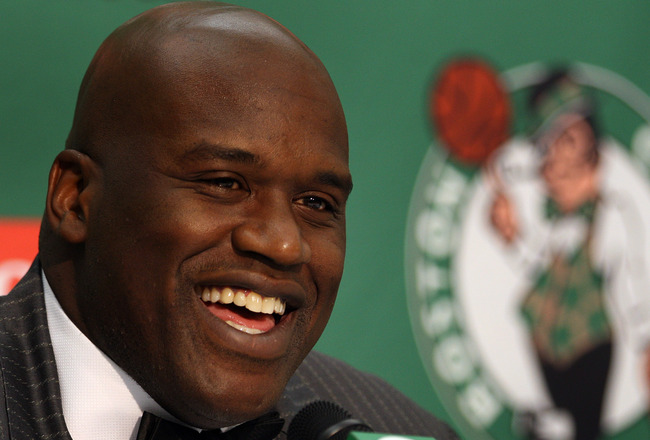 Athletes are competitors who give their up their bodies for the glory of a championship and a sparkling legacy.
But at the core of it all, they are entertainers.
Unlike writers, actors or singers, athletes are entertainers almost by accident. They get to compete directly against one another, while simultaneously entertaining a large audience.
Some athletes take the aspect of pure entertainment to an entire different level. These are the athletes that not only impress us and keep our attention with their talents, but also with their interesting personalities and crazy antics.
These are the Top 25.
Enjoy.
*Each player is rated on a scale of 0-5. 0 being boring, 5 being so exciting your head almost explodes.
No. 25: Blake Griffin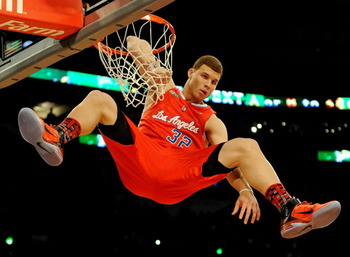 He has only played one full season, and already I know it's going to be an absolute treat watching him night in and night out.
It's exciting knowing that he will probably disintegrate a poor soul who decides to stand underneath the hoop, or embarrass him with a facial dunk that sends him 20 rows up..
Blake Griffin is the only player who makes me stand up with crazy eyes every time I see him. I think, "Okay. Dunks get boring after a while. His dog and pony show will be over soon enough." Nope. It's never going to happen. Have you ever seen Tombstone when Wyatt Earp (played by a wonderful Kurt Russell) is seemingly pinned down against the bad guys during a shootout across a river?
But instead of bowing out, he pretty much loses his mind, goes into beast mode and screams "No!" over and over again, killing about ten people in the process. I pretty react the same way after every Griffin dunk.
He is in a ton of commercials too. One even has made me laugh. For how much I usually despise advertisements, that is really saying something.
On the court: 4 1/2
Off the court: 2
No. 24: Roger Federer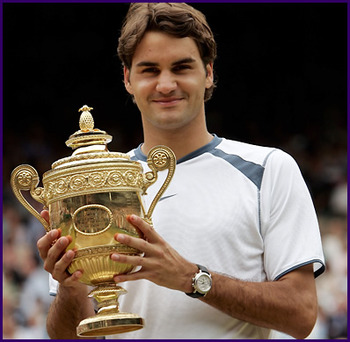 I'll be straight up with you, I don't watch tennis.
The only time I really watch the sport is when a friend of mine I have had since grade school camps out on our couch for a week and keeps the television on all night to watch the matches that are shown at around 3 am.
Also, Chris Fowler whispering sweet nothings into my ear about two athletic men hitting a green ball back in forth while grunting loudly just doesn't do it for me.
But I will say this. There have been rare times when I have sat down and watched Federer after waking from a slumber to release waste from my bladder.
During those late nights, Federer captured my attention with his poetic displays of impossible shots and brilliant footwork. Something really has to be beautiful for a guy like me to be entranced by something I don't care about.
Now, Agassi may have the fake hair, the meth habit, and ability to be a complete dick at a charity event. But I am giving the edge to Federer, even if the only entertaining thing I have seen him to off the court is awkwardly stand next to Derek Jeter in a Gillette commercial.
On the court: 5
Off the court: 0
No. 23: Pele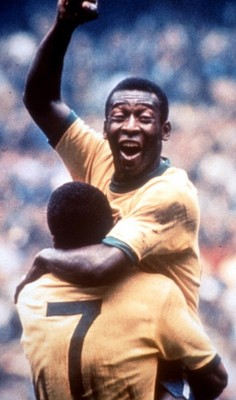 To a clueless American who knows very little about the game of soccer, the most entertaining moment in the sport is when a ball is booted into the back of the net.
Pele was the best at that aspect, scoring 1,281 in just 1,363 games.
The way he could pass and dribble with such ease is comparable to watching Bob Ross unconsciously paint a beautiful landscape onto a blank canvas. Something so difficult made to look so easy and beautiful is entertainment at its best.
On the field: 5
Off the field: 1
No. 22: Wayne Gretzky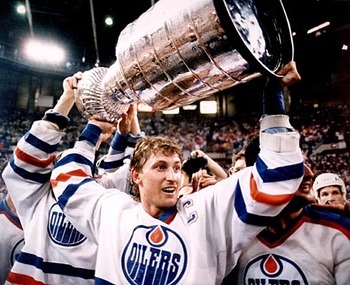 There wasn't too much flashiness to Gretzky's game.
And his off the ice personality isn't anything to write home about in terms of sheer entertainment.
But when every team in the NHL retires your jersey, you know you're pretty damn good.
Gretzky is on this list because seeing someone who is the absolute best at something is something that can't be competed with. If you aren't that entertained by pure greatness, then something is wrong with you.
On the ice: 5
Off the ice: 0
No. 21: Yogi Berra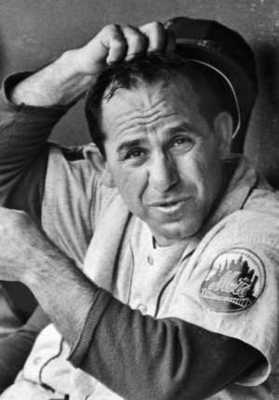 Although he is only a shell of himself and paddles around like the grandpa from Up, Berra continues to light up a room and entertain anyone who is around him with his ability to turn a phrase.
"It ain't over 'til it's over" and "it's deja vu all over again" are just a few of his famous phrases.
He wasn't a bad player either.
Many consider him the best catcher of all time.
On the field: 4
Off the field: 3
No. 20: Manny Ramirez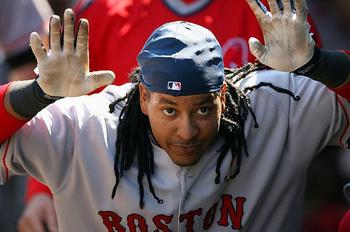 Manny being Manny.
No one has made me laugh more while performing on the baseball field.
And let's not forget how incredible of a hitter he was.
With his trademark dreadlocks flowing in the wind as he rolled over baseballs in the left field, the 12-time all-star's antics on the Indians, Red Sox, Dodgers and White Sox were always fun. (I'm not counting the Rays. He played like two games).
That is, unless he was on your team. Then his constant messing around could get old.
On the field: 4 1/2
Off the field: 3
No. 19: Joe Namath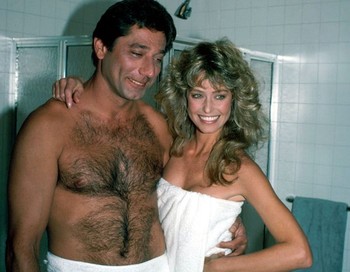 The Guarantee.
The mink coats on the sidelines.
Drunkenly hitting on Suzy Kolber.
Modeling for panty hose.
Broadway Joe is larger than life, even at the age of 68.
If you missed him on Hard Knocks dishing out advice in old man clothing, then you missed on hell of a show. If you're ever missing Joe Namath, you're most likely missing one hell of a show.
On the field: 3
Off the field: 4
No. 18: John McEnroe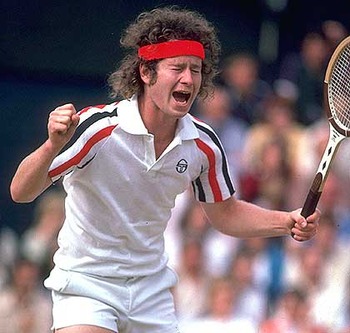 It might just be something about me, but witnessing a grown man lose his marbles to the point where he throws a temper tantrum like a spoiled toddler is theater at its finest.
Watching McEnroe's face get as red as a baboons ass while screaming profanities at an official is something that can rarely be replaced or effectively recreated.
His game was entertaining as well. His volleying skills are some of the best of all time. They must have been. He is in the Hall of Fame.
On the court: 4
Off the court 3 1/2
No. 17: Deion Sanders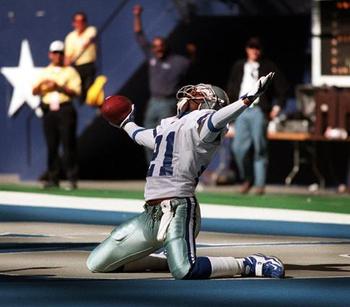 One of my first memories that involve sitting down and watching an entire sporting event was Super Bowl XXX.
That is when I first saw Deion Sanders with his smooth style of play, and more importantly, how cool he looked. Within two minutes of seeing him, and without even seeing him make a play on the field, I loudly declared to my family that he was my favorite athlete.
By the miracle known as instant highlights and a few more good years, I was able to watch "Prime Time" not only make spectacular plays, but wear absurd clothing along with celebrations that were equally absurd.
His confidence and larger than life personality still live on to this day.
It's an absolute crime this guy isn't on television more often.
On the field:4 1/2
Off the field: 3
No. 16: Allen Iverson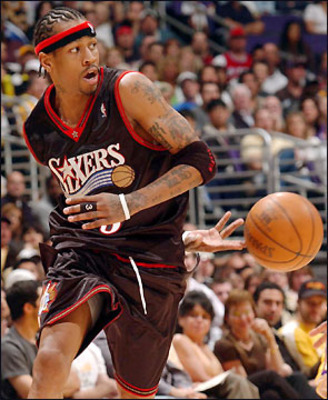 Watching the little six footer dribble around men who were much larger than him to score was some of the most entertaining moments of my life.
Iverson in his prime could score any time he wanted to.
With his trademark head band and cornrows, along with attire that many old white men uncomfortable, Iverson brought in a new generation of basketball.
He also lays claim to one of the most entertaining rants of all time with his famous "practice" press conference.
On the court: 4
Off the court: 3
No. 15: Magic Johnson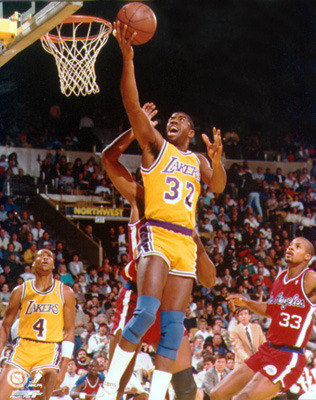 Of course we could babble on and on about how great Magic was as a player.
With his flashy grin, fun personality and passes that people to this day don't know how they were made, Magic could do it all.
But what might be more entertaining is his inability to put a sentence together that can be remotely considered a complete thought, let al one in-depth analysis.
Watching his abysmal talk show could possibly be considered the pinnacle of unintentional comedy.
On the court: 5
Off the court: 3
No. 14: Terrell Owens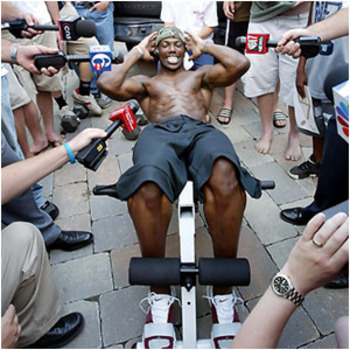 It's strange watching Owens now because he isn't really even good anymore.
Once someone isn't making the plays they used to, their crazy antics just get annoying.
But when Owens was in his prime, watching him sign footballs from the stands, eat popcorn on the field, and do sit ups shirtless in his driveway may have been some of the funniest moments in NFL history.
He also has a reality show with Ocho Cinco.
I honestly don't know how anything gets done with those two on the same squad.
On the field 4 1/2
Off the field: 4
No. 13: LeBron James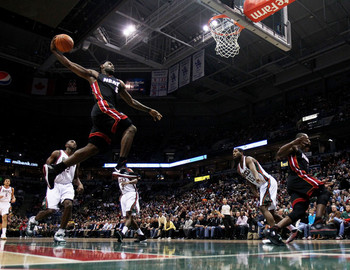 Love him or hate him, there is no denying he is one of the most outstanding physical specimens to ever walk the earth.
You can disagree with how he went about "The Decision."
You can argue until the cows come home about his role on the Heat, his passiveness, and how he will never be MJ.
But when that dude goes off, there are fewer things more entertaining than seeing LeBron throw the ball down as hard as a chiseled Greek god.
On the court: 5
Off the court: 2
No. 12: Willie Mays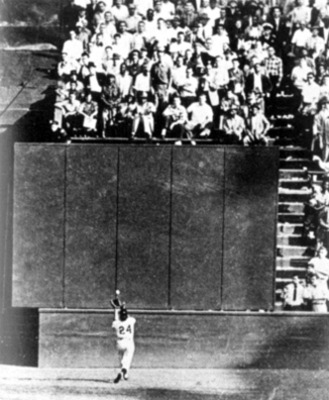 Willie Mays is the best all-around baseball player to ever compete on a diamond.
His iconic "catch" still entertains and is still stitched into the cultural psyche.
He even had the personality of a great entertainer. When asked who he thought the best player he ever saw play was, he responded "I don't mean to be bashful, but I was."
The Say Hey Kid everybody.
On the field: 5
Off the field: 2
No. 11: Tony Hawk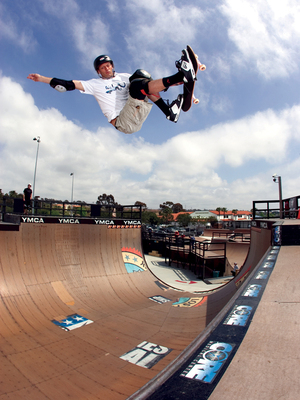 Hawk is the pioneer of a sport I see for about two weeks out of the year because of the X-Games.
There are plenty of skaters that, at this current moment, are more entertaining than Tony Hawk. The stuff these guys come up with is becoming more and more on par with the awesome video game created named after Hawk himself.
It may be a just quick flash, but for those two weeks, no other sport can compare to the amount of times I watch the X-Games and think someone will die on live television.
So I salute you Mr. Hawk for entertaining me at the highest pinnacle, even if it might be for the shortest amount of time.
On the...half pipe/ramp/anything that can be grinded on: 5
Off: 2*
*Hawk may seem pretty soft spoken and bland, but there are some great skateboarding videos out there of Hawk showing his sense of humor and they involve Molotov cocktails. I don't know the names of the movies, but the skater kids from my school gave me the video. It might be called Church of Satan. As scary as that sounds, it was great when my mom discovered it in my room.
No. 10: Barry Bonds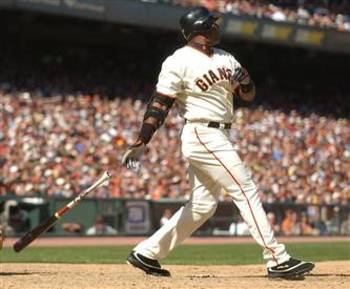 Barry Bonds is probably the most universally hated baseball player to ever play the game of baseball.
No other player was more feared than Bonds from 2001 to 2004. That's including Ruth, Maris, McGwire and Sosa.
Watching a pitcher try to not make a mistake against the (alleged) 'roided out freak was like watching someone disarm a bomb: a lot of nervous shaking, a lot of sweating, and if a mistake was made, a huge explosion was the result.
It's sad that he became so scary that many of his at bats became boring because he was probably going to be intentionally walked. In 2004, Bonds was walked 232 times. 120 of those were intentional!
And I am not going to lie, seeing him be a complete a-hole was extremely entertaining at times. At least it was to me, anyways.
On the field: 5
Off the field: 3
No. 9: Julius Erving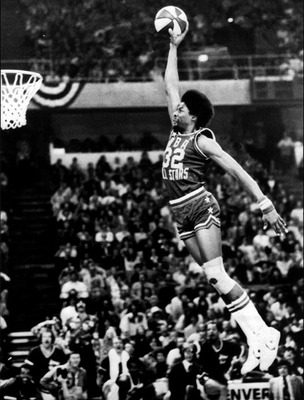 Basketball used to be a battle of jump shots, finger rolls and chest passes.
Most players competed by the book, utilizing sound mechanics to beat an opponent.
Then came along Dr. J, and playing above the rim became the new style.
With his long arms, huge hands, and patented 'fro, Julius Irving would entertain a crowd with some new kind of maneuver every night.
After seeing his iconic move in the 1980 NBA Finals in which he jumped behind the backboard, extended his hand with the ball, and then reverse finger rolled, I am convinced he made a deal with some aliens to toy with gravity.
On the court: 5
Off the court: 3
No. 8: Tiger Woods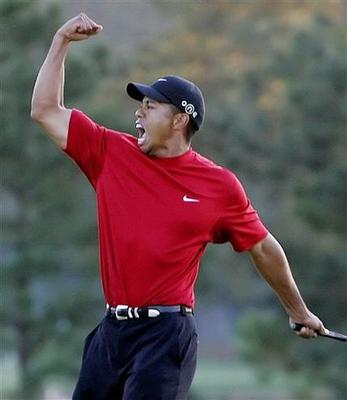 Before November 29, 2009, Tiger Woods entertained us only with his play on the golf course.
His domination of the rest of the field was historical, and there was little doubt that even with a few slumps, he would overcome Jack Nicklaus' record of most major titles won.
But then the famous SUV wreck happened, and his wife was the one swinging a golf club.
Then, we were all entertained and weirded out by the things that came out of Tiger Woods' seemingly perfect lifestyle.
The sexual exploits and addictions, as well as the awkward press conferences seem to have taken a toll on Woods' psyche and even his body.
Even if Tiger Woods falls short of the record he seemed to be destined to break, he has been the most entertaining golfer the world has ever seen.
On the course: 5
Off the course: 3
No. 7: Babe Ruth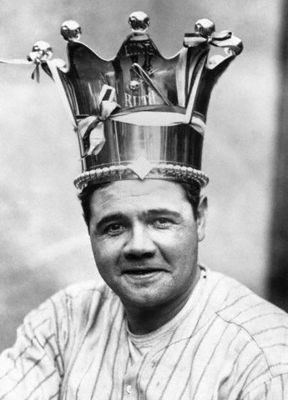 At this day in age, the only people who got to see Babe Ruth play are either dead, or waiting to die in a nursing home.
The only thing our generation has to go on about Babe Ruth is the home runs, and a few tall tales that include:
1) When he decided to call his shot.
2) He was able to get an inside-the-park home run on a pop up on the infield.
3) Hit a home run that cured cancer.
4) Some kids in the 1960s spent an entire summer trying to get a ball he signed back from a killer dog that a blind man owned. They failed until his ghost showed up giving advice on how to get it back. It took a really fast guy who eventually played for the Dodgers to run through an entire town to finally retrieve it. I don't know why the Babe just didn't tell the kids to knock on the front door.
This type of stuff is all we really have. But like your favorite fairy tale that never gets old, Babe Ruth continues to entertain us to this day with nostalgic fables about his legendary ability.
Plus he loved booze, women and cigarettes, and was still really good at a sport. So that's pretty awesome.
On the field: 5
Off the field: 4
No. 6: Chad Ocho Cinco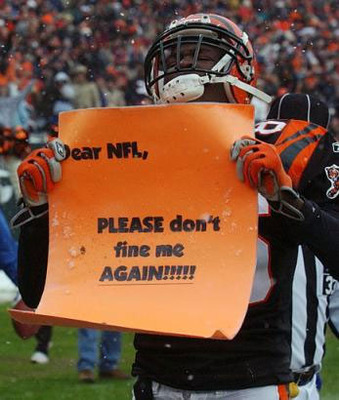 Child, please.
Sure, watching the stand out wide receiver make jaw dropping catches for the Bengals is entertaining.
But seeing him with some Gold Grillz, bleach blond Mohawk, a homemade HOF jacket and inventive touch down celebrations is entertaining.
I haven't even mentioned his NFL lockout activities. Or his reality television shows.
He even changed his last name to an incorrect interpretation of the No. 85.
Ocho Cinco isn't just an entertaining football player; he has one of the strangest personalities that have ever been seen through media.
On the field: 5
Off the field: 4 1/2
No. 5: Shaquille O'Neal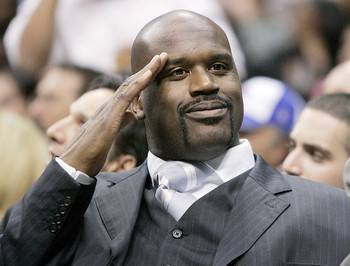 In his prime, Shaqtus (or is it Shactus?) was absolutely impossible to stop. That is, unless he went to the free throw line.
With his 7'1, 325 frame, he was one of the most dominated players to ever set foot onto a basketball court. Refs had no idea what to do with him. No one has gotten fouled as often as Shaq, but at the same time, I don't know a player who could get called for offensive fouls more than Shaq.
Also, who could forget upfront, but hilarious interactions with the media?
He also came out with Kazaam, Shaq Fu and four rap albums. One of which, Shaq Diesel, has gone platinum!
Shaq is entertaining 24/7.
Even in his sleep, he probably does something I could laugh at.
On the court: 5
Off the court: 5
No. 4: Mike Tyson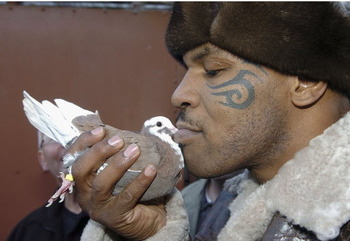 You were entertained when he was the most dominating presence in the sport of boxing, absolutely punishing people with his lightning quickness and thunderous power.
You were entertained when he seemingly was losing everything: his ability, his money, his wives, his freedom and quite possibly, his mind.
The scariest man on earth became a punch line after some time, but he never wasn't entertaining.
Mike Tyson is one of the funniest, strangest, and most awkward athletes to ever compete; giving us an unlimited supply of unintentional comedy, as well as uncomfortable creepiness.
Iron Mike continues to entertain with his facial tattoo, his lisp, his love of pigeons and appearance in The Hangover.
In the ring: 5
Out of the ring: 5
No. 3: Michael Jordan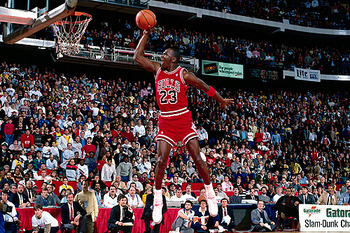 Michael Jordan is the best basketball player to ever play the game. So the entertainment value of watching someone dominate his sport the way Michael did is comparable to what I said about Gretzky.
MJ's game represents what most people believe what a basketball player should be. He is ultra-competitive, making the most out of a high skill set and a proven winner.
After 1998, he is still very culturally relevant because players are being compared, fair or unfairly, still to this day.
Not to mention, the shoes, the clothes, the commercials and the nonstop publicity Jordan created was a cultural monster. He was, without a doubt, the biggest deal in sports in the 1990s.
The attitude that made him so great on the court has provided a bit of a controversy, especially after his HOF speech. If we are talking about entertaing purely in competition, no one better than Michael.
But when it comes to entertaining an audience with laughs and a fun personality along with athletic ability, Michael fell a little short of the next two competitors.
On the court: 5+
Off the court: 4
No. 2: Charles Barkley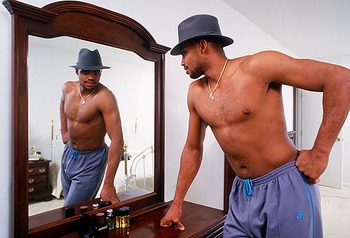 Barkley as a player is widely considered one of the best to ever play the game of basketball.
However, there is always the "but he didn't win a ring" at the end of the sentence describing his playing days. It's similar to a leper who recovered from the terrible disease. They will always possess the scars of the past that they can't escape.
Barkley is now known more for his brash and unapologetic moments on TNT's basketball program Inside the NBA, as well as his broken and embarrassing golf swing that not even Tiger Woods' swing coach, Hank Haney, could correct.
Although he can barely talk and says some things that people may be offended by, he somehow drops truth bombs left and right that have several morsels of truth to them.
His personality and ability to entertain not just as a player but as a broadcaster is impressive to say the least.
On the court: 5
Off the court: 5+
No. 1: Muhammad Ali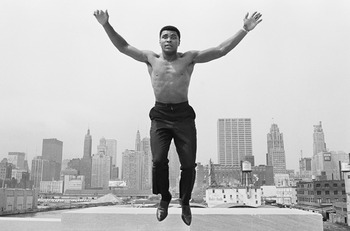 Ali was a cultural phenomenon and who would captivate an entire audience with his personal brand of hyping a fight. Ali could talk trash with the best of them, giving countless one liners that will live in the psyche of American history forever.
Ali also transcended sports with world issues with his controversial stance against the Vietnam War. Even through his unpopularity during the time of his decision, Ali continued to be who he was, and continued to entertain.
His interactions with broadcaster Howard Cossell are also classical entertainment.
In the ring: 5+
Out of the ring: 5+
Keep Reading