NBA Finals 2011 Live Blog: Miami Heat vs. Dallas Mavericks Game 4 Coverage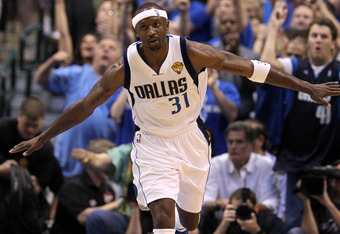 Ronald Martinez/Getty Images
Game 4 of the 2011 NBA Finals is on tonight and Bleacher Report's live coverage of the contest will have you covered from opening tip to final buzzer.
After another huge comeback in Game 3, Dirk Nowitzki and the Dallas Mavericks came up just short against Dwyane Wade and the Miami Heat.
Miami going to Wade instead of LeBron James down the stretch proved to be the right decision. In what will almost certainly be another close game tonight, it will be interesting to see who has the ball in the closing minutes tonight.
If Wade can hit more dagger jumpers and lead his Heat to victory, they'll pretty much have the series locked down with a 3-1 lead.
On the other hand, if Dallas can get anything from someone other than Dirk Nowitzki, they may have a chance to even the series and keep their championship hopes alive. Jason Terry and Jason Kidd definitely need to step up.
Stay tuned to this live blog for updates and analysis throughout the game.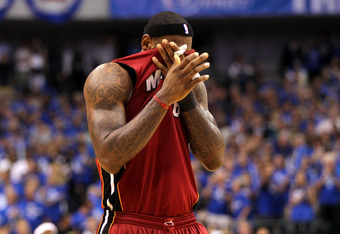 Dallas got a lot of help from the supporting cast tonight, which is exactly what they needed. Shawn Marion, Tyson Chandler, DeShawn Stevenson and Jason Terry all hit double figures.
Miami was led by Dwyane Wade, who scored 32 points on 13-20 shooting. He kept Miami on top for most of the game, but needed help down the stretch and didn't get it.
Over the next couple days, we're bound to hear a nauseating amount of analysis over the horrible play of LeBron James. It will be interesting to see how he responds in Game 5.
We'll also be paying attention to Dirk Nowitzki and his fever. He played with a temperature of 102 degrees. He has a couple days to recover, and Dallas will likely need more efficiency from him on Thursday.
This series is shaping up to be an all-time great one. Thanks again to all who followed or even checked in for a minute or two.
P.S. I love Dirk Nowitzki in the post-game news conferences.
Another fantastic game in what is turning out to be an incredible NBA Finals. Thanks to anyone who tuned into this live blog tonight.
Can't wait for Game 5.
After Wade loses the ball and scrambles for the save, Mike Miller misses a desperation heave. Mavs win 86-83 behind another wild comeback.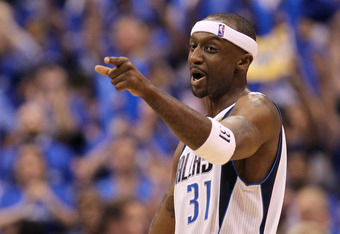 Jason Terry manages to run 2.3 seconds off the clock before LeBron catches him in the backcourt for the foul. Terry hits the first free throw and the second. Miami timeout. Dallas leads 86-83 with 6.7 seconds on the clock.
Should Dallas foul?
Too easy for Miami. Wade drives and dunks in five seconds. Dallas leads 84-83 with nine seconds left.
If Miami wins this game, they might as well give Dwyane Wade the Finals MVP trophy tonight.
14 seconds left, Miami ball
Nowitzki takes Haslem off the dribble and hits a huge shot. Dallas leads 84-81. Great move for a guy who clearly isn't 100 percent tonight.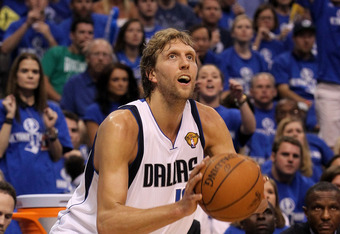 Wade misses the second free throw. He's been unreal all game and there's no way Miami would have a chance to win this game without him right now. Heat fans can't be too upset with their boy.
Less than thirty seconds to play. Dallas ball after the timeout and they lead 82-81.
Dirk is certainly struggling and just doesn't look right tonight. Who will the Mavs go to on this possession?
First free throw rattles in for Wade.
Wade headed to the line with thirty seconds left, Miami down two. Dallas may regret not getting back on defense on that play.
HUGE offensive board by Chandler
DeShawn Stevenson fouls Bosh from behind, drops his head in disgust with himself. Bosh heads to the line with less than two minutes left and Miami down 82-78. Bosh hits the first and the second. 82-80 Dallas.
Miami still scrambling more than Dallas, that time it led to a foul on Wade. Dirk heads to the line with two minutes left and the Mavs up 80-78. Nowitzki hits the first and second. Dallas now up 82-78.
Mavs miss two wide open threes. Three minutes left, 80-78 Dallas.
Dirk may have gotten away with a travel there.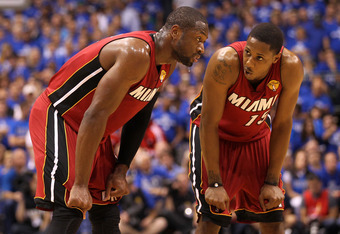 Wade wanted another block on Chandler... and almost got it. Chandler headed to the line with the Mavs up 79-78. Chandler misses the first free throw, makes the second. Timeout Miami.
With Dirk struggling, some of the other Mavs are finally starting to step up a little bit. Terry, Chandler and Marion have been solid.
Dallas still has no answer for D-Wade though. This one's going down to the wire.
Dallas leads 80-78 at the moment.
Sorry for the lack of recent updates folks, it's tough to take my eyes off the TV screen right now.
Another Dallas run and they have the lead 79-78.
Dwyane Wade is dominating every aspect of this game. Blocks Tyson Chandler and finishes on the other end, once again stopping a Dallas run.
Nowitzki drives and hits lefty layup. Keep rollin' with that injured finger. 76-73 Miami.
Did Dwyane Wade miss a shot? What?!?
Well, like I figured, Wade cuts off Dallas's momentum. 76-69 Miami.
This article is
What is the duplicate article?
Why is this article offensive?
Where is this article plagiarized from?
Why is this article poorly edited?

Dallas Mavericks: Like this team?