Bryce Harper: The Raging Bleepin' Butthole Cometh
June 7, 2011
The Washington Nationals outfield prospect had another of his "moments" on Monday night, blowing a kiss to the opposing pitcher after hitting a home run in Hagerstown's 3-2 loss to Greensboro in the Class A South Atlantic League.
With the game scoreless in the sixth inning, Harper hit a home run to right-center field and took a few seconds to admire his handiwork from the batters' box before slowly tossing his bat aside and heading to first.
Greensboro pitcher Zachary Neal apparently didn't care for Harper's display and let Harper know how he felt as he rounded the bases, according to media reports. Harper replied by puckering up in Neal's direction as he reached home plate.
And no, you're not experiencing a case of deja vu, people.
It wasn't even six weeks ago that he was at the center of a benches-clearing incident in a Class A game. Harper and the opposing pitcher exchanged words after Harper took a called third strike. No punches were thrown and nobody was ejected.
The kid has been flat out raking this season, but he is quickly approaching the point where his Homerun-to-"ugly incident" ratio is about to become 1 to 1.
For anyone familiar with the kid, however, it never was production that worried people about Harper. It was his attitude.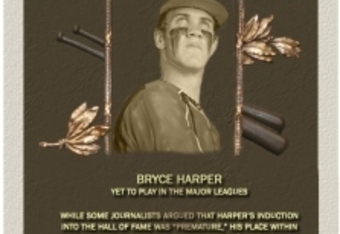 He showed tendencies to yell at opposing players, teammates and umpires, and he was ejected from a game in the Junior College World Series in June after drawing a line in the dirt in the batter's box to show an umpire that a called strike was outside. It was his second ejection of the season and earned him a two-game suspension.
And in all honesty, none of this should really be unexpected.
At 16, Las Vegas wunderkind Bryce Harper was on the cover of Sports Illustrated as "Baseball's Chosen One" .
He left high school after his sophomore year to get his GED so he could play at the junior college level in order to get better competition and a spot as the No. 1 pick of the 2010 Major League Baseball draft.
At the time of the MLB draft, he was tearing things up at the College of Southern Nevada. Through 47 games, playing catcher, third base and outfield, he had hit (with a wood bat) .410 with 21 homers, 59 RBI and a 1.414 OPS (on-base percentage plus slugging.)
Those are numbers only those like Babe Ruth and Ted Williams ever saw, people.
But he also had one great, big, gargantuan drawback at the time.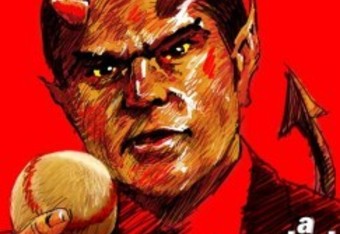 Not only is Harper have the superstar numbers, but he also has the superstar attitude: raging bleepin' butthole. Apparently, most major league teams were completely put off by his personality, which is saying something, because it's an upset when an elite athlete isn't a raging bleepin' butthole.
(And this is why so many people in baseball love you, Derek Jeter.)
There was this from Baseball Prospectus before Harper was drafted: "It's impossible to find any talent evaluator who isn't blown away by Harper's ability on the field, but it's equally difficult to find one who doesn't genuinely dislike the kid.
"One scout called him among the worst amateur players he's ever seen from a makeup standpoint, with top-of-the-scale arrogance, a disturbingly large sense of entitlement, and on-field behavior that includes taunting opponents."
"He's just a bad, bad guy," one front-office official told Baseball Prospectus. "He's basically the anti-Joe Mauer."
Now granted, when you're this good this early, people are going to look for flaws in your game and makeup that might turn you from prodigy to failure in the blink of an eye. Fair enough.
Baseball Prospectus obviously did just that, and found, physically, there was no reason for Harper not to be the GREATEST PLAYER WE'VE EVER SEEN!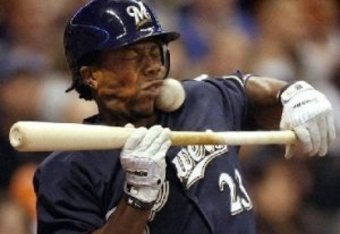 OK, that's a bit of hyperbole, but the worst they could find was that there is a slight chance the 6'3", 205-pound Harper could get too big too early in life, and thus become slow and have little range in the field.
That wasn't enough of a risk for the Nationals to turn him down. Sadly. Because it damn sure seems like he could stand to be taken down a notch or two.
To be fair to Harper, he has mega-super-duper-arrogant-agent Scott Boras as an "adviser," so he's been able to learn arrogance at the feet of a master. Also, being the prodigy he is, Harper has had a wide clearance to be as much of a raging bleepin' butthole as he chooses to be.
Most teams let their superstars be any personality they want, at least for about a half decade or so. like Boston did with their "oh, that's just Manny being Manny" b.s.
The bench warmers who are raging bleepin' buttholes, on the other hand, are the ones who get tossed for their bad attitudes.
You might say that perhaps Bryce Harper's parents should pull him aside and tell him to be a little nicer, and maybe they have.
But I'm sure a parent of any 17-year-old would say it's an immense chore trying to stop their own child from being a raging bleepin' butthole, much less a child who has Scott Boras in his pocket and a spot at the top of the Major League Baseball draft.
Whether Harper's raging bleepin' butthole act fizzles after he's spent more time around professionals depends on one thing, and it is applicable even if your child is a raging bleepin' butthole making the superstar move up from nine-year-old basketball to 10-year-old basketball.
How will that attitude play out the first time Harper runs into hard times? That could be a hitting slump, a fielding slump, a teammate who is fighting to keep his own place as big dog of the roster or a coach who hates him.
If Harper shows he can adjust and make it through a difficult time without completely melting down, he'll do well, not only as a player, but also as a person with his teammates and coaches.
If not, then things could "get interesting" (I'm betting on the latter, the kid is a Grade A schmuck.).
Some try to argue that one can also ask whether coaches and teammates believe Harper's raging bleepin' butthole act is, in the end, good for the team. Michael Jordan was no picnic, they say, but his teammates learned that if you did what he said, he would make you famous and win you championships.
This one I'm not buying into, really.
Baseball isn't like basketball, or even football, where one incredible player can put a team on his back and carry them to the promised land.
On the off occasion where it has happened, it has always been a starting pitcher, a la Orel Hershiser at the end of 1988 and heading into the playoffs that year. While everyone chooses to remember the dramatic Kirk Gibson homerun from that year, it was "The Bulldog" that was absolutely phenomenal.
14 starts, 124.2 Innings Pitched. IP/Start 8.89 (yeah, you read that right), 10 wins/one loss, one save (in the NLCS when he snuck into the bullpen and warmed up on his own), only 73 hits allowed, nine earned runs yielded, 18 Walks vs 89 K's and a microscopic ERA of 0.65.
A hitter cannot do that.
They can play a huge role. They can be the leader of a team. But they simply cannot command a game (or even an entire series) like a pitcher can.
If so, Albert Pujols would have five or six World Series rings so far in his career because THAT guy is not human. (Really, Albert? Almost 2,000 walks and extra base hits combined in your career and less than 650 K's in that same period of time?)
Nope, when Harper gets to the pro level, there are going to be people who are well aware of this fact, and they will be lining up for the chance to shove his raging bleepin' butthole act back down his throat.
And I, for one, hope I get to see it firsthand.
This article is also featured on You're Killin' Me, Smalls!