Michael Vick: 6 Reasons Philadelphia Eagles QB Will Be Even Better in 2011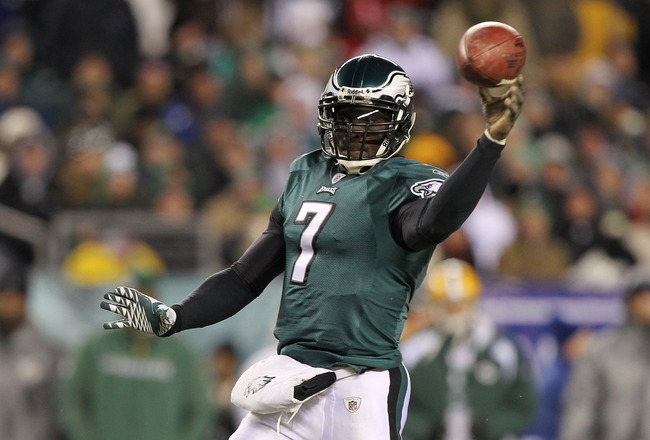 Al Bello/Getty Images
Michael Vick's season last year came out of nowhere. He went into the season as Kevin Kolb's backup, and we didn't expect to see him on the field in anything other than the wildcat package.

Clay Matthews changed all of that when he took out Kolb in the season opener. It's still a weird thing to think about. What if that never happened? Would Vick be gone now? Would the Eagles have made the playoffs with Kolb at the helm? There's a million questions you can ask, but what's done is done.

Vick took over and began to play at a level that had him in contention for the league's MVP award. It was his first legitimate action as a starter since being released from prison, but Vick quickly reminded everyone why he was a first-overall draft selection.

Going into this season, I think that Vick will only build off his 2010 campaign and be even better in 2011.
6. The Offensive Line Will Be Improved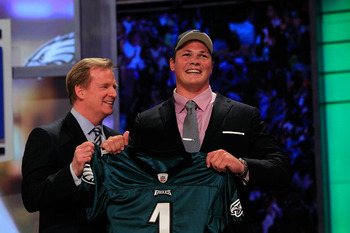 Chris Trotman/Getty Images
The Eagles haven't started OTAs or training camp, but you have to already believe that the offensive line is going to be better in 2011.

In 2010, the Eagles' most inconsistent spot along the offensive line was the right-guard position. This was addressed when the Eagles drafted Baylor guard Danny Watkins in the first round of this year's draft. He'll be a bit older than the rest of the rookies, but he's a mauler.

Watkins is very intelligent and, despite possibly being subject to a shortened time period to learn the offense, he'll be expected to start from Day 1. The expectations are high, but I believe he'll be able to meet them.

The right-tackle spot also has some questions. Will the Eagles make Howard Mudd work with Winston Justice and go with him as the starter, or could they possibly look for a free agent? Only time will tell on that front, but I believe the Eagles are still high on Justice despite his poor performance down the stretch last year.

I have confidence in Mudd to get him ready.
5. He's Developed Under the System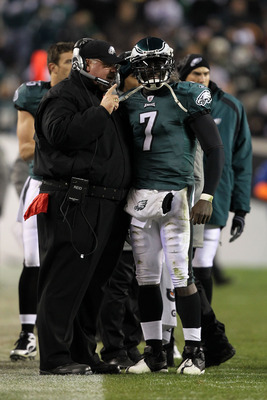 Al Bello/Getty Images
During his first season with the Eagles, Vick didn't get a whole lot of time to work in the Eagles offense. He was mainly running specialty plays out of sets designed for him.

Heading into last season in the backup role, there was more emphasis on him getting comfortable running the offense in case he was called upon. No one expected him to be called upon in the first game the way he was, but he stepped in and automatically looked ready.

From there, Vick was able to take over the starting position and showed that he could thrive with the Eagles' offensive scheme.

Even for a quarterback with Vick's ability, it still takes a little bit of time to develop. He'll be much more comfortable this season and should be even better than last year.
4. There Are No More Questions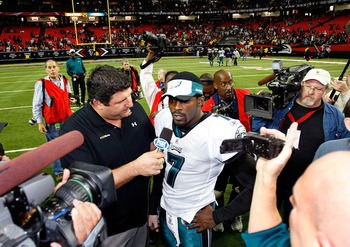 Kevin C. Cox/Getty Images
Michael Vick did a bad thing. We all know it. He knows what he did was wrong, but he's moved forward in his life and has returned to what he loves doing most.

In returning to football, Vick was a huge media target, and it had nothing to do with the game. People wanted to question what he did, and it's understandable. However, it's hard to put something behind you when people keep bringing it up.

Last year, he began to get grilled with football questions. They surrounded him while serving in a backup role behind Kevin Kolb. Vick obviously wanted to be the starter, but he was willing to accept his role. It's the way all backup quarterbacks feel in this league.

Now there are no more questions. What's done is done, and he's the starting quarterback now. He's ready to lead his team to a championship. No question.
3. His Legs Are Back
Chris Trotman/Getty Images
In Vick's first season with the Eagles, we didn't really see the speed and agility that he was known for in Atlanta. He didn't get a lot of touches, but when he did, he just didn't quite look like the old Vick.

Last season was a completely different story. Vick showed us he was back to the runner he used to be in his first game against Green Bay.

As the season progressed, it was evident that Vick was back to being the running threat that he was earlier in his career. It's quite remarkable, as he's gotten older but it doesn't look like he's lost a step.

Defenses have to pay attention to his running ability as Vick can make huge plays out of limited space. Sometimes he takes it too far and risks injury, but it's hard to complain about the competitiveness he plays with.
2. His Weapons Will Be Better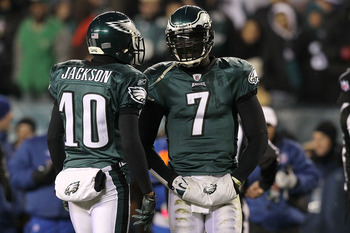 Jim McIsaac/Getty Images
Much like Vick getting better after a year running the offense, the weapons that surround him should only get better as well. He has a ton of young players around him who are still blossoming, and I don't think you can argue that there's another offense that's more explosive than the Eagles.

DeSean Jackson and Jeremy Maclin both have huge-play ability and love to stretch the field. Vick has the arm to throw the deep ball, and Jackson and Maclin have the speed to get behind defenders.

LeSean McCoy is one of the best, young running backs in the league and is continuing to improve as both a ball carrier and receiver. He doesn't get the recognition that other running backs do because he doesn't get as many carries, but we saw him put the team on his back late in games in 2010.

The Eagles aren't losing any play-makers on offense in 2011. They may actually gain some in draft picks Dion Lewis and Stanley Havili. Vick has a ton of options.
1. He's Become a Complete Quarterback
Nick Laham/Getty Images
The biggest knock on Vick has always been that he tends to run too much. He's such a dominant runner that it's hard to complain about it. However, people doubted him as a "quarterback."

In 2010, as a consideration for the league's MVP award, Vick showed that he can make all the throws that a quarterback needs to. Everyone knew him as a runner, but he really established himself as a passer.

Early on in the season, Vick looked dominant. He progressed through all of his reads and he was finding the open man and delivering accurate passes.

Things changed a bit down the stretch as Vick lost confidence in his line and began to force passes. After studying some of his film from the end of the season, I believe Vick will learn from his mistakes and get back to the passing force he was early in 2010.
Keep Reading

Philadelphia Eagles: Like this team?