WWE Tough Enough: What's Next for Luke Robinson After Last Night?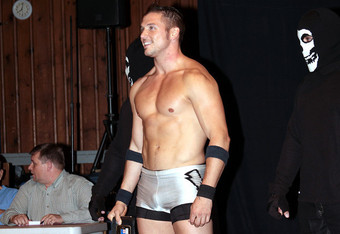 So the final two were down to Andy Leavine and Luke Robinson. Robinson was the favorite to win at the beginning of the show and was looking to win in the finale.
But the WWE had other plans.
It was announced on Monday Night Raw last night that the winner of this year's Tough Enough competition was Andy Leavine.
The WWE still has a fascination for big guys. Even though Robinson was a better athlete, better performer, better talker and more charismatic than his opposite (Leavine), he's not a big guy.
Therefore, in Vince McMahon's eyes, he's a loser.
So was Robinson losing this competition to Leavine fair? Absolutely not.
He was the winner of three of the skills challenges (tied for the lead with Martin Casaus); Andy Leavine was the winner of zero skills challenges. Why didn't he win any? Because he has no talent. But according to WWE Creative, talent doesn't really matter.
It was obvious how much more talent Robinson had than Leavine. He would have made a great WWE Superstar—a much better one than Leavine.
As far as experience goes, Robinson has been wrestling for five years and was trained by Mr. USA, Tony Atlas. Leavine has barely been wrestling for one year in FCW developmental.
The amount of talent that he showcased throughout the course of the competition was fantastic. But all of that doesn't matter when McMahon politics come into play.
What the boss says, goes. If there's a tremendous athlete and performer, but his opposite is someone that's 6'5" with no talent, the guy that's 6'5" with no talent is getting the spot.
Should Luke Robinson have won this competition?
Robinson is a fantastic athlete in great shape; Leavine is not at all. Robinson knows what he's doing in the ring; Leavine doesn't have a clue. Robinson is a great talker and has attitude and charisma; Leavine is a sloppy talker and an even sloppier looker.
Some say the biggest knock against Robinson is his cockiness. Did they forget what sport this is? This is a sport where everyone plays a character. His cockiness will, if anything, help him in pro wrestling.
Someone who sounds cocky on the microphone is better than someone who can't talk on the microphone at all.
There has been a Tough Enough robbery before: In 2004, there was a runner-up named Mike Mizanin. For those that aren't familiar with that name, he went on to be called "The Miz." He also went on to be the most must-see WWE Champion in history.
Does anyone remember who won that competition? Whoever it was, they didn't have as much success as The Miz.
Maybe in years to come, no one will remember Andy Leavine, as no one should. And maybe in years to come, we'll see Luke Robinson on WWE television.
This article is
What is the duplicate article?
Why is this article offensive?
Where is this article plagiarized from?
Why is this article poorly edited?