Manny Pacquiao: Did Pacquiao Already Beat Floyd Mayweather Mentally?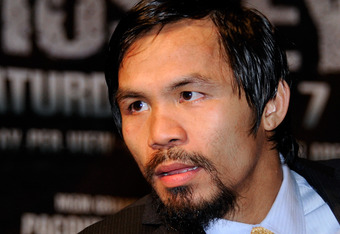 Manny Pacquiao Has Floyd Mayweather Running Scared from a Potential Fight
When Manny Pacquiao beat "Sugar" Shane Mosley to defend his WBO welterweight title, he secured another notch on his belt and may have scared Floyd Mayweather.
Mayweather claimed that he didn't watch Pacquiao's last fight, but I can almost guarantee that he was watching it and studying what he would be up against if he accepted a fight with Pacman.
Every boxing fan in the world wants to see this fight, and the fact that they haven't been able to pull it off has turned a lot of casual fans of boxing sour to the whole situation.
Must Read: 10 Fighters Who Have Given the Best Performances of 2011
I always felt like it was Mayweather to blame for this fight not happening, and now Top Rank Promotions head man Bob Arum has given more credibility to what many have been saying.
Arum told NBC Sports:
You know, one thing about Floyd, Floyd knows boxing. And Floyd knows style. That's why Floyd was always reticent about fighting a southpaw. And a southpaw like Manny Pacquiao he wants no part of, because even if he protects himself with the left hand, Manny is going to bang him with the right hand. Anyone with any smarts at all knows that [Mayweather's] record is really 48-1, because he's already lost to Manny Pacquiao by ducking him.
While these words are from a boxing promoter whose job it to make these fights happen by any means necessary, everything he said is true. Pacman and Mayweather would cancel each other's speed out, and it would come down to pure technique to win that match.
Mayweather doesn't know if he can beat Pacquiao, and that scares Mayweather more than anything else.
The part of Arum's analysis that I find most true would be the idea that, while Mayweather is still undefeated, he will always have the blemish of not fighting Pacquiao on his record.
When we tell our kids about boxing, and they ask us about Floyd Mayweather, will we tell them about his undefeated career, or will we tell them about how he dodged Manny Pacquiao for years?
There have been rumors about money in the neighborhood of $65-75 million being thrown at Mayweather to agree to a fight with Pacman, but all reports have Mayweather turning it down.
Check back for more on the Boxing world as it comes, and check out Bleacher Report's Boxing Page to get your fill of Boxing.
Most recent updates:
This article is
What is the duplicate article?
Why is this article offensive?
Where is this article plagiarized from?
Why is this article poorly edited?