WWE Raw Rapid Reaction: Best Episode of the Year?
June 7, 2011
Sorry that I have been away for a while; I have been on vacation for the past two weeks, but that doesn't mean I haven't been keeping up with all that is going on in WWE.
Raw got off to an action-packed start with both Tough Enough finalists, Luke and Andy, in the ring with Vince McMahon and Stone Cold Steve Austin.
First off, great decision by Vince on deciding to be on the finale of Tough Enough because it adds even more credibility to the show and displays that he is taking the winner seriously.
With that being said, I think the wrong person won.
Andy has the look and size of a dominant big man in WWE, but he has this awkward intensity that really bothers me. It also looks like he walks unbalanced.
While everyone hates Luke because of how cocky he is, the point is that he draws a reaction out of the crowd—something Andy didn't really do.
Most of the cheers for Andy were related to the crowd hating Luke; not for their backing of Andy.
My honest prediction is that Luke ends up being a huge star in WWE and Andy gets "future endeavored" within the next year.
Following this segment, R-Truth continued his excellent comedic (intentional or not) streak by dressing up like a Civil War soldier and claiming he was seceding from the WWE Universe like Robert E. Lee and the Confederacy.
This was absolutely hilarious. For those of you that follow me on Twitter, you know that the Confederacy was a hot topic of discussion when I was in Atlanta for WrestleMania, so this was right in my wheelhouse.
To show how huge R-Truth's push is, Vince and Stone Cold remained in the ring while he cut his promo.
Then, the Miz, Alex Riley and John Cena all entered the ring setting up the a tag team match for later tonight.
Much has been said about how Riley is one of the future faces of WWE and that is no more evident than being in the same ring as some of the biggest names in WWE—past and present.
It really is awesome (wrong guy, but same idea) to see them push a young guy like Riley that has huge potential.
Then, there was a decent match between Mike McGillicutty and Santino Marella, but I don't understand having Santino come out on top. If you are trying to have Nexus be strong, why have Santino win clean?
A Diva's match followed, and I will never complain about Kelly Kelly and the Bellas taking up five minutes of in-ring time; it's a bright spot of the week if you ask me.
CM Punk vs. Rey Mysterio was again a great match. Week after week I am blown away by Punk's abilities and how he is just head and shoulders above everyone else.
It is really sad to see that his contract dispute and injuries have him rehashing a feud that lasted the better part of 2010 with Mysterio. On the other hand, they have great in-ring chemistry and put on entertaining matches, so I can't complain too much.
Look for them to face off at Capitol Punishment with both competing in the Money in the Bank match in July.
As if the opening segment wasn't enough, the IWC nearly overloaded when Zack Ryder faced off against Kofi Kingston.
I felt like a proud father seeing Long Island Iced Z in the ring (disregard that he is two years older than me).
It's been a long time coming for Ryder to finally get in-ring action on Raw and he put on a solid match with Kofi.  It is puzzling as to what they are doing with his character, though.
They have him be Broskis with John Cena the past few weeks and then have him come out with Dolph Ziggler, whom we all know is a heel.
Creative needs to make up their mind because the Ryder Revolution is taking over.
Jack Swagger vs. Booker T doesn't deserve the space this is being written in because this was just a filler match, which will most likely lead to Swagger vs. Evan Bourne at Capitol Punishment (talk about a random feud).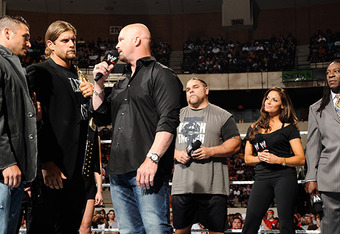 Finally, we had the tag team match between Cena and Riley vs. the Miz and R-Truth with Stone Cold as the special guest referee.
I was glad to see Riley get the majority of the time in the match. On a huge main event stage like this, it was great to see him show his skills in the ring, as opposed to seeing Cena's five moves.
I am proud to say that after weeks of criticizing Creative for burying young talent and rehashing old superstars (even though Stone Cold took up a sizable amount of time), tonight's Raw was a great display of what the future holds from top to bottom.
Do you agree or disagree? Feel free to comment below and let me know what you thought about tonight's episode of Raw.