A couple of weeks ago, Scottie Pippen made headlines by saying that LeBron James may be better than Michael Jordan.
Pippen drew plenty of criticism for his comments—and with good reason. While there is an argument to be made that LeBron possesses a rare combination of physical gifts that has never before existed in the NBA, not even in Jordan's prime, the killer instinct and force of will that has become intrinsic in the legend of Michael Jordan is not present in James, nor will it likely ever be seen in the NBA again.
And although the Jordan/LeBron argument may follow James throughout his career, his true historical comparison became clear last night while watching LeBron scold a reporter who questioned his offensive output:
"I think you're concentrating on one side of the floor. All you're looking at is the stat sheet. Honestly, I'm a two-way player. Tonight, since D-Wade had it going offensively, so we allowed him to handle the ball, rely on him to bring us home offensively."
With this response, LeBron James revealed who he truly is as a basketball player, and it isn't Michael Jordan.
Jonathan Daniel/Getty Images
It is Scottie Pippen. A more evolved, infinitely talented Scottie Pippen.
Pippen made his living through an all-around game that was unmatched in the NBA during his era and is rarely seen in basketball today. He passed, rebounded and scored efficiently. He also took as much pride in his defense as he did in his offense.
LeBron James is wired in the same way. He is content to win basketball games by making contributions that are not limited to scoring. After years of suffering through one disappointing postseason after another in Cleveland, James decided that the give-LeBron-the-ball-and-get-out-of-the-way offense would never lead him to the promised land.
So he changed not only his team, but almost everything about his game.
He surrounded himself with a higher level of talent, and became dedicated to defense. He also realized that his secondary skills—primarily passing and rebounding—could provide his talented teammates with the glue they needed to win multiple championships.
This is exactly the role that Scottie Pippen played in Chicago. Only instead of sacrificing glory to Dwyane Wade and Chris Bosh, he acquiesced to the greatest competitor basketball has ever seen.
If one were building a five man team consisting of any players throughout NBA history, Scottie Pippen would be a wise choice. He could score efficiently without requiring the ball. He could shutdown elite offensive forces. He was perhaps the greatest role player in the history of the game and took on the role willingly—and without (much) ego.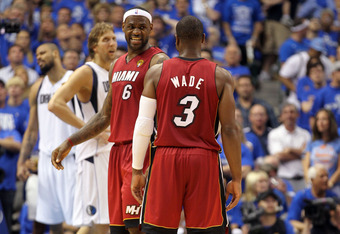 Mike Ehrmann/Getty Images
Except for the ego part, LeBron James has become this same type of player.
Watching the Heat's post game press conference last night made one thing very, very obvious. LeBron James has redefined himself. And this change came about not because he doesn't have the ability or the will to win games by himself—history has shown that he clearly does—but because he consciously decided that winning championships is more important than individual awards.
Depending on what your list of the top 100 players in NBA history looks like, Scottie Pippen might be the 50th best player of all time or the 20th. Either way, his career is considered a success story.
Because LeBron possesses the athletic gifts of a top 10 all time player, we expect more out of him. But maybe the "more" that we expect won't come in the form of 50-point playoff outbursts and perennial scoring titles. Maybe it will manifest itself in rings, and plays that don't show up in box scores.
Just because LeBron has taken on a different role does not suddenly make him a lesser player. He may not be Michael Jordan. It is likely that no one ever will be. But ultimately his career may be just as good, if not better. And it will be because he stayed true to who he really is—who his teammates need him to be.
An evolutionary Scottie Pippen. An all-around wizard for a new generation.