Stanley Cup Finals 2011: Vancouver Canucks-Boston Bruins Game 3 Live Blog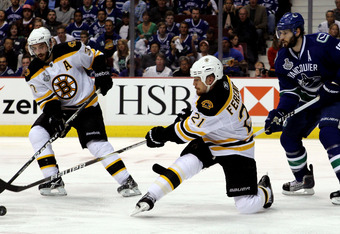 Bruce Bennett/Getty Images
Good evening hockey fans, and welcome to tonight's live blog for Game 3 of the Stanley Cup Finals.
Tonight, the series shifts to the TD Garden in Boston, and the Vancouver Canucks come into town with a 2-0 series lead. They will look to take a commanding three games to none series lead for a chance to hoist the Cup on Boston's ice on Wednesday.
Meanwhile, the Boston Bruins are hoping to get back into the series in their first home Stanley Cup Finals game since 1990.
Can Tim Thomas and Zdeno Chara cut the Canucks' series lead in half? Or will an unsung hero in Raffi Torres or Alexandre Burrows step up to get Vancouver one step closer to their first Cup in franchise history?
We'll answer those questions tonight starting at 8:00 p.m.
Game 4 will be in Boston and will air on Versus on Wednesday night.
Boston definitely came out what they did to do, but the Bruins and their fans should not expect another game like this on Wednesday. Yes, the Bruins can tie the series, so I am not questioning their ability to do so. However, Vancouver does not usually lay an egg like this, and they will be out to take a 3-1 series lead.
The Bruins got momentum tonight from the Rome hit on Horton and getting in Vancouver's faces in almost every play. They also successfully disrupted the Canucks' chances at setting up any decent chances.
The Canucks will have to get their power play back to its dominating form, and Luongo will once again have to answer to those who feel he cannot perform in a big game. He responded well after Schneider started in Game 6 of the Blackhawks series, so he should be able to do it again.
That is all for me tonight. Please feel free to leave your thoughts on the game in the comments!
Thomas is interviewed by Pierre McGuire and says he does not care about those who criticized him after the first two games. He says he felt discouraged but had no choice but to put the bad games behind him and focus on the present.
He finished the evening with 40 saves.
The final horn sounds in Boston, and the Bruins take an 8-1 victory to cut the series lead in half. We now know that there will be a Game 5 back in Vancouver.
GOAL! Ryder adds the final nail with 20.9 seconds remaining to give Boston an 8-1 lead. He got the goal in off the left faceoff circle.
Although I stressed before the game started that it was important for the winner of this game to get off to a strong start, I'm not really a fan of blowout games. They tend to get boring in a hurry, especially if the team takes a big lead fast rather than builds on one gradually.
That being said, Torres is now done for the game as he goes to the box with 1:07 remaining.
GOAL! Chris Kelly has made it 7-1 with 1:54 remaining. He picked up a pass from Paille, and like Recchi, was in perfect position to score. Way to catch me not paying attention...
GOAL! This time it's Recchi capitalizing. He is in perfect position again and gives nice props to Bergeron for setting him up. It is his second goal tonight, and he is on hat trick watch with 2:21 remaining in the game.
Higgins shoots off the glove of Thomas, but Bieksa picks up the puck from Ryder.
Offsides is called with 3:28 to go.
Bergeron tries to help Marchand set up Recchi, but the pair is unsuccessful. Thomas makes another sprawling save with 4:26 to go.
Bergeron takes a shot which is grabbed by Luongo, but Boston maintains control with just under five minutes to go.
GOAL! Hansen finally gets the Canucks on the board at 13:53 to cut the lead to 5-1. It is his third of the postseason and fourth of his career.
GOAL! This time, Daniel Paille strikes even as he is being held off by Tambellini. The puck bounced off Luongo and in at 11:40. The score is now 5-0 Bruins.
The benches are starting to get awfully short in Boston. Vancouver will get power play time for two minutes, as Ryder is in the box for the Bruins.
Wow, how did I miss that Seidenberg-Kesler scrum?
Lucic slashed Burrows to start the argument between the two.
We are again shown Burrows biting Bergeron in Game 1, a play which did not land Burrows any supplemental discipline.
Burrows is running his mouth in Lucic's direction as a linesman attempts to restrain him. We will have to see if any penalties come out of this when we get back from commercial.
By the way, is anyone as tired of these Geico NHL commercials as me?
Boston gets power play time of their own but cannot covert. We have 8:44 remaining in the third, and another brawl ensues. The officials are really having a hard time keeping these teams apart.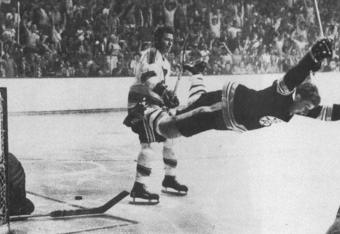 Bobby Orr is shown in a luxury suite as we return to action. He scored the game-winning goal in Boston's 1970 Stanley Cup championship over the St. Louis Blues. His No. 4 jersey is retired by the Bruins.
Ehrhoff tries to get involved with Chara after Luongo makes a save, but Chara simply turns his back and skates away.
Vancouver is again on the power play with a little over 11 minutes to go.
But that will quickly be negated, as Kesler is about to go to the box for boarding. We will have 47 seconds of 4-on-4.
Thornton is shown throwing his stick on the ground as he heads off.
Did this move really pay off for Boston? It appears they are in Vancouver's heads, but whether it will be enough to make a true comeback in the series remains to be seen. Boston still has a lot of work to do if they skate away with the win.
Vancouver gets a nice scoring chance from Oreskovich, but Thomas makes the pad save. Players again exchange pushing and shoving.
Thornton is tossed from the game and continues to yell at the Canucks as he heads for the locker room.
I apologize for mixing up my twins. It seems Daniel will be getting the penalty, not Henrik. He was slapped with a 10-minute misconduct, as was Ference.
There is a problem with the glass, and the ice crew is back out to fix things up as we head to commercial. The score is still 4-0 Boston with 13:01 to go.
Henrik will be getting a penalty for goaltender interference at 6:59 for making contact with Thomas in the crease. Ference is also off, and we will have 4-on-4 for two minutes.
The Canucks almost score, but Thomas makes a diving save on Henrik Sedin. As icing is called, Daniel is shoved down by Ference. The two start to squabble, but the officials are attempting to keep both apart. It doesn't seem that is working, as the two players keep exchanging words.
This article is
What is the duplicate article?
Why is this article offensive?
Where is this article plagiarized from?
Why is this article poorly edited?

Vancouver Canucks: Like this team?