College Football 2011 Predictions: Power Conference Champions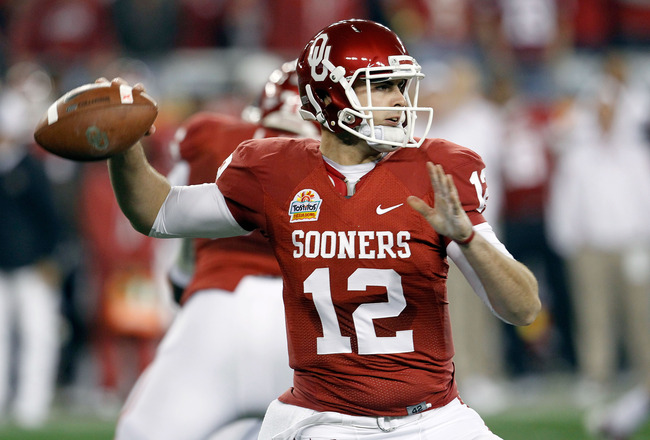 Tom Pennington/Getty Images
I believe each team in the next 6 slides will receive an automatic bid to a BCS game this year.
The champions of the Atlantic Coast Conference, Big East, Big 10, Big 12, Southeastern Conference and the all-new Pac-12 will receive automatic trips to the Fiesta Bowl, Orange Bowl, Rose Bowl and Sugar Bowl, and two of them will likely meet in the BCS National Championship (no team from outside these six conferences has ever played in the BCS Championship Game).
A team from the SEC has won the BCS National Championship in each of the past five seasons (Florida, LSU, Florida, Alabama, Auburn).
ACC: Florida State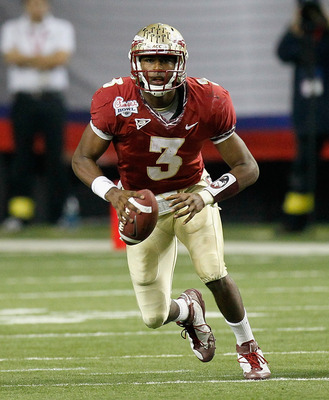 Kevin C. Cox/Getty Images
As a graduate of the University of Miami, it sincerely pains me to have to make this pick, but Florida State is the best team in the ACC this year.
In their second year under Head Coach Jimbo Fisher, the Seminoles will replace Christian Ponder at quarterback with electric sophomore E.J. Manuel. Manuel played a little bit last year, completing 69.9% of his 93 pass attempts for 861 yards.
Last year's leading rusher Chris Thompson is still just a sophomore as well, and along with Manuel they will form one of the fastest backfields in the ACC.
The Seminoles' 20th-ranked defense (in points per game) carried them to the second-best record in the ACC last year, and another strong showing can be expected from that group this season.
Big East: West Virginia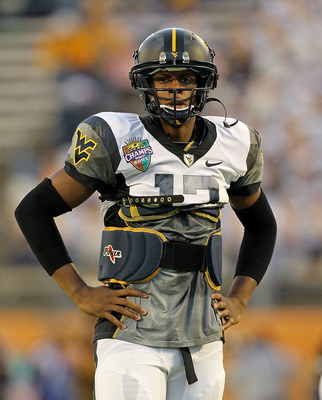 Mike Ehrmann/Getty Images
Mountaineers quarterback Geno Smith was one of the best freshmen in the country last year, completing 241 of 372 passes for 2763 yards and 24 touchdowns with just seven interceptions - three of which came in one game against Syracuse. He should improve on all of those numbers in his sophomore season as he progresses in new coordinator Dana Holgorsen's offense.
Noel Devine has finally vacated Morgantown, but juniors Shawne Alston and Ryan Clarke are still in town to pick up some slack, as evidenced by Clarke's eight touchdowns in each of the last two seasons.
Wide receiver/running back Tavon Austin will be counted on to provide the explosiveness that will be lacking in Devine's absence.
Returning four starters along the offensive line will allow all these players to flourish. In the weak Big East, the offense would be enough to carry them to a conference championship, but they also return four starters from a defense that ranked first in the conference in both points and yards allowed last year.
Big Ten: Wisconsin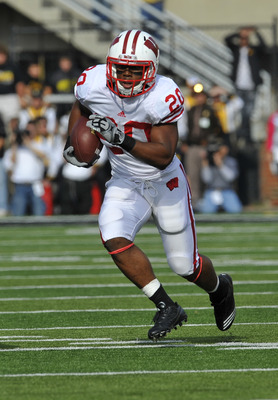 David Purdy/Getty Images
With traditional powers Ohio State and Michigan entering transitional years under new coaching regimes, the time is now for Wisconsin to take down the Big Ten Championship.
Wisconsin will be breaking in a new quarterback now that Scott Tolzein has graduated, but he has a lot of help around him on offense.
Running back John Clay left Madison a year early to head for the NFL, where he was not drafted, but James White stands ready to take over even more of the load than he carried last year. White scored 14 touchdowns, equalling Clay's total from a year ago, and actually carried the ball more times.
The Badgers were fifth in all of college football in points-per-game last season, averaging 41.5 per game.
Their 25th-ranked defense will be hugely important to their success in the Big Ten as well.
Big 12: Oklahoma
Ronald Martinez/Getty Images
The Oklahoma Sooners could very well be the best team in the nation this year. Led by Heisman Trophy candidate Landry Jones at quarterback, you can expect them to put up a lot of points in a hurry.
This of course will not be Head Coach Bob Stoops' first conference championship in Norman, since he's already won seven Big 12 Championships. Stoops is looking for his second National Championship this year, and my belief is that he'll at least play for it.
With the Nebraska Cornhuskers departing the Big 12 for the Big Ten this year, Stoops, Jones and the Sooners have one less obstacle in their way.
If Oklahoma can pick up a win in over the Florida State Seminoles in Tallahassee in Week Two, it will be the springboard to a huge season.
SEC: Alabama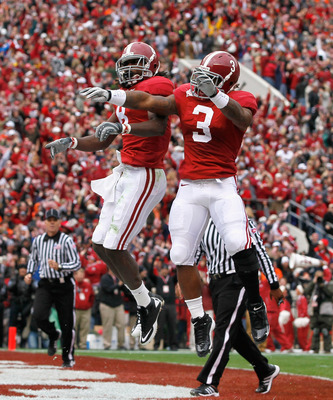 Kevin C. Cox/Getty Images
It's not too often that a team loses its top three offensive players from the previous year and still gets picked to win the conference the next year, but I'm not the only one being contrarian, since the Sports Information Directors of the SEC also picked Alabama as the best team in the conference.
Gone are Greg McElroy, Julio Jones and Mark Ingram, but running back Trent Richardson is among the most talented in all of college football, and Nick Saban always has the Crimson Tide defense ready to roll.
'Bama also loses the best player from its third ranked defense from last season, Marcel Dareus, but new defensive line coach Chris Rumph will look to improve the Crimson Tide's defensive line play.
Pac-12: Oregon
Ronald Martinez/Getty Images
The Oregon Ducks lost in the National Championship game last season, and they have to be extra motivated to get back.
While Stanford is a popular pick to be the champion of the new and improved Pac-12, I believe Chip Kelly's offense is simply too good to be stopped. The Ducks return all three of their explosive runners in LaMichael James, Kenjon Barner and quarterback Darron Thomas.
While the offense racked up points in record fashion, the defense was largely overlooked last year. However, the Ducks were 12th in FBS in points per game allowed, with just 18.7 per game.
Look for the winner of the Oregon vs. Stanford clash in Palo Alto to secure the automatic BCS bid of the Pac-12 this year.
Keep Reading