2011 MLB Draft Tracker: Tracking Each Pick from the Draft's Fourth Round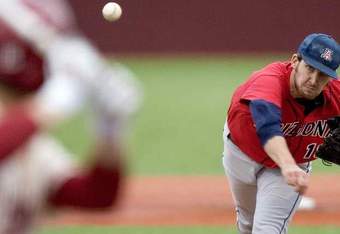 The 2011 MLB Draft gives baseball fans a glimpse into the future of what their favorite teams will look like. While many of these names may not be recognizable and may take a few years to develop and face a tough road through the minors, the most successful MLB franchises get built through the draft.
Bleacher Report is examining all things draft-related, including report cards, grades and results for every single pick and team.
Round 4
122. Pittsburgh Pirates: Colton Brewer, RHP, Canton HS (Texas)
123. Seattle Mariners: John Hicks, C, Virginia
124. Arizona Diamondbacks: Evan Marshall, RHP, Kansas State
125. Baltimore Orioles: Kyle Simon, RHP, Arizona
126. Kansas City Royals: Kyle Smith, RHP, Santaluces HS
127. Washington Nationals: Kylin Turnbull, LHP, Santa Barbara (Calif.) CC
128. Cleveland Indians: Mark Lowery, C, James Madison Univ.
129. Chicago Cubs: Tony Zych, RHP, Louisville
130. Houston Astros: Christopher Lee, LHP, Santa Fe CC
131. Milwaukee Brewers: Nick Ramirez, 1B/LHP, Cal State Fullerton
132. New York Mets: Tyler Pill, RHP, Cal State Fullerton
133. Florida Marlins: Tyler Palmer, 2B, Wayne County HS (GA)
134. Los Angeles Dodgers: Ryan O'Sullivan, RHP, Oklahoma City Univ.
135. Los Angeles Angels: Michael Clevinger, RHP, Seminole State
136. Oakland Athletics: Bobby Crocker, OF, Cal Poly
137. Detroit Tigers: Jason King, 3B, Kansas State
138. Colorado Rockies: Dillon Thomas, LF, Westbury Christian (Texas)
139. Toronto Blue Jays: Thomas Robson, RHP, Delta SS
140. St. Louis Cardinals: Kenneth Peoples-Walls, SS, Westchester HS (Calif.)
141. Chicago White Sox: Kyle McMillen, RHP, Kent State
142. Boston Red Sox: Noe Ramirez, RHP, Cal State Fullerton
143. San Diego Padres: Cody Hebner, RHP, Green River (Wash.) CC
144. Texas Rangers: Desmond Henry, CF, Centennial HS (Calif.)
145. Cincinnati Reds: Kyle McMyne, RHP, Villanova
146. Atlanta Braves: J.R. Graham, RHP, Santa Clara
147. San Francisco Giants: Bryce Bandilla, LHP, Arizona
148. Minnesota Twins: Matt Summers, LHP, Univ. Of Cal-Irvine
149. New York Yankees: Matthew Duran, 3B, New Rochelle HS (N.Y.)
150. Tampa Bay Rays: Riccio Torrez, 3B, Arizona State
151. Philadelphia Phillies: Cody Asche, 3B, Nebraska
Most recent updates:
This article is
What is the duplicate article?
Why is this article offensive?
Where is this article plagiarized from?
Why is this article poorly edited?