MLB Draft 2011: Which Team with Multiple First Round Picks Stole the Show?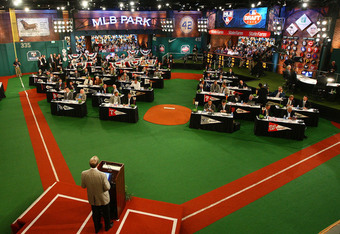 Which Teams Did the Best During Day One of the 2011 MLB Draft?
The first day of the 2011 MLB Draft has come and gone, as well as any fan excitement about the actual draft. It's not a popular event, but it's probably the most important draft of any sport.
Several baseball teams heavily rely on their farm system to continue their success. A few bad picks in the early rounds could set a team back, or it could force them to spend a lot of money on a big time free agent.
Most clubs like to save money and build their roster up from their draft picks. Looking at last night's picks we saw quite a few teams with multiple picks in the first round. So which teams made the most of their numerous first round draft picks?
Three teams that did a solid job with two or more first round picks are the Tampa Bay Rays, San Diego Padres, and the Boston Red Sox.
You could include the Arizona Diamondbacks in there but it's sort of cheating. Arizona had two picks in the top 10 so of course they're going to do well.
The Rays had three picks in the first round, and with those picks they drafted Taylor Guerrieri, RHP (24), Mikie Mahtook, OF (31), Jake Hager, SS (32). Guerrieri and Hager are both high schoolers, which means the Rays are hoping neither will skip out on the draft for college ball.
Mahtook played at LSU and it was a bit of a surprise that he was still available for them. Tampa Bay used 10 of their 12 day one picks.
The Padres drafted Cory Spangenberg (10), Joe Ross (25). Spangenberg is a third baseman from Indiana River State College but the Padres know they can easily move him around the infield. He has a great amount of potential. It's an unprotected pick, which is why the Padres drafted him, but he will still be a good player.
Ross is a right handed pitcher with high upside. He is an athletic high schooler that should sign with the Padres in no time.
The Boston Red Sox made their case as big winners of the 2011 MLB Draft. They drafted Matt Barnes, RHP (19), Blake Swihart, C (26). These two guys fell Boston's way and the Red Sox made the most of it.
Barnes was a preseason top 10 player but his command wasn't very solid this year. He throws with high velocity and the Red Sox will work with him to get him under control.
The pick of Swihart is a great one because the Red Sox could use a strong catcher. He was rated the top catcher in the draft class and it's a position that Boston needs help with. A few years of development for this high schooler and he should be up in the bigs as a solid hitter.
The draft continues today and tomorrow. Every team has a chance to make up for bad picks or add to their already strong draft choices. Who will emerge as the big winners of the 2011 MLB Draft?
Most recent updates:
This article is
What is the duplicate article?
Why is this article offensive?
Where is this article plagiarized from?
Why is this article poorly edited?