MLB Draft 2011: First 5 Players To Make It To The Show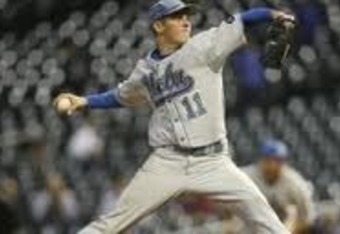 MLB Draft 2011 Features A Few Players Who Are On The Fast Track To The Big Leagues, Who Are They and When Will They Debut
With the first-round of the 2011 MLB Draft in the books, it's time to look at those players who are on the fast track to the big leagues. Every year there are at least a couple guys who debut after spending a month or two in the minors, and this year is no different.
Here are the first-round picks who will make it to The Show very, very soon.
1) Trevor Bauer, Arizona - His stuff is already Major League ready and he commands his pitches in the strike zone. Durability won't be a problem because he routinely threw over 120-130 pitches per start in college. He should see the big leagues next summer.
2) Danny Hultzen, Seattle - The Mariners surprised a lot of people by going with Hultzen over some of the higher upside players. His stuff is not electric, but still good, and he has a great command and feel for pitching. He will spend a couple months in the minors next season before debuting around July or August.
3) Taylor Jungmann, Milwaukee - Jungmann doesn't have an overpowering fastball, it sits in the low-90's, but he has a dynamite curveball and command of his pitches which allows him to miss a lot of bats. He could debut next September, but 2013 is more likely.
4) Anthony Rendon, Washington - His bat is so advanced that he could start in double-A and not miss a beat. The shoulder injury that plagued him this season will be healed before spring training next year, allowing him to show off that plus glove at third base. He could see time late in the year if Ryan Zimmerman gets hurt.
5) Mikie Mahtook, Tampa Bay - The Rays were able to get the second best college hitter - after Rendon - for some reason. He has five-tool potential, and the bat will play right away. He needs to get better reads off the bat in center to play the position in the big leagues, but if you can hit - and Mahtook can definitely do that - teams will find a position for you.
A majority of the fast track guys this year are pitchers because that's where a vast majority of the talent was in this draft, but there are a few hitters that could see time as early as next year.
Most recent updates:
This article is
What is the duplicate article?
Why is this article offensive?
Where is this article plagiarized from?
Why is this article poorly edited?