2011 MLB Draft Results: Live Draft Tracker for Each Pick From the First Round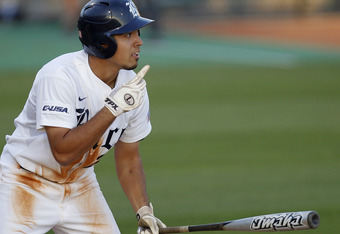 The big day is finally here. The 2011 MLB draft begins Monday night with the first round.
And whether you're focused on the Gerrit Cole, Anthony Rendon (pictured), Trevor Bauer and the other prospects likely to go at the top of Round 1 or you're more concerned with which of them your favorite major league squad will choose with their pick, you'll need to stick with Bleacher Report for complete coverage before, during and afterwards.
Which of the prospects will go in the top 10? Who will fall because they might be tougher to sign to contracts? Who will go to college to play football instead? Which names are most likely to hit the big leagues in the next year or two?
Right here, I'll be keeping track of every pick as it's made and providing some analysis on each of them.
For more 2011 MLB draft coverage, including updated MLB draft results and MLB draft grades, stay tuned to Bleacher Report.
As you can see, this was a pitcher dominated/heavy draft.
However, there is A LOT of talent all around, so this draft runs very deep.
Hence, mostly good grades for each of the 33 draft picks.
It's going to be interesting who and who does not pan out.
So, thanks for reading and good luck to all those who were drafted.
Okay folks, the final pick of the 2011 MLB Draft goes to the defending AL Champion Texas Rangers who select Kevin Matthews from Richmond Hill High School, in Richmond Hill, Georgia.
A record of 4-2 with a 1.68 ERA, Matthews has a commitment to the University of Virginia.
So, even though he may be a tough persuade, maybe Nolan Ryan can use that World Series appearance as a selling point (even though he won't be in the majors for a few years).
Grade: C+
Thrice picks in the first round, the second of two consecutive, the Rays draft Jake Hager from Sierra Vista High School in Las Vegas, Nevada.
Dominated virtually every aspect of high school whether fielding or in the box, and is committed to Arizona State.
Tampa Bay may have missed on this one since Hager is committed to a great college program, and if he goes there for a year or two, he could become a top ten pick.
However, since that remains to be seen, here's to hoping he produces wherever he goes.
Grade: B-
Here we see the first of two straight picks from the Tampa Bay Rays, where they select Mikie Mahtook from LSU.
He's an outstanding athlete, whether it's speed, agility, awareness, or quickness.
Mahtook can steal bases with the best of them, and can hit, and hit with power very well at that.
Definitely should be an everyday player, and easily makes the Rays better once he gets to the bigs.
Grade: A-
For as great as the Minnesota Twins were last season, they've virtually pulled a 180 degree turn this season.
That said, they need help practically everywhere.
Here, we see them select the top-rated SS in Levi Michael from North Carolina (another college baseball powerhouse).
Thought to have health problems, but playing ahead of his age and was arguably the best player not named Dustin Ackley.
Grade: B+
At last we make it to the 2010 World Series champion and Brian Wilson closed San Francisco Giants.
Here, we see them draft Joe Panik 29th overall from St. John's University.
It's been a while since they've drafted a middle-infielder in the first round, but Panik will payoff as he was a finalist for the Golden Spikes Award.
If he produces early on in the minors, pairing him with Freddy Sanchez behind the San Fran pitching staff will be fun to watch.
Grade: A-
They're only pick of the first round, the Atlanta Braves go college and select Shaun Gilmartin from Florida State.
He has great tenacity, and isn't afraid to force guys off the plate.
In 12 games he totaled 122 strikeouts for a 1.83 ERA.
This pitcher heavy draft hasn't disappointed, and neither should Gilmartin. The Braves made a solid pick here.
Grade: A
The defending NL Central champions finally have their selection with Robert Stephenson from Alhambra High School in Martinez, California.
I know it's high school, but back-to-back no hitters is freaking ridiculous, as well as a 20-strikeout game.
He's also a very bright young man as his GPA is 4.0, so he may take the college route to Washington (where he's committed).
That being said, keep this guy on your radar because he will be in the big leagues within the next four years.
Grade: B+
At No. 26 overall, the Boston Red Sox go behind the plate to Blake Swihart from Cleveland High School in New Mexico.
He's got great contact with the bat, and the power is a solid complement.
If and when he makes it to the main diamond, his potential could reach the Jason Varitek level.
Oh the Red Sox fans can't wait to see this young man in action.
Grade: B+
A second-first round pick for the San Diego Padres, they take Joe Ross from Bishop O'Dowd High School, who's older brother pitches for the Oakland A's.
He's a few inches shorter than his brother, but has a nice fastball along with some secondary pitches to boot.
However, don't be shocked if he passes the pros, and goes to UCLA (where's he's committed).
There, he'll really develop as a baseball player.
Grade: B
Finally, the Tampa Bay Rays have selected. But, get use to it as the draft progresses.
Here, they begin to recrop the farm system by selecting Taylor Guerrieri from Spring Valley High School.
Had a solid senior campaign by going 6-1, and also has a solid bat.
A great fastball and obtains the finesse to throw a nasty curveball, Guerrieri is still a teenager.
There's a lot of time to mature and develop, so he won't be around for a few years, but just be prepared for when he does.
Grade: B-
A pick the Washington Nationals got from the Chicago White Sox, they choose Alex Meyer 23rd overall.
Meyer, who is 6' 9" shutdown Vanderbilt when they were ranked No. 1 for the Kentucky Wildcats.
A bit of a late bloomer since he didn't really come into his own until this past season, Meyer should greatly develop through the minors.
That said, the up and coming Nationals are looking scary with also drafting Anthony Rendon earlier.
Grade: A-
At the No. 22 overall pick, the St. Louis Cardinals put us two-thirds into the first round with Kolton Wong from the University Hawaii.
He's a pure second-baseman who can put great contact on the ball, while also having excellent base-running awareness.
Whenever he does make it do Major League Baseball, his addition will make Albert Pujols that much more dangerous.
Because, now there's a man on base who can get the pitcher to not completely focus on Albert.
Advantage-St. Louis Cardinals
Grade: B+
Another pitcher was taken? By who? The Toronto Blue Jays who take Tyler Beede No. 21 overall from Lawrence Academy in Groton, Mass.
In terms of longevity, Beede will be the man for the Jays once he does make it to the majors.
Currently Toronto ranks 28th in quality starts and 20th in ERA, so there's no question pitching was needed.
Grade: A
The Colorado Rockies take Tyler Anderson from Oregon who did nothing but improve as he progressed through college.
In addition, the Rocks' need him to sprint through the minors so they can improve their 21st ranking in quality starts.
While at Oregon, Anderson has 285 strikeouts, with 114 coming his final year. Yikes.
Grade: A-
A pick the Boston Red Sox got for Victor Martinez from the Detoit Tigers, they take Matt Barnes from Connecticut.
His fastball is consistently low-to-mid 90s, but does need to continue to improve his secondary pitches.
Boston, who basically pumps out pitcher after pitcher, will make Barnes another product of their success.
And, the faster he progresses through the minors, then the better chance of them fighting off those pesky New York Yankees that they despise.
Grade: A-
Surprise, surprise the Oakland Athletics go back to the college ranks for another draft pick.
But, then again, that's what gets these prospects to the big show much quicker.
As for the pick, Sonny Gray from Vanderbilt, who has been criticized for his size of a pitcher (6'0" 185lbs).
However, he used that low-90s fastball and solid slider to help as part of Team USA as well.
Grade: B+
To move us past the halfway point, the Los Angeles Angels of Anaheim take C.J. Cron from Utah.
His bat is dangerous, which will help once he gets to the majors since the Halos have been struggling at the plate.
Also, there's blood in the family with Cron as his father played pro baseball, so he has the genetic edge of developing faster on his side.
But, the Halos didn't technically need a first-baseman, but nonetheless, Cron will be a solid farm system contributor.
Grade: B-
Sixteenth overall, the Los Angeles Dodgers go to the mound by taking Chris Reed out of Stanford University.
The interesting thing here, is that that Reed began as a starting pitcher, then moved to the closer position.
Well, he may move back to a SP in the minors because of his off-speed stuff, but wherever he plays, Dodgertown will improve.
Diversity helps, so don't be surprised if Reed is used in multiple roles throughout the farm.
Grade: B
With their second-first round pick, the Milwaukee Brewers go with Jed Bradley, the ace for the Georgia Tech Yellow Jackets.
98 innings, over 100 strikeouts, this guy plays with a chip on his shoulder.
Part of the reason is because he didn't have the luxury of being drafted out of high school, so he had to work four more years to get his recognition.
That said, the Brew Crew continues to replenish on the mound, and hopefully we'll see this kid sooner than later.
Grade: A
As you can see by their 31-26 record, the Florida Marlins and their farm system have done a great job in developing their picks.
With this pick, they take Jose Fernandez from Alonso High School in Tampa Bay.
Obviously, it will take time for him to mature, but he's definitely ahead of the game for prospects his age.
How long will the Marlin fans wait? Hopefully not too long.
Grade: B
This may be the biggest news in the sports history of the state of Wyoming.
Brandon Nimmo is arguably the best player in Wyoming University history, so this is excellent news for the state that doesn't even have high school baseball.
A solid pick for the Mets, especially for everything they've gone through, Nimmo's upside was definitely a selling point.
Grade: A+
An ERA of 1.40 for Taylor Jungmann says it all as he's a proven winner to boot.
A good pick for Milwaukee after trading away a lot for Zach Greinke and Shaun Marcum.
A little replenishment helps, and the fact that he's 6'6" puts him in the Randy Johnson-esque discussion.
If he reaches that potential, the Brew Crew will most certainly be elated.
Grade: A
The Houston Astros just found the long-term man to go with Hunter Pence in the outfield.
He's a great athlete, and played arguably the best four-years of baseball for the University of Connecticut.
Now, the 'Stros need to be patient with him so he can adjust, but his upside has no limits.
Not to mention he should mature quicker than most since he used all four years of his eligibility in the collegiate ranks.
Grade: A-
Not expected to happen, but the San Diego Padres go to 2B for the first time in the first round of the draft.
There, they took Cory Spangenberg who also is one of the faster players, and better hitters.
And, although he has to progress like everyone else, San Diego has to hope he moves through the minors quicker than most.
Why?
Because the Pads' rank last in OBP, slugging percentage, and runs, and 29th in batting average.
Grade: B+
This article is
What is the duplicate article?
Why is this article offensive?
Where is this article plagiarized from?
Why is this article poorly edited?