Live Draft Blog: Mariners Select Virginia LHP Danny Hultzen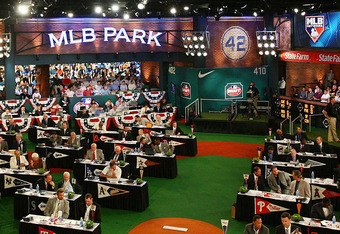 Mike Stobe/Getty Images
The Mariners, as you might have heard by now, have the second overall pick in the draft.
It appears the Pittsburgh Pirates are settling on UCLA right handed started Gerrit Cole, so we'll work off the assumption that the Mariners have their pick of every available position player.
Rice third baseman Anthony Rendon was the pre-season front runner, but is now surrounded by some shoulder concerns. Two prep players, shortstop Francisco Lindor and outfielder Bubba Starling, figure to be the other two big-name options for Seattle.
We'll update you, right here, all day with any developments, rumors or analysis that comes available.
And, just like that, Jack Zduriencik pulls a fast one.
The Mariners, with the second pick, take Danny Hultzen, left-handed pitcher from Virginia.
This one comes out of nowhere. It's not that Hultzen was never an option, but it really is surprising after the limited information that did come out leaned heavily towards Rendon or one of the prep position players.
Pittsburgh selects RHP Gerrit Cole out of UCLA.
No big surprise to kick things off.
M's are on the clock. We'll now see if they have a surprise up their sleeves.
Well, there's finally something new although it isn't actually new at all.
Churchill appears to have knowledge that the M's have decided against Lindor after seemingly being in love with him all weekend.
The medical reports must be satisfactory. I'm putting Rendon as the pick at something like 98% right now.
Draft kicks off in 10 minutes.
Things are quiet. Really quiet.
The Jack Zduriencik led front office never spill the beans. So it's no wonder that there isn't much to report as we are 90 minutes from the draft kicking off.
Larry Stone will be live chatting this evening.
At this point, I'd encourage you to fall in love with Anthony Rendon.
Mariner writers roundup time!
TNT's Ryan Divish reminds us about how awful Bill Bavasi was, which we all know, but love to recall.
The nice thing (well, not really when you think about it) about Zduriencik & Co. having a philosophy to take the best player available as opposed to drafting for need is that there are a lot of really good players available and the Mariners have a lot of needs.
John McGrath, also of the TNT, shows us why picking at number two bodes well.
Larry Stone of the Seattle Times points out all the signs of Rendon being the M's pick and kicks in reasons it could be Lindor or Starling.
Kirby Arnold from the Everett Herald cordially invites you to vote in his poll. Then he writes on the matter.
U.S.S. Mariner's Dave Cameron also believes Rendon has got to be the pick.
Bored with my rambling? Prospect Insider's Jason A. Churchill and Chris Crawford are chatting live.
Gerrit Cole to go #1?
This isn't breaking news, but for the benefit of those who haven't seen it elsewhere, here is Jonathon Mayo of MLB.com reporting that Cole will go first overall to the Pirates.
The Mariners were likely to take a position player anyhow. This just means they won't be forced with a Bubba Starling Vs. Francisco Lindor decision. They could still opt for one of those guys, but it seems more and more likely that Anthony Rendon will be their pick.
Profile: Anothy Rendon
Rendon is a junior third baseman from Rice University. Heading into this season, the guy manning the hot corner for the Owls was considered by many the clear number one choice atop their draft boards.
A shoulder injury has limited him to mostly DH duties and his offensive numbers have dropped.
2010: .394/.530/.801, 26 HR, 85 RBI
2011: .327/.520/.523, 6 HR, 37 RBI
You'll of course immediately notice that Rendon's power took a big dip. Keep in mind, however, that the collegiate level had a new mandate on bats this season. They're still using metal, but they're now using bats that have a closer resemblance to the action you'd get from wood.
While the dip in power is pretty large and there are concerns about the shoulder, Rendon is still showing terrific plate discipline.
With Chone Figgins hitting even worse than his 2010 collapse, Rendon makes a lot of sense. He may have made a lot of sense regardless, as Figgins isn't getting any younger and likely would have been gone by the time Rendon was ready to take over anyhow.
If the medical reports, believed to have finally been provided to teams, look clean, this is probably the Mariners pick. If there are any concerns that he'd have to be moved off third base or that surgery would be needed during his developmental years, the Mariners would probably pass because of the depth of this draft.
Have the Mariners settled?
ProspectInsider.com author Jason A. Churchill is a well connected guy. While he adds a caveat to this post, and the content is behind a their pay wall, there are some rumblings worth checking out.
Out of respect for their pay wall, I won't say here what it says there. If you want to skip a pack of cigarettes or a latte today, though, spend $3.50 and check out one of the best Mariners sites out there. Churchill's work is well worth it.
This article is
What is the duplicate article?
Why is this article offensive?
Where is this article plagiarized from?
Why is this article poorly edited?

Seattle Mariners: Like this team?