The 50 Sexiest Celebrity Fans in Sports
Fans have become as much of the story in sports as the teams in recent years.
City X has the rowdiest fans. City Y has the most tortured fans. City Z has the most knowledgeable fans. Los Angeles has the hottest fans.
But who are these hot fans and, more importantly, who are the hottest celebrity fans in sports today?
I'm glad I asked. I hereby present you The 50 Sexiest Celebrity Fans in Sports. Some are lifelong, diehard fans, and others are probably just looking to be seen at the Staples Center.
No matter. It's important to include fans with all inclinations and motivations, as it takes all kinds to support a team.
Ladies and gentlemen, welcome to the main event.
Begin Slideshow

»
This ranking in no way, shape or form reflects my feelings on Julia Stiles' attractiveness.
No, she is No. 50 because she is a Mets fan, which inherently drops her hotness factor.
Do we really have to refer to reality stars as celebrities in this day and age? While they are famous, I'm not sure I would say they exhibit any sort of talent.
Well, they exhibit some talent, though not of the artistic variety.
Carlos Alvarez/Getty Images

Apparently, Paris Hilton has her own motorcycle racing team, the Super-Martxe VIP.
The team's colors are pink, white and blue.
Sigh.
If Swift really is a Lakers fan, I am pretty disappointed. She hails from Wyomissing, Penn., which is a little more than an hour northwest of Philadelphia.
You should be a 76ers fan, Taylor!
C'mon!
Here we see Maria Menounos, correspondent for Access Hollywood, taking in a Celtics game with Dane Cook.
This is how the conversation during that evening went:
Maria: So Dane, rumors are your comedy routine has gotten stale—how would you respond to that?
Dane: WELL MARIA, I'D PROBABLY YELL A JOKE WHILE I VIOLENTLY GYRATED MY BODY AROUND. AND THEN I'D SAY SOMETHING SORT OF SARCASTIC IN A DERISIVE WAY, LIKE, "OH, OH, MY BIT HAS JUST GOTTEN SOOOO STALE. YEAH. WHATEVER, MAN—I'M ABOUT AS STALE AS YOUR FACE, HAHAHAHAHAHA."
Maria: Yeah, OK, let's just watch the game.
One wonders if Hayden Panettiere is also a boxing fan, seeing as she dated Wladimir Klitschko for nearly two years before the two split in May.
Frazer Harrison/Getty Images

I mean, as Queen of the WAGs, it's her duty to be a soccer fan, right?
There is something a bit ironic about Holly Madison—one of Hugh Hefner's girlfriends on The Girls Next Door—wearing the jersey of squeaky-clean Peyton Manning.
Then again, it's better than her wearing a Hank Baskett jersey, right?
Denise Richards has a habit of putting herself in situations doomed to fail.
She married Charlie Sheen, and she is apparently a Cubs fan.
Sheen isn't exactly stable, and the Cubs most certainly aren't "Winning!"
I was always on Team Lauren over Team Kristin during the Laguna Beach days.
Oh crap—in one flail swoop, I not only admitted to watching Laguna Beach, but I also made a "Twilight" reference.
I think my man card just got revoked.
Kentucky's—and college basketball's, for that matter—biggest fan is none other than the gorgeous Ashley Judd.
She's also a racing WAG, married to Dario Franchitti, which I think qualifies her as some sort of Super Fan.
Noel Vasquez/Getty Images

Diaz is a baseball and basketball fan, though you may be surprised which sport she told Maxim was her favorite:
"'Sex is my favorite sport,' Diaz gushed while promoting her new movie, 'Bad Teacher.'

"'Sex is the sexiest word in the English language,' she says in the June issue of Maxim Magazine. 'Just the word is sexy to me. There's something to it, don't you think?'"
I wholeheartedly agree.
Elsa/Getty Images

I guess being hitched to Ben Affleck, Jennifer Garner has to be a Sawx fan now.
Man, she's wicked hawt.
Miss Missouri 2008 is now married to Tony Romo, which means we all might be graced with her image during Cowboys broadcasts.
So I'll get to watch the Eagles beat the Cowboys and see shots of Candice Crawford?
Life is good.
Jamie Squire/Getty Images

If I was batting, Ashanti was pitching and this was her stare down, I would have a pretty hard time keeping my eye on the ball.
I'm not sure if I've ever actually seen Vanessa Hudgens act in any capacity, but she is pretty hot, so I'm glad to include this "Lakers Lover."
That is all.
I mean, she's obviously a sports fan, so I don't feel like her inclusion is a cop-out in any way.
In other words, an angel.
I would guess Dushku—a Celtics fan—and her boyfriend, ex-Lakers' player Rick Fox, have a few arguments over which basketball team is better.
Then they have the Larry vs. Magic argument, which turns into Russell vs. Kareem, and next thing you know, they aren't speaking to one another.
That's how it should work between a Celtics and Lakers fan in a relationship, anyway.
If you've dated English footballers Teddy Sheringham, Marcus Bent, Jermain Defoe and are currently engaged to Jamie O'Hara, you have to be a pretty big soccer fan, right?
If you are rocking Liverpool apparel like Lloyd is here, rest assured that I will assume you are a soccer fan and include you on the list.
Carrie Underwood is a Cowboys fan, further evidence that no one is perfect.
I, for one, much prefer to think of her as a softball fan.
I don't know if she's still a Cowboys fan, but she was famously shown on television supporting Tony Romo, so she makes the list.
Mike Ehrmann/Getty Images

There are Heat fans, and then there are hot fans.
Dwyane Wade's girlfriend has both covered.
No, well-known hockey fan Cuthbert doesn't go to hockey games dressed so scantily.
Because who would watch the game?
Replace that with a Nets jersey, Kim, and we're up to date.
Andrew H. Walker/Getty Images

Beyonce has to be a Nets fan, right?
Elsa/Getty Images

She's been spotted at Dodgers (she dated Matt Kemp for a while) and Lakers games.
Then again, every star who comes through Hollywood has been spotted at a Lakers game.
I have no idea if they are football fans.
But seeing as they are dressed like football fans in this picture, I felt compelled to include them.
Jennifer Love Hewitt—or as I like to call her, the hottest woman of my teenage years—is a fan of the soccer club Celtic FC.
Chris McGrath/Getty Images

She has to be a Yankees fan now, right?
Ciara has been spotted at Atlanta Hawks games (as pictured here) and New York Knicks games, often with good friend Lala.
And if her relationship with Amar'e Stoudemire is still on, methinks fans at Madison Square Garden will be treated to more Ciara sightings in the future.
I'm going to go ahead and assume Carmen Electra is a football fan.
You don't mind that assumption, do you?
Getty Images/Getty Images

This Soccer WAG—she famously dated Cristiano Ronaldo—may just make me a biking fan yet.
Erin Andrews still reps her alma mater, Florida.
The world's hottest sports reporter may also be the world's hottest soccer WAG (she is dating Spain's goalie, Iker Casillas).
I think it is safe to call her a soccer fan, no?
Miller—who is a lifelong fan of the San Francisco 49ers—was named an NFL spokesperson this October.
There are so many reasons why we need football to come back soon.
Photo from NFL.
I know she's married to Andy Roddick, but do you think she ever finds herself breathless watching Federer and Nadal play?
It's possible that she now hates the Spurs and basketball, but for a while there, she was one of the most visible celebrity fans around.
Excluding her just wouldn't be right.
Damn you Cristiano Ronaldo, for your unbelievable womanizing ways.
The pair were spotted at the Madrid Open Final this May.
Charlize Theron has been spotted at both Lakers and Clippers games, which makes me think she is actually a basketball fan.
After all, Hollywood stars going to basketball games to be seen don't go to Clippers games. They only go to Lakers games.
Alba has been spotted at both Golden State Warriors games and Clippers games, thus making her—along with the gorgeous Charlize Theron—a true basketball fan.
And you thought Jessica Alba couldn't get any hotter.
Wait, isn't she married to Serbian basketball player Marko Jaric?
Yes.
So what's up with the football in this picture?
Dude, who cares.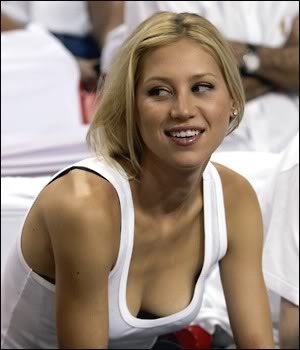 First of all, Happy Birthday Anna Kournikova!
The gorgeous Anna K. has been spotted at Miami Heat games, and though the Heat are chock full of superstars, methinks Anna K. is the best talent in the stadium.
You be the judge.
Be sure to hit me up on Twitter (@TRappaRT), along with the entire B/R Swagger team (@BR_Swagger).