Richard Childress: NASCAR Team Owner Fined $150,000 for Punching Kyle Busch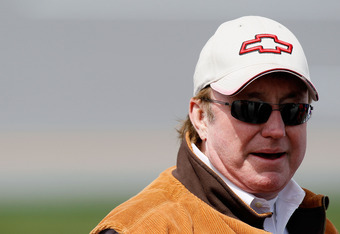 NASCAR Team Owner Fined for Altercation with Kyle Busch
Kyle Busch is no stranger to altercations in racing. Busch is currently No. 5 in Sprint Cup standings, but it was truck race that caused the latest Busch quarrel.
Busch's team owner Richard Childress reportedly was not happy with Busch for running into Joey Coulter on the cool-down lap after the race. Childress apparently punched Busch several times.
NASCAR stated Sunday that Busch was not at fault, and earlier today they fined Childress $150,000 and place him on probation through the end of the year.
MUST READ: 2011 MLB Mock Draft: Projecting Who Will Land Where
Busch has be involved in fights Carl Edwards and Kevin Harvick, but he's never had a problem with an owner until now.
Childress clearly wasn't thinking when he lashed out at Busch. He accepted NASCAR's penalty, but Childress still hasn't apologized.
First of all, I'm responsible for my actions, plain and simple. As you know, I am a very principled person and have a passion for what we do at Richard Childress Racing.

I believe passionately in defending my race teams and my sponsor partners. In this instance, I let that passion and my emotions get the best of me.

I accept the penalty NASCAR announced today and, as a company, we will now focus on this week's races at Pocono Raceway and Texas Motor Speedway.
It's no surprise that this hasn't been blown up by all the media outlets. Had this been an MLB, NBA, or NFL owner punching a player then two things would have happened.
The first would have most likely been a retaliation of some sort from the player, and the second would be that it would be the topic of conversation all week long in the media.
However, because this is NASCAR, which isn't a major sport, it takes a back seat to stories like the NBA Finals and Plaxico Burress being released from jail.
A bit odd if you ask me. I mean, anytime a front office person is involved in a physical altercation with a player of any sport it should be a big deal.
Maybe Childress punches like a girl and that's why nobody cares as much.
Most recent updates:
This article is
What is the duplicate article?
Why is this article offensive?
Where is this article plagiarized from?
Why is this article poorly edited?