Plaxico Burress: Former Giant Seen Wearing Phillies Hat After Release from Jail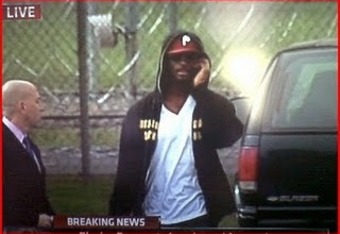 Will Plaxico Burress Join the Philadelphia Eagles in 2011?
Plaxico Burress was released from jail this morning after serving more than 20 months behind bars. Burress was in jail because of a gun incident in a Manhattan night club. He not only figuratively shot himself in the foot by bringing a gun into the club, he literally shot himself in the foot.
Burress became a free man early this morning, and he was seen wearing an old school Phillies hat. He told reporters that he is happy to be out. Per ESPN:
I just want to thank God for bringing me through one of the most trying times in my life. It's a beautiful day. It's a beautiful day to be reunited with my family. I want to go home and spend some quality time with them.
Burress was very anxious to get home and be with his family. While he was incarcerated he missed the birth of a his daughter. I'm sure he's very excited to get home and see her.
MUST READ: Where the Top 50 Free Agents Are Headed
Burress will turn 34 this season, and despite not having played in the NFL for two years he and his agent believe he can still compete. Burress stated that he will be ready once the league ends the lockout.
Whether or not this is true remains to be seen. What we do know is that at 6'5" he will a strong third down receiver, as well as a big time red zone threat. Those reasons alone are why a team will take a gamble on him.
Burress' agent Drew Rosenhaus told reporters that every team is in play for Burress.
I wouldn't rule out any team, I wouldn't rule out the Giants, I wouldn't rule out any club. I really won't talk about specific teams because I don't want to hurt his position.

As far as the Giants, my personal opinion is he wouldn't rule them out. I certainly wouldn't. We are going to be open to all 32 teams.
To me, Burress wearing a Phillies hat is a big sign that he wants to play for the Eagles. Michael Vick has expressed his interest that he would like Burress to join the Eagles, and I'm sure Burress was happy about that.
Here's a quarterback letting Burress know that he is wanted. I do believe that Andy Reid is desperate enough to take the risk on Burress and hope that it pays off.
Most recent updates:
This article is
What is the duplicate article?
Why is this article offensive?
Where is this article plagiarized from?
Why is this article poorly edited?