Miami Dolphins: How Chad Henne Can Have a Successful 2011 Campaign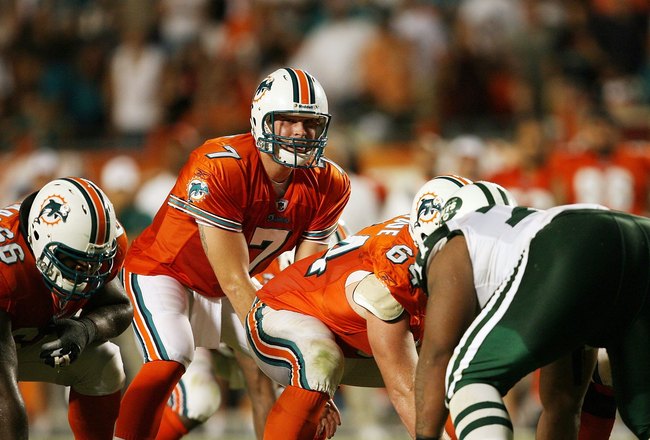 Doug Benc/Getty Images
I now present the conclusion to my three-part series on Chad Henne. Click here for Part 1 and Part 2.
The previous articles examined how Henne's lack of success in 2010 was not entirely his fault. This does not mean that Henne is perfect; he needs to make some big improvements in 2011 if he wishes to keep the job as Miami's starting QB.
In his time at Miami, Henne has shown that he has the potential to be a playoff-caliber QB but has had just as many moments that left fans shaking their heads.
It is without a doubt Henne's last chance to prove to the organization that he should be the man under center every Sunday, and there are improvements that need to be made if he is to be the signal caller.
After the draft, it seems the Dolphins' front office is investing in Henne and putting him in a place to succeed.
Free agency has a few tales yet to be told, but for now, it seems the organization has done all they can to help Henne the upcoming season.
LEADERSHIP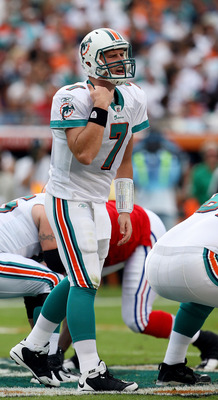 Doug Benc/Getty Images
There is a reason the title of this slide is in all caps—this is where Henne needs to improve the most.
If Henne is to be the quarterback that Miami needs him to be he must take charge of this team. He has to be the man that pumps up the team before the game, who calls the shots on the field and who other teammates look up to.
A detailed look at his leadership problems can be seen here. The information presented in the article is agreeable, but it doesn't mean the Henne should not be the starter next season.
If Henne can work on changing his on-field demeanor to that of a leader, it would be a major step towards his success. A quick look at great quarterbacks such as Tom Brady or Drew Brees will show anyone that leadership is a valuable attribute.
This is one place where the lockout could actually be beneficial.
Since coaches and players are not allowed to communicate, it is up to the players to pull themselves together as a team. What better opportunity for Chad Henne to prove himself as the leader of this team.
Reports say that Henne, along with Jake Long, has organized team workouts, and hopefully, Henne is turning into the leader teammates and fans need him to be.
Accuracy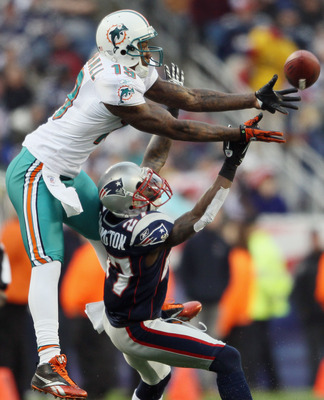 Elsa/Getty Images
Accuracy has been a concern for Henne ever since his college days and continues to be one.
Henne often misses open receivers on intermediate throws and has trouble completing the long ball. He showed improvements from 2009 on his short and intermediate throws, but has yet to perfect them.
One of Henne's upsides is his arm strength, but despite this, he had one of the lowest completion percentages in the NFL when it came to completing long passes. Statistically, this is the spot where Henne can make his biggest improvements.
Combining Henne's arm strength with better accuracy would make for a lethal QB.
A more accurate Henne will also limit interceptions. The amount of interceptions Henne throws is his most frustrating shortcoming. The less Henne turns the ball over, the more touchdowns will be scored, and the more his teammates and fans will appreciate his efforts.
Pocket Presence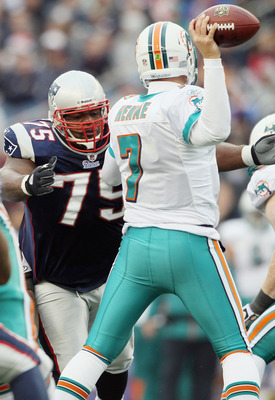 Elsa/Getty Images
Henne is certainly not the most mobile QB in the league, so he needs to be at home in the pocket.
When watching Henne play, he looks very uncomfortable in the pocket—at the first signs of pressure, he immediately tries to get rid of the ball. Henne must either learn to stand until the last moment or become more elusive in the pocket.
"Henne completes 67.8 percent of his passes when not pressured, but that number drops to 41.5 percent when pressured (source)"
If Henne can perform better in the pocket, it may help solve some of his accuracy issues, limit checkdowns and give his receivers an extra moment to get open. A solution to these issues could help Henne become one of the league's top passers
Chemistry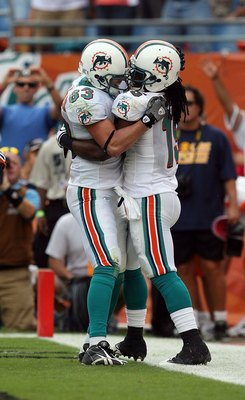 Doug Benc/Getty Images
In 2010, it was apparent that there did not exist much chemistry between Chad Henne and his receiving corps.
For what it's worth, there did not seem to be much chemistry on the offense at all.
Marshall and Bess need to become the duo that Moss and Welker were to Tom Brady in 2007.
Last season, Marshall and Bess combined for the most yards of any two Dolphin receivers in history. This happened on one of the worst ranked offenses in the league, which shows great potential if they can pull themselves together as a unit.
Several times during the season, Brandon Marshall was seen giving Henne a piece of his mind. This is how Marshall behaves, but he needs a quarterback that can tame him.
A little offensive chemistry could go a long way.
Give Henne the Ball
NFL Photos/Getty Images
In Henne's games as a starter, Dan Henning has exercised too much control over him. This has led to the "robot" that fans claim to see on the field every Sunday.
Miami made the right move by getting rid of Henning, although Stephen Ross could have done a better job by hiring Bill Musgrave or Josh McDaniels. That decision is in the past, though, and Daboll needs to prove he was the right choice.
If Henne is to be successful, he needs the trust of his offensive coordinator.
When Henne was told to do exactly as Henning demanded, the result was an uncomfortable looking quarterback. Brian Daboll needs to put the ball in Chad Henne's hands and let him play the quarterback position the way he is comfortable with.
If Daboll lets Henne throw the ball more often and stretch the field, defenses will not be able to crowd the box as they so easily did last season. This will open up the field for Henne and allow him to make better throws.
Bring in a Veteran Mentor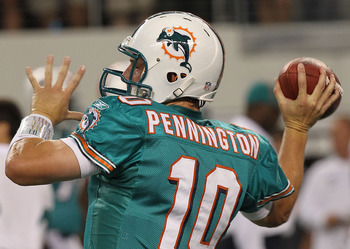 Ronald Martinez/Getty Images
Many fans have been saying that Chad Henne will improve if the team brings in competition for him.
Fans are forgetting that Henne was competing for the starting spot with Pennington last season, as shown by the week 10 quarterback swap. Instead of teaching Henne how to be an effective NFL quarterback, Pennington was preoccupied with gaining the starting position.
Some people don't thrive under competition but perform better when they have sole possession of their place. Chad Henne might be one of these people—especially after his statement that he is glad that the team did not draft a QB.
Instead of competition for his spot, Miami needs to find a suitable backup and a veteran mentor—much like Brett Favre was to Aaron Rodgers.
This mentor could come in the form of a veteran QB obtained via free agency or perhaps a new quarterbacks coach.
The best option could be to bring back Pennington as a coach instead of a player. He is someone who knows the players and would certainly help Henne with his accuracy issues.
Run Game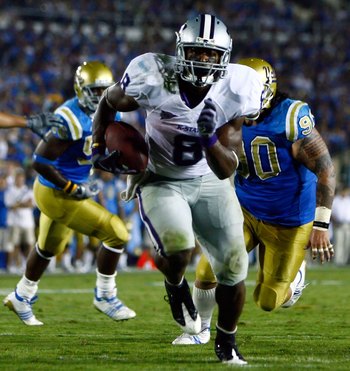 Jeff Gross/Getty Images
Tony Sparano claims that Miami is a "run-first" team, yet the Dolphins ranked 21st in the league in that department.
Nothing helps the passing game like keeping the defense honest with a solid run game, which Miami did not have last season.
If Miami keeps running the ball, they need to have more success in doing it. This will take pressure off Henne and give him a much easier job.
For this to work, Henne will have to prove himself as a solid passing QB this season.
The Lockout Needs to End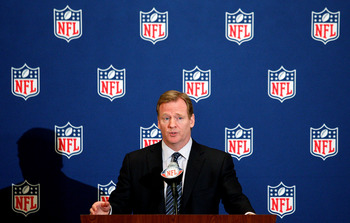 Sean Gardner/Getty Images
This does not exclusively apply to Henne or the Miami Dolphins, but also the NFL as a whole.
As the lockout continues, the game suffers, especially for a team with a new offensive coordinator such as the Miami Dolphins.
The team is not getting to practice under their coaching staff and work with the new rookies so that they can learn the system. The Miami front office has worked to improve the offense using the draft, but the longer the lockout persists, the less effective these draft picks will be.
In addition to this, Miami has yet to dive into free agency and pick up some extra help.
Hopefully the new CBA can be worked out soon so that teams can get back to practicing and playing the game we all love.
Final Thoughts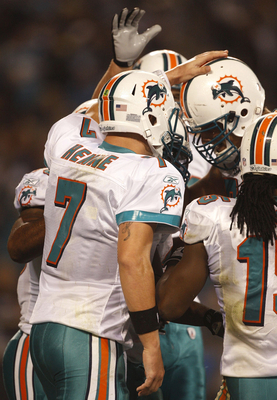 Streeter Lecka/Getty Images
Do you think Chad Henne has what it takes to get the job done?
Let me know what you think
Keep Reading

Miami Dolphins: Like this team?