Bob Bradley: Post Game Comments Appear to Spell Doom for Bob Bradley's Job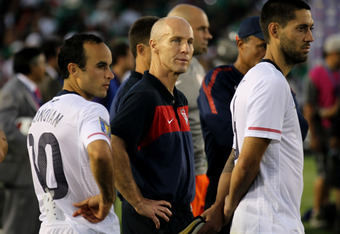 Bob Bradley Has Likely Coached His Last Game for the U.S. Team
Bob Bradley's job status was shaky entering the 2011 Gold Cup. Following the conclusion of the World Cup, U.S. Soccer president Sunil Gulati showed interest in other coaches before deciding to retain Bradley.
After the Gold Cup, shaky may be too positive a term for Bradley's job status. Gulati refused to comment on Bradley's job status. Gulati told the press he needed to hurry in order to catch a red-eye back to New York.
And that may have been all the statement anyone needed about Bradley's job security. This a pretty lame excuse for a man usually more than willing to talk to the press.
MUST READ: U.S. vs. Mexico Final, Live Blog and Postgame Reactions
Members of the U.S. team were available to comment on Bradley, and the players weren't exactly lining up to defend Bradley.
Tim Howard was not going to put the blame on Bradley in this quote found on Yahoo! Sports:
A game like today has nothing to do with Bob. It is about us. We stepped over the line. The game plan was right and we didn't get it done.
While Howard was not blaming Bradley, he was more than likely just owning up to the team's failures. He didn't say Bradley did a good job—simply that he was not to be blamed for the loss.
Landon Donovan was not as diplomatic. And any chance Bradley had of having Donovan in his corner was likely lost when he put Donovan on the bench. When Donovan was asked about Bradley's future he simply said, in the above linked article:
That is not my concern
It doesn't take much reading between the lines there to deduce Donovan could care less about Bob Bradley. And he probably won't have to deal with him for much longer as the writing appears to be on the wall, and it says that Bradley's tenure as the head coach of U.S. soccer has run its course.
Check back for more on Soccer as it comes, and check out Bleacher Report's Soccer Page to get your fill of soccer.
Most recent updates:
This article is
What is the duplicate article?
Why is this article offensive?
Where is this article plagiarized from?
Why is this article poorly edited?