Scott Cousins: Why We All Need to Move on from Buster Posey Injury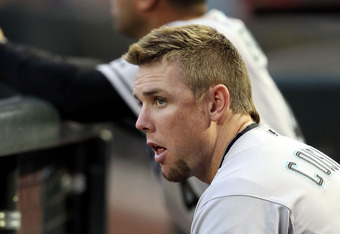 Scott Cousins Receiving Death Threats After Collision with Giants Star Buster Posey
It only took one collision at home plate on May 25 for Scott Cousins' life to change.
The Florida Marlins rookie center fielder barreled into San Francisco Giants star catcher Buster Posey on a play at the plate in the 12th inning of the Marlins' 7-6 victory on May 25, deciding the game and, ultimately, Posey's season.
Posey came away with a broken bone in his left leg and three torn ligaments in his ankle, had surgery, and all of a sudden the Giants' pride and joy was gone.
Cousins, on the other hand, withstood abuse from not only Posey and Giants general manager Brian Sabean, but also death threats from all over the country.
Posey has since softened his stance in light of how ugly it's gotten, releasing a statement, via the San Jose Mercury News:
"I appreciate the continued support of Giants fans and others as I begin the process of working my way back. But in no way do I condone threats of any kind against Scott Cousins or his family."
READ MORE: The Top 20 Worst Excuses in Sports History
The source of the threats has really been the thinking that Cousins went out of his way to go after Posey on that fateful day in May, colliding with the catcher when he could have slid around him.
But it's time to stop.
Cousins was not trying to hurt Posey; this is baseball, folks. These collisions aren't rare, they're in fact common. Just because a superstar gets injured, you don't erupt into chaos. Cousins was doing what many ball players would do: do whatever is necessary to win the game for your team. There is no rule against barreling into the catcher.
I can understand bitterness, particularly from Giants fans (myself being one), but the hate that has exploded from this is unjustified and just plain wrong.
Cousins' rookie season shouldn't be defined as "that guy who took Posey out for the year."
He's simply a ballplayer trying to win the game for his team.
Most recent updates:
This article is
What is the duplicate article?
Why is this article offensive?
Where is this article plagiarized from?
Why is this article poorly edited?