NBA Finals 2011, New York Yankees, Dwyane Wade and Sunday's Sports News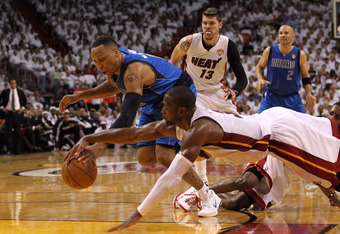 Ronald Martinez/Getty Images
Football season may be months away, but there's still plenty of sports action on this Sunday. Rafael Nadal put a bow on the French Open with his record-tying sixth title, and a packed slate of baseball games served as the appetizer for Game 3 of the NBA Finals.
On the baseball front, the New York Yankees completed an impressive West Coast road trip with a solid win over the Angels. New York heads home for a showdown with archrival Boston on Tuesday.
In the NBA, meanwhile, the Heat and Mavericks are underway in a crucial Game 3 after splitting the first two meetings in Miami. Dwyane Wade and the Heat are poised to rebound from their disheartening come-from-ahead loss in Game 2 at home.
Wade himself, after seeing his 36-point effort go to waste in Game 2, has jumped out to a quick start with eight first-quarter points tonight. After struggling from beyond the arc in their last outing, Wade and LeBron James have yet to attempt a three in tonight's contest.
Read on for all the latest news on these and other stories from around the world of sports.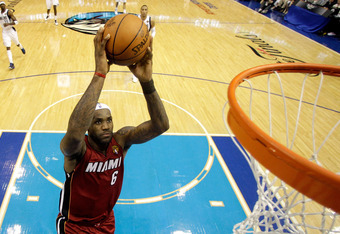 LeBron James Turned Down Scoring And Turned Up The Rest Of His Game
It's usually a bad sign when a team's best offensive player is held to just 17 points, third on his own team, in a crucial playoff game. For the Miami Heat, though, LeBron James' quiet scoring night was just what the doctor ordered.
James still took too many three-pointers tonight (hitting once in four tries), but otherwise did what he needed to do when he had the ball: get to the rim. James' shots were overwhelmingly in the paint, and while he only shot four free throws, that had more to do with Dallas' shaky defense than his own passivity.
Just as importantly, James took advantage of the constant double-teams he was facing by dishing out nine assists. He had totaled nine assists in the first two games while spending too much time flinging up jumpers to get around Dallas' pressure.
The final nail in the Mavs' coffin was James' defensive play. His two steals keyed a defensive effort that forced 14 turnovers and chopped eight percentage points off Dallas' Game 2 field goal shooting.
If James plays the next two games as well as he played tonight, the Mavericks won't even make it back to Miami for a Game 6.
This article is
What is the duplicate article?
Why is this article offensive?
Where is this article plagiarized from?
Why is this article poorly edited?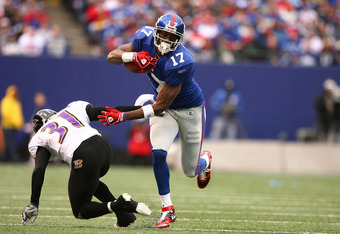 Plaxico Burress Leaves Prison Tomorrow, But May Struggle To Find NFL Home
Plaxico Burress will be a free man tomorrow after serving nearly two years in prison on weapons charges. He left the NFL as one of its most dominant wide receivers, but he returns as a 33-year-old (34 in August) with a lot of rust on him.
Nevertheless, as Fox Sports reports, Drew Rosenhaus—the high-powered agent representing Burress—stated categorically that Burress "will play in the NFL this year." Rosenhaus added that "many teams want" his client, though of course he didn't specify which ones.
With teams like Kansas City and Atlanta having filled their holes at WR through the draft, the list of teams likely to be willing to take a chance on Plaxico has dwindled. Moreover, one team with a history of rolling the dice on troubled players—the Dallas Cowboys—is already well-stocked at wideout.
The best bets for Burress at this point are probably the Redskins or Raiders. Both are in serious need of WR help—especially Oakland, whose best returning wideout, Louis Murphy, has legal issues of his own—and both have track records of bringing in high-risk veterans.
It's entirely possible that Burress, like Michael Vick, will emerge from prison a better player than when he left. However, there aren't likely to be many teams who want to risk the equally valid possibility that Burress' age and long layoff will make him a shadow of his former self.
This article is
What is the duplicate article?
Why is this article offensive?
Where is this article plagiarized from?
Why is this article poorly edited?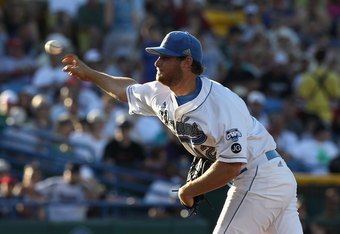 After Surprise Loss By Star Gerrit Cole, UCLA On Brink Of Elimination
It's hard to imagine a team with two of the country's top pitching prospects getting knocked off in the double-elimination first round of the College World Series. Nevertheless, UCLA faces that prospect tonight as they battle UC Irvine for a trip to the super regionals.
The Bruins hold a 2-0 lead in the fourth inning at this writing, so they may well continue their comeback from a stunning opening loss to fourth-seeded San Francisco. Still, with Gerrit Cole and Trevor Bauer having started the first two games, UCLA is counting on the less-heralded Zach Weiss to hold down the lead tonight.
Cole, a leading candidate for the top pick in tomorrow's MLB draft, took the fall in the stunning opener, in which the Dons triumphed 3-0. Bauer, also projected as a top 10 pick, kept his team alive (and set the Pac-10 strikeout record for a season) with a Game 2 victory over Fresno State.
The third-seeded Anteaters aren't any pushovers themselves, coming into the postseason with a 39-16 record. They've ridden a potent offense led by Jordan Leyland (five RBIs in the opener against Fresno State) to a 2-0 record in the regional, but will need to come from behind tonight if they don't want to face a winner-take-all game tomorrow.
This article is
What is the duplicate article?
Why is this article offensive?
Where is this article plagiarized from?
Why is this article poorly edited?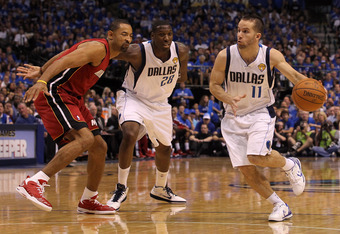 Backup Guard Must Step Up If Dallas Is To Come Back In Game 3
As bad as Dallas' defense looked for most of the first half of Game 3, the Mavericks trailed by just five at halftime. While they have every right to be relieved to be in the game, Dallas will need to step up in all aspects of the game to avoid a crushing home loss.
The biggest no-show for the Mavs through two quarters has been J.J. Barea. The pesky guard has had an exceptional postseason off the bench, yet produced just one point (with zero assists or steals) while turning the ball over twice in the first half tonight.
Jason Kidd has a couple of turnovers himself, so there should be opportunities for Barea to step in and make plays. If he can put some pressure on Miami's point guards (neither Mike Bibby nor Mario Chalmers has turned it over tonight), Barea can give his team a chance to recover from Miami's early third-quarter spurt.
If, however, Barea continues to give Dallas large quantities of nothing, the team will continue to lose on its home floor in a game it still has every chance to win.
This article is
What is the duplicate article?
Why is this article offensive?
Where is this article plagiarized from?
Why is this article poorly edited?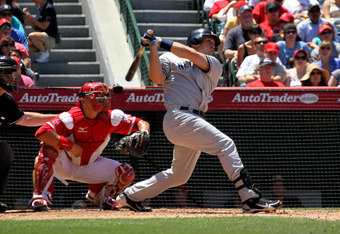 New York Yankees On A Roll Heading Into Grudge Match With Red Sox
The New York Yankees have plenty of momentum heading into this week's face-off with second-place Boston. There's no doubting that the Sox will be pumped up for a series with their bitter rivals, but can they stem the tide and put a dent in New York's one-game lead in the division?
The Red Sox aren't playing too badly themselves, bringing a three-game winning streak into Yankee Stadium. David Ortiz and Adrian Gonzalez are both in the A.L.'s top five in OPS, and Jacoby Ellsbury is leading the league in steals.
New York, meanwhile, features two of the league's top three HR threats in Mark Teixeira and (remarkably) Curtis Granderson. It's no surprise that the latter is second in the league in runs scored in the potent Yankee offense.
If either team can keep the opposing offense from controlling the series, though, it will be Boston. New York's first two starters scheduled for the series are the mediocre Freddy Garcia, followed by A.J. Burnett (a fine pitcher who couldn't get anybody out against Boston last year).
The Sox counter with a well-rested Jon Lester (slumping lately but with a 7-2 overall record) and the mercurial Tim Wakefield. Both games could easily turn into Boston wins.
The rubber game is a tossup, as aces Josh Beckett and C.C. Sabathia go head-to-head. Both are having terrific seasons, and it's a coin flip which one will make the mistake that loses the ballgame.
On the whole, though, the Yankees will be lucky if they escape from this series with the lead in the division.
This article is
What is the duplicate article?
Why is this article offensive?
Where is this article plagiarized from?
Why is this article poorly edited?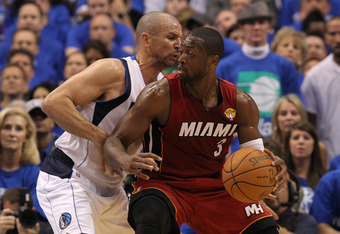 If Dallas Mavericks Can't Stop Penetration, They Have No Chance In Game 3
Both Dwyane Wade and LeBron James were too willing to settle for jump shots in Game 2 of the NBA Finals (even if Wade converted his to the tune of 36 points). Wade, at least, has shown that he's learned that lesson so far in Game 3.
As of this writing early in the second quarter, Wade leads Miami with eight points while having taken just two shots outside the paint. With LeBron James also getting to the rim, Dallas will be run off the floor unless they tighten up inside.
Three quick fouls on backup center Ian Mahinmi have hurt, but Tyson Chandler and Dirk Nowitzki need to give their wing players more help collapsing on the Heat's penetrators. Wade is doing exactly what Miami needs him to do, and it's up to Dallas (especially their big men) to make some plays to stop it or see the Heat win going away.
James and Wade are great passers, and collapsing on them will leave other players open. Nevertheless, Dallas would be much better off making those other players beat them rather than letting Miami's two stars dictate the tempo on offense.
This article is
What is the duplicate article?
Why is this article offensive?
Where is this article plagiarized from?
Why is this article poorly edited?