Houston Texans: Will Gary Kubiak Survive the Entire 2011 Season?
June 5, 2011
Chris Graythen/Getty Images
Gary Kubiak took over the Houston Texas as head coach to little fanfare in 2006. The longtime offensive coordinator to Mike Shanahan in Denver was given full control of 2005's worst team in the NFL and the first overall pick that came with it.
Kubiak made sense as a candidate to replace the only other head coach in Texans history. The Houston native and Texas A&M alum personified the attitude and work ethic Bob McNair admired. Kubiak happened to be one of the best offensive minds in the league as well, which sold McNair based on the thought that Kubiak could make something of former first overall pick David Carr.
The theme of Kubiak's tenure has been mediocrity. He owns a 37-43 overall record, with only one winning season and no playoff appearances. These results over five years would normally be enough for an owner to lose patience in a coach, so it was widely expected for Kubiak to be given his walking papers after a 6-10 2010 season.
As we all know though, this was not to be. 
Kubiak was retained while defensive coordinator Frank Bush was instead let go in favor of established defensive coordinator Wade Phillips. Many were shocked at Kubiak's retention, and it has been made clear that 2011 will be a playoff or out year for the sixth-year head coach.
Midseason Removal?
Is it possible, though, that Kubiak won't be around to even see the end of the season? 
Lately, it has become more common to see coaches relieved midseason once it is clear their team has played itself out of contention. Ironically, Phillips himself was a victim of this practice just last year.
McNair's diehard commitment thus far would make it seem as though an early exit for Kubiak would not be possible next season. There is, however, one factor that could override the owner's affinity for his head coach.
McNair has shown he really cares about his popularity amongst Texans fans. To this point, fan opinion has not been enough to alter major decisions by McNair, as keeping Kubiak shows. This decision marked the first time Texans fans' opinion of the owner turned negative, though, as the man who largely escaped criticism because he brought professional football back to Houston suddenly came under scrutiny for the way he chose to run the franchise.
The usually quiet owner became more of a public figure due to this unpopularity. He made several ill-advised addresses to the media, including praising the team after a gut-wrenching overtime loss to the Baltimore Ravens, as well as lamenting that no one in the league helped him get the franchise off the ground once it was awarded in 2001.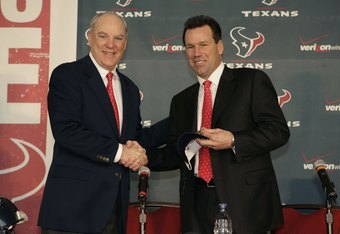 Bill Baptist/Getty Images
A slow start for the Texans is very possible as well. 
The first four games of the season feature the Colts, Saints and Steelers, which is a tough draw for a team instituting a new defensive scheme. Considering Kubiak's Texans also have a penchant for starting slow—8-12 in the first four games since 2006—there is a distinct possibility fans will have reason to lose patience quickly in the early part of 2011.
Kubiak's Luck
It is very likely that circumstance may have helped save Kubiak last year as the looming labor unrest may have convinced McNair to give Kubiak a stay of execution. 
Circumstance may again save him because there isn't a logical long-term replacement on this staff.
As I stated before, fans clamoring for Kubiak's removal might be the only catalyst for the midseason move. I believe Texans fans will be slow to call for Kubiak's firing because they will realize there is little upside for such a move. Whether or not you agree with McNair keeping Kubiak on for one more season, the Texans' best chances in 2011 are with him.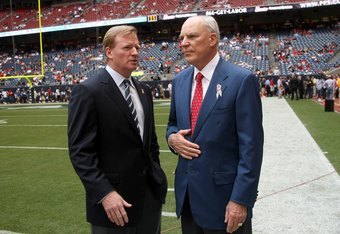 Stephen Dunn/Getty Images
Consider the alternatives. 
Wade Phillips and offensive coordinator Rick Dennison are the only viable candidates on the coaching staff. Phillips has proven over his career that while he is an excellent defensive coordinator, he is a substandard head coach.
What of Dennison, though? He was considered to be a finalist for the vacancy in Denver before John Fox was selected for the job, so he might seem like a logical choice. 
The problem with that thinking is that Kubiak has all but stated he is still in full control of the Texans offense. 
The offense, after all, has been the one constant bright spot for the Texans under Kubiak. By removing him midseason, there is a good chance Houston would be removing the one thing that makes the Texans even close to being contenders.
Also worth noting is that after facing three 2010 playoff teams in the first four games of the season, the Texans face only three over the rest of the year.  While Kubiak has struggled in the beginning of the season, he has also led the Texans to very good records toward the end of the year.
Texans' Fate Tied to Kubiak
If the Texans get off to a bad start, it will be an extremely frustrating situation for fans—understandably too, since it has been 18 years since the city has seen a playoff game.
The truth is that Kubiak gives them the best chance to win in 2011 until the end. Firing him in favor of Phillips would be attempting what did not work in Denver, Buffalo or Dallas.  Promoting Dennison would be giving another coach from the same system with no head coaching experience the task of saving the season.
If Kubiak produces another substandard season, there is no question he deserves to be removed. If he is to be removed, though, McNair needs to rebuild the team with a new dynamic. There is no reason to think Dennison or Phillips should be at the forefront of that effort, so to make either interim head coach would be unnecessary.
What do you think?  If the Texans get off to a disappointing start, would you want Kubiak fired midseason?  
Let me know either in the comments or on Twitter (@JakeBRB).