La Liga
How the English Game Has Kept Its Birthright through a Steady Prodigy Supply
Gazza has found life in civvie street an uphill battle
Pool/Getty Images
June 6, 2011
Which of the major European soccer nations can boast siring the most gifted players of each generation?
While some may find this contentious, it is obvious even to the uninitiated that the English game has been the cradle of most soccer prodigies. From a diffident, insecure 17-year-old George Best (he ushered in the phenomenon of the sports celebrity long before David Beckham's dad proposed to his mum in Leytonstone); to a shy, puny Robbie Fowler scoring five times in a game during his rookie season down to a nervous David Beckham scoring from his own half on the opening day of the 96/97 season, the English line has been fecund in the prodigy production assembly line.
Well, there have been German, Italian and Spanish versions of these—you don't have to expect the rivals of the English game to go down without a fight. But Lionel Messi—Spain's answer to Michael Owen—is Argentine. He came to Spain to take advantage of that country's advanced health system—he suffered from a growth hormone deficiency as a boy—and liked the country so he stayed. That's all Spain did for him; his prodigious talent was apparent at first club Newell's Old Boys back in Argentina even as a preteen.
Antonio Cassano — Italy's answer to Joe Cole — could have gone on to be the next big pope to emerge after Roberto Baggio but he has turned out to be a dud. Can anyone think of any exceptionally gifted young German player in the Champions League era? I cannot think of one. The efficiency of the German machine has been zero here because it is simply not well-oiled in that regard—prodigies are born, not made.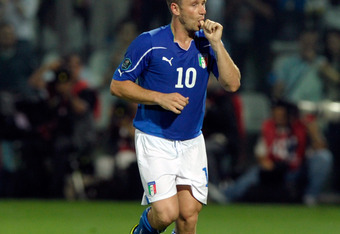 Antonio Cassano has flattered to decieve
Claudio Villa/Getty Images
The Argentines could have given the English a good run for their money but for the huge array of exceedingly gifted players that failed to undertake their divine assignment of instructing the world in new ways of playing the game. While Alfredo di Stefano and Diego Maradona proved worthy of their calling and exalted the beautiful game to the heavens (so the gods could also enjoy it), prodigies like Diego Quintana, Javier Saviola and even Liverpool's Maximiliano Rodriguez lost their drive in the quagmire of the adulation that comes with fame and - to some extent - money (prodigies tend to belong to the wrong side of the tracks; the sight of money disorients their makeup and kills their drive).
Let's face it, folks. The English invented the game. Soccer is the religion of the English — to hell with the Church of England. Did they not nickname Robbie Fowler "God"? Certainly God for the English is somewhere on the green turf of Anfield as opposed to the altars of Westminster Abbey.
This whole-souled attitude towards the game cannot go without the notice of the gods of fortune—they keep endowing the English game with a steady supply of fresh, supple talent that has kept its rivals green-eyed.
A friend said that it had to be someone English that could decode the structure of DNA because only Englishmen had a genetic advantage for sustained, intense, committed labor; no wonder there is a Labor party in English politics.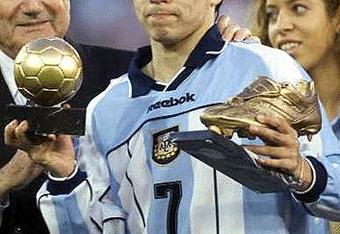 Javier Saviola has failed to live up to his full potential
The beauty and grace of the English game is congenital.
George Best's world came crashing down after his career ended; he had an analogue brain that was programmed for the playing of soccer and he could do nothing else - not even the mundane functions of daily life that common mortals take for granted hence his frustrated life of debauchery till his liver failed at 59; a hopeless drunk. We are all witnesses to the sad story of Paul Gascoigne; he has been sectioned under the British Mental Health Act because soccer took his mind away. Fowler, Steve Macmanaman, Beckham, Andrew Cole and Owen have reason to be thankful that they have never needed psychiatric care—these guys have somehow escaped the inevitable outcome that all lovers of the English narcotic must succumb to in the long run through their own ingenuity.They deserve an award for that!
Best and Gascoigne have been handed a raw deal, then.
Like the new article format? Send us feedback!