Tom Brady: Why Organized Workouts Won't Help Tom Brady Succeed in 2011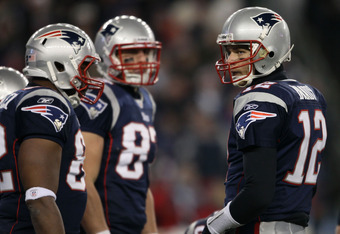 Tom Brady doesn't need organized workouts, but he still needs to be there
Almost every NFL team is going through some sort of player organized workout. This could be vital to the timing with quarterbacks and wide receivers. Players like Colt McCoy, Sam Bradford, Andy Dalton, Jake Locker, and Cam Newton could use these workouts to understand the tendencies of their receivers and vice versa. But, what about veteran superstar quarterbacks like Tom Brady?
Tom Brady knows the Patriots' offense better than anyone, except for maybe the hoodie himself. Brady doesn't need to prove that he is a leader. He has already done that time and time again. Brady has some of the best throws in tight coverage. His wide receivers and tight ends know how he throws certain routes, and Brady knows their tendencies.
Granted if the lockout were to happen last year, Brady would need these workouts. Aaron Hernandez and Rob Gronkowski were rookies and wouldn't have known anything about Brady, except for what they would have seen on TV. With the appropriate workouts, OTA's, and training camps the young tight ends flourished in the Patriots' offense. This year there isn't as much adjustment to the receiving unit.
Wes Welker is back, and is still the best slot receiver in the league. Deion Branch has won a Super Bowl MVP with the patriots. Gronkowski and Hernandez are coming off of stellar rookie seasons. Both young players, Brandon Tate and Taylor Price, have had their reps with Brady too. All of these players know the play calls, the audibles, and, most importantly, who's in charge.
Tom Brady doesn't need these workouts. Whenever the NFL season rolls around, and it will be here soon enough, the patriots will be back on top of the AFC, looking for yet another Super Bowl Ring.
Most recent updates:
This article is
What is the duplicate article?
Why is this article offensive?
Where is this article plagiarized from?
Why is this article poorly edited?