2011 NBA Finals: Why Clutch Play in the 4th Quarter Is Key for the Miami Heat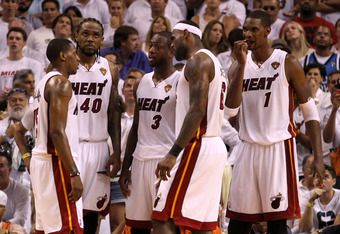 The results from the first two NBA finals games have been different, but the analysis fans gathered from the 4th quarter has been the same
In each f the first two games Miami took a commanding lead at some point in the last quarter. Either a huge slam or a shot from downtown ignited the Heat and it looked as if nothing and no one was going to stop them. The momentum was totally in the Heats favor in both fouth quarters. Or so it seemed.
In game one, the Heat were very clutch down the stretch, hitting shots, causing turnovers, and playing solid defense that smothered the Mavericks. The Heat took game one convincingly. In Game two, it looked to be the same thing: big dunks, more turnovers caused, and a Dwyane Wade three pointer that was the preverbal Dagger. Then abruptly the Heat resorted back to their regular season form.
LeBron was holding onto the ball instead of facilitating the offense. Miami's shot selection was poor at best. The Heat were not clutch, just like before the playoffs. Give Dallas their credit for never giving up and give Dirk Nowitzki even more praise for hitting clutch shots. But both the win and loss, in this series, are on Miami.
To win game three, Miami must play lights out in the fourth quarter; the whole quarter and not just the first six minutes. The Heat must play solid defense, not turn the ball over, and (above all else) take good shots. This game comes down to the Heat being clutch, not just Lebron and Wade. It is a team effort. Miami knows how to do this as they have demonstrated in game one.
The momentum is with the Mavericks now but I know the Heat will come out focused. Remember, since the finals has gone to a 2-3-2 format, the winner of game three, when the series is tied at one game apiece, goes on to win it all 100% of the time.
Miami controls the outcome, they are more talented. But the question is: will they stop themselves?
Most recent updates:
This article is
What is the duplicate article?
Why is this article offensive?
Where is this article plagiarized from?
Why is this article poorly edited?