Rafael Nadal, Tiger Woods, Dwyane Wade and Sunday's Top Sports Buzz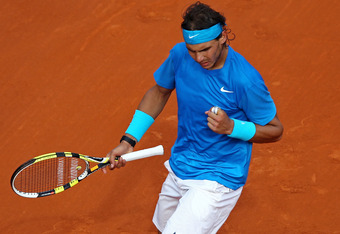 Clive Brunskill/Getty Images
Rafael Nadal and the red clay of Roland-Garros seem to go together like peanut butter and jelly.
Nadal has the lead on Roger Federer, and it looks like he will win the 2011 French Open. He came into this event as the top ranked player in the world but by a hair as Novak Djokovic just needed to beat Federer Friday to take that top spot from him. But, Djokovic failed to do so and it became another Nadal/Federer final in a major.
Federer is putting up a good fight, pushing Nadal in all the sets, but Nadal is navigating the surface too well and covering the course with ease. The only thing to stop Nadal at the final, so far, has been the weather, and even that was brief. This would be his 10th major and he just turned 25 in March.
What is even more impressive is that would be Nadal's sixth French Open title in seven years. Wait, six out of seven? How dominant can one man become?
How high is the ceiling on Rafael?
The man he is about to dispose of, Federer, has the record with 16 major titles and counting. Federer at one point was the most dominant athlete on the planet. I expect him to win another major or two, but with Nadal rolling along at such a young age, how long will it take Nadal to surpass Federer? Federer will turn 30 in August. If you were to compare them, Nadal, with a win, would only need six more to tie him in major victories.
It seems to me that Nadal will not only get to 16 but pass that number by a few more wins. I mean after all, he does get to go back to Roland-Garros once a year and win his French Open, yearly.
For more on Nadal plus all of Sunday's sports stories stay right here.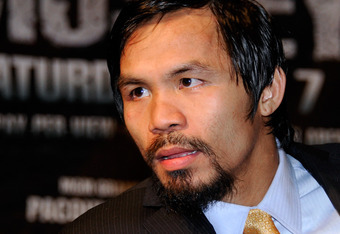 Boxing isn't as popular as it once was. Most of the household names are gone, and keeping track of which fighter holds which belt in a certain league is exhausting in itself. The most popular fighter in boxing right now is Manny Pacquiao.

There are several knocks against Pac-Man. He is very picky about his opponents and many fans, like myself, seem to think that he dodges fighters. The fight that the world wants to see is Mayweather/Pacquiao, but Pacquiao is keeping that from happening. Pacquiao will not agree to certain drug testing policies that Floyd Mayweather is requiring.

It is said that Pacquiao wont have blood drawn within a certain amount of time before a fight because it weakens him. These tests aren't anything out of the ordinary, as they are the same Olympic style testing that we have seen before. The argument for picking opponents becomes stronger. Something is in the works that might make it hard for Pacquiao to reject his next opponent.

The richest man in the world, Mexico's Carlos Slim Helu, has offered Manny Pacquiao $65 million dollars to fight in Mexico. There is just one catch:

Slim gets to choose the fighter.

It is assumed that Helu will choose a fighter from his own country. If that is true, he will most likely choose the young rising star Saul "Canelo" Alvarez. Alvarez turns 21 this summer. He is an outstanding 36-0-1 with 26 knockouts. This would actually be a formidable opponent. It is a fight that boxing fans want to see.

Manny Pacquiao needs to get this deal signed immediately. Boxing is on its last lungs, and Pac-Man is operating the respirator.
This article is
What is the duplicate article?
Why is this article offensive?
Where is this article plagiarized from?
Why is this article poorly edited?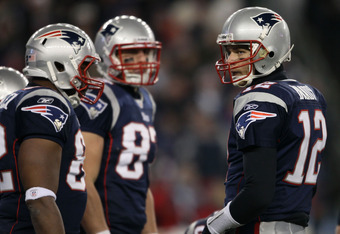 Tom Brady doesn't need organized workouts, but he still needs to be there
Almost every NFL team is going through some sort of player organized workout. This could be vital to the timing with quarterbacks and wide receivers. Players like Colt McCoy, Sam Bradford, Andy Dalton, Jake Locker, and Cam Newton could use these workouts to understand the tendencies of their receivers and vice versa. But, what about veteran superstar quarterbacks like Tom Brady?
Tom Brady knows the Patriots' offense better than anyone, except for maybe the hoodie himself. Brady doesn't need to prove that he is a leader. He has already done that time and time again. Brady has some of the best throws in tight coverage. His wide receivers and tight ends know how he throws certain routes, and Brady knows their tendencies.
Granted if the lockout were to happen last year, Brady would need these workouts. Aaron Hernandez and Rob Gronkowski were rookies and wouldn't have known anything about Brady, except for what they would have seen on TV. With the appropriate workouts, OTA's, and training camps the young tight ends flourished in the Patriots' offense. This year there isn't as much adjustment to the receiving unit.
Wes Welker is back, and is still the best slot receiver in the league. Deion Branch has won a Super Bowl MVP with the patriots. Gronkowski and Hernandez are coming off of stellar rookie seasons. Both young players, Brandon Tate and Taylor Price, have had their reps with Brady too. All of these players know the play calls, the audibles, and, most importantly, who's in charge.
Tom Brady doesn't need these workouts. Whenever the NFL season rolls around, and it will be here soon enough, the patriots will be back on top of the AFC, looking for yet another Super Bowl Ring.
This article is
What is the duplicate article?
Why is this article offensive?
Where is this article plagiarized from?
Why is this article poorly edited?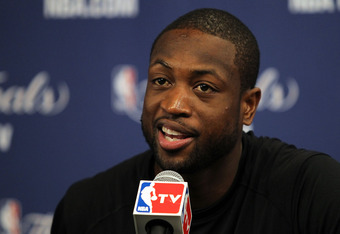 Dwyane Wade brings more than scoring talents to the Miami Heat and his most valuable asset is often overlooked
Fans can think what they want, but the Miami Heat are Dwyane Wade's team. Last summer, when the big three was formed, only one star player stayed put. Wade brought the talents to South Beach. While LeBron is the more vocal leader before games and on the court, actions still speak louder than words.
Flash played very well in Game 1 with 22 points, 10 rebounds and six assists, but that wasn't his best performance. Wade elevated his game, yet again, last Thursday. He exploded for 36 points and played lockdown defense. He hit the corner three and got his chest punched in, afterwards, by LeBron James. This is where the letdown started. The Heat started to break down and let James dribble out the clock.
What Wade should have done in the timeout was demand the ball with James and Bosh setting screens. Wade has shown that he is the most clutch player on the Heat. If this is false, then why did LeBron give him the ball for the last shot?
To win these Finals, Wade is going to have to take his leadership to another dimesion. He is going to have to take over and not allow LeBron to dictate the flow of the offense late in the game.
If Wade can do this, Miami will easily get by Dallas and capture another ring.
This article is
What is the duplicate article?
Why is this article offensive?
Where is this article plagiarized from?
Why is this article poorly edited?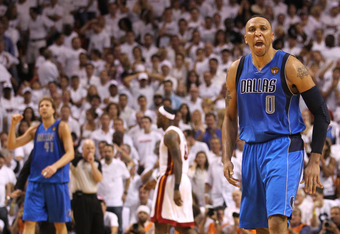 Since 1985 in the NBA finals, in a series tied at one game apiece, the winner of game three goes on to win the series 100 percent of the time—but that won't happen this year
The Dallas Mavericks have all the momentum in the NBA Finals. They stole a victory in Miami in the last seconds of Game 2. Dirk Nowitzki was sensational. Their defense was impeccable in the closing minutes of the game. Now they head back home to a building that is full of rabid fans anticipating a win for the home team. A win is just what they are going to get.
Dallas needs three more victories to be champions. The next three games are at home. There is just one glaring problem: The Miami Heat haven't lost 3 games in a row all year.
Say what you will about the Heat's collapse in Game 2, but for the most part they have outplayed Dallas in the series so far. Miami's athleticism has shown to be a strength. Their defense has been numbing, save for the last six minutes of Game 2.
LeBron James, Dwyane Wade and Chris Bosh have played very well. They've gotten contributions from Mike Miller, Mike Bibby, Udonis Haslem, Joel Anthony, and Mario Chalmers. All they have to do is win one more game and the series goes back to Miami.
If I am a Heat fan, that has to be on my mind. It takes one win to get back to Miami. To be completely honest, I don't think Dallas has a prayer of winning in Miami. The team will be seriously focused at home, on a court that they know well, in front of a crowd that will drive their energy upwards.
I give Dallas credit for winning Game 2. They played their hearts out and fought for that win. But, the Heat are in the shadows looking for just one game to take in Dallas. Dallas better play their A-game every time out on the court, and hope the Heat doesn't bring their A-game with them.
This article is
What is the duplicate article?
Why is this article offensive?
Where is this article plagiarized from?
Why is this article poorly edited?
Brock Lesnar, the biggest name in the UFC, had to pull out his fight with Junoir Dos Santos at UFC 131
The UFC has had plenty of success with Brock Lesnar. He has been on 6 pay-per-views so far and four of them have had over 1,000,000 people buy them. Love him or hate him, Lesnar sells tickets and shows. He is a controversial figure but nevertheless is highly entertaining. This season of The Ultimate Fighter put Brock Lesnar and Junior Dos Santos up against each other as coaches. After the show coaches fight each other. It is not going to be like that this time.
Lesnar has a history of Diverticulitis and it has nearly killed him in the past. The disease is flaring up again which forced him to pull out of the main event. This brought up the question: who could replace Brock Lesnar? The answer was almost too easy: Shane 'The Engineer" Carwin.
Carwin is 13-1 in his MMA career. All his wins have come in the first round. He has a great college wrestling background, and also has the largest hands in the UFC (his gloves a 5XLs). He possesses knockout power more so than anyone in the UFC. The only loss in his career is to Lesnar, in UFC 116, only after Carwin took a 10-8 first round. That was Carwin's last fight until now.
Shane Carwin has had back surgery since his last fight. The reports are that he is 100% healthy for the first time in his MMA career. That is a scary thought. He goes to face Dos Santos who is also 13-1. Dos Santos has finished every opponent he has ever beaten, never going to the judges' score cards for a decision. Dos Santos has a great Brazilian Jiu-Jitsu background and some of the fastest hands in the UFC.
Even with Lesnar out of UFC 131, fans don't want to miss this fight. Either fighter could knock the other out in the blink of an eye. Both fighters have stated they are extremely focused coming into this fight. They are looking to make a statement. Oh, and if that isn't enough this fight determines the number one contender spot! The winner gets a title shot against Cain Velasquez.
Both fighters deserve it and they will let the leather fly to prove that they do.
This article is
What is the duplicate article?
Why is this article offensive?
Where is this article plagiarized from?
Why is this article poorly edited?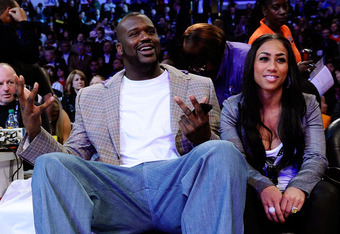 Shaquille O'Neil will be remembered for many things both on and off the court
Whether you liked him or loved him, one thing was for sure, Shaq was polarizing. I've never heard of anyone who hated Shaq. His smile is too big and his attitude too captivating. He is a man that lives life the way it should be lived. He might be the most charismatic athlete ever. If you do not believe me, then go watch the coverage of his retirement at his house earlier last Friday.
On the court, fans will remember Shaq for his pure dominance of the post game. Regardless of what analysts say about his free throw shooting, O'Neil shot an amazing 58% from the field in his career! That is higher than Wilt Chamberlain, Bill Russell, and Kareem Abdul-Jabbar. To this day, I still don't think that any of those three could handle Shaq down in the key. He had over 28,000 points in his career with four titles, three finals MVPs, and a regular season MVP.
O'Neil played with an enthusiasm never seen from a center. In the 2000 western conference finals, Shaq caught a lob from Kobe and hammered it home to bury the Blazers, but what is remembered most is the reaction from Shaq after the play. The look on his face and the excitement he showed was breathtaking for any fan. That was how Shaq played; it was just another classic moment.
Shaq's love will always come to memory. Just look at how the media speaks with him. They adore him. He is fun loving. Whether it is dancing at the all-star game, making his giant shoes into telephones and race cars, or if it's his constant joking, everyone has their favorite Shaq moment, not just on the court, but off the court as well. How many athletes can a fan say that about? The joking and fun didn't end at his retirement tough, during the press conference at this house to announce his retirement; Shaq took a mock phone call and accepted the Knicks GM job. The crowd laughed and I'm sure most people did at home.
One thing is for sure, the NBA and its fans will miss Shaq. He is truly a once-in-a-lifetime athlete.
This article is
What is the duplicate article?
Why is this article offensive?
Where is this article plagiarized from?
Why is this article poorly edited?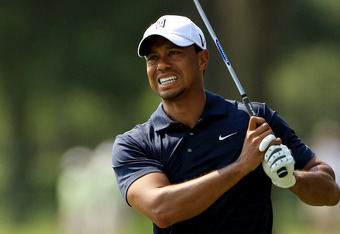 Tiger Woods is nowhere near the level he once was in his career
There are questions out there and the world wants answers. Can Tiger ever win more majors than Jack Nicklaus? Can Tiger even win another event? Is Tiger Done? How can Tiger get back to form? I believe I have the answers to those questions but they will not be the most popular with the fans.
Love him or hate him, Woods has been through a lot of trauma since Thanksgiving 2009. His injuries are nagging and not going to just go away. But even more than physical pain, Woods has been through an emotional roller coaster. His reputation has been dragged through the mud and his morals are often questioned.
I'm not saying what Tiger Woods did was right, but it is time to get over it. That is his private life. Woods has been thrust into the spotlight too often into his career. Right now, he needs a quiet break from this world. Time that he was never awarded in the first place. Quite frankly, I think Tiger was rushed back into golf by the PGA and by fans. After all, golf's ratings are not the same without him.
I am going to prescribe Tiger with a full year off. This is a much needed intervention to his career. With this break, Tiger would be able to get surgery and go through rehab. Most importantly, he can try and figure out what makes him heal mentally. That might be the longest healing process of all. Woods lost him family (albeit from his own actions) it is still not easy to just get over.
Woods hasn't won in over a year. Time off and healing is exactly what he needs. Don't rush it Tiger. The fans will still be here when you come back to the level you once were.
This article is
What is the duplicate article?
Why is this article offensive?
Where is this article plagiarized from?
Why is this article poorly edited?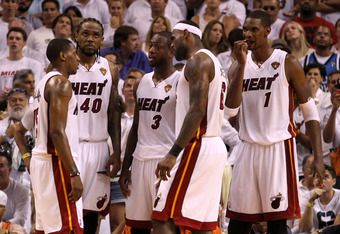 The results from the first two NBA finals games have been different, but the analysis fans gathered from the 4th quarter has been the same
In each f the first two games Miami took a commanding lead at some point in the last quarter. Either a huge slam or a shot from downtown ignited the Heat and it looked as if nothing and no one was going to stop them. The momentum was totally in the Heats favor in both fouth quarters. Or so it seemed.
In game one, the Heat were very clutch down the stretch, hitting shots, causing turnovers, and playing solid defense that smothered the Mavericks. The Heat took game one convincingly. In Game two, it looked to be the same thing: big dunks, more turnovers caused, and a Dwyane Wade three pointer that was the preverbal Dagger. Then abruptly the Heat resorted back to their regular season form.
LeBron was holding onto the ball instead of facilitating the offense. Miami's shot selection was poor at best. The Heat were not clutch, just like before the playoffs. Give Dallas their credit for never giving up and give Dirk Nowitzki even more praise for hitting clutch shots. But both the win and loss, in this series, are on Miami.
To win game three, Miami must play lights out in the fourth quarter; the whole quarter and not just the first six minutes. The Heat must play solid defense, not turn the ball over, and (above all else) take good shots. This game comes down to the Heat being clutch, not just Lebron and Wade. It is a team effort. Miami knows how to do this as they have demonstrated in game one.
The momentum is with the Mavericks now but I know the Heat will come out focused. Remember, since the finals has gone to a 2-3-2 format, the winner of game three, when the series is tied at one game apiece, goes on to win it all 100% of the time.
Miami controls the outcome, they are more talented. But the question is: will they stop themselves?
This article is
What is the duplicate article?
Why is this article offensive?
Where is this article plagiarized from?
Why is this article poorly edited?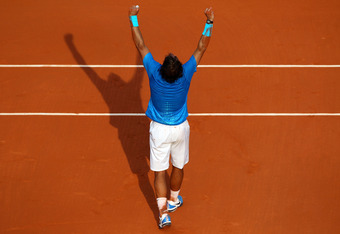 Once again, Rafael Nadal and Roger Federer met to determine the winner of another ATP major
With the 2011 French Open on the line, the top seed, Nadal, bested Federer (7-6, 7-5, 5-7, 6-1). Federer pushed Nadal several times in the first three sets. Roger even managed to break Nadal in the third set and go on to win the set later on. Rafael seemed to be losing a little stamina at the end of the set. There was a buzz that Federer might take the next set to push it to a fifth set. After all, Roger was hitting some impressive shots and taking command of the clay. However, Roland Garros is Nadal's place and he would not conceive to the idea that Roger was going to pull out a dramatic comeback.
The pivotal point in the match for Nadal might have been losing that third set. He came out in the fourth set focused and on fire. His returns were pinpoint and awesome while his serves fast and on target. He seemed to have his legs back again and his energy was electrifying. With a few fantastic shots and a couple of phenomenal games to break Federer In the fourth, Nadal has won his sixth French Open in seven years. The six French Open titles, ties him with Bjorn Borg for the most titles at the French Open. What is even more impressive is that Nadal is now 45-1 in French Open play! This Major win gives him ten majors in his career, only six away from tying Roger Federer.
This article is
What is the duplicate article?
Why is this article offensive?
Where is this article plagiarized from?
Why is this article poorly edited?