Ultimate Fighter 13 Finale Results: Memorable Moments from the Fight Card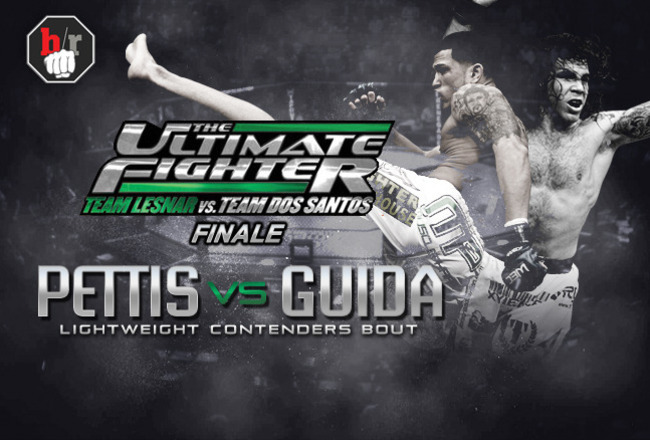 TUF 13 Finale Results: The Most Memorable Moments from The Ultimate Fighter 13 Fight Card
The 13th Season of The Ultimate Fighter came to an official end when Tony Ferguson had his hand raised in victory, earning a six-figure UFC contract with his knockout win over Ramsey Nijem.
Also, Clay Guida let it be known that he was not a mere tune up fight for Anthony Pettis. Guida, took the unanimous decision win over the former WEC champion, slowing Pettis' path to a shot at Frankie Edgar or Gray Maynard.
Guida may have not earned the next shot at the UFC lightweight title, but he did put himself in the mix with the win.
Josh Grispi took another step back in the UFC when he was stopped by George Roop. A short while ago Grispi was a top contender in the featherweight division, with two consecutive losses, he will have a lot of work to do before he ascends the rankings again.
Following the full results for The Ultimate Fighter 13 Finale, Bleacher Report presents the most memorable moments from the fight card:
Tony Ferguson defeated Ramsey Nijem via KO at 3:54 of Round One
Clay Guida defeated Anthony Pettis via unanimous decision (30-27 on all three cards)
Ed Herman defeated Tim Credeur via TKO at 0:48 of Round One
Kyle Kingsbury defeated Fabio Maldonado via unanimous decision (29-28 on all three cards)
Chris Cope defeated Chuck O'Neil via unanimous decision (30-27 on all three cards)
Jeremy Stephens defeated Danny Downes via unanimous decision (30-27, 30-26, 30-26)
George Roop defeated Josh Grispi via TKO at 3:14 of Round Three
Shamar Bailey defeated Ryan McGillivray via unanimous decision 30-27on all three cards)
Clay Harvison defeated Justin Edwards via split decision (28-29, 29-28, 29-28)
Scott Jorgensen defeated Ken Stone via KO at 4:01 of Round One
Reuben Duran defeated Francisco Rivera via submission at 1:57 of Round Three
Reuben Duran's Rear Naked Choke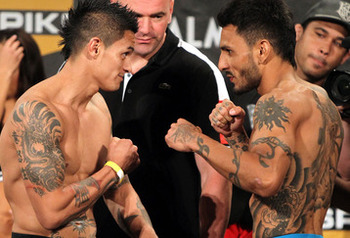 The first fight on the card featured bantamweight fighters Reuben Duran and Francisco Rivera. It also featured the only submission of the night as Duran used a rear naked choke to force Rivera to tap at the 1:57 mark of Round Three.
Duran transitioned nicely from side control into the choke.
Duran scored the only submission on the fight card, so it was fairly easy to award him the $40,000 Submission of the Night bonus.
Scott Jorgensen's Knockout of Ken Stone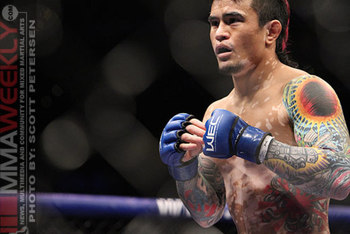 Following his knockout victory over Ken Stone, Scott Jorgensen stalked around the Octagon shouting, "I'm back!"
Jorgensen's last fight was a unanimous decision loss to WEC bantamweight champion Dominick Cruz in December of last year.
Jorgensen was never really out of the mix as most MMA rankings have him in the top ten in the division.
The knockout was pretty impressive as it came form within Stone's guard and if his reaction to the win adds to his confidence, so who's to say he's wrong in his assertion that he's back?
George Roop Rises While Josh Grispi Falls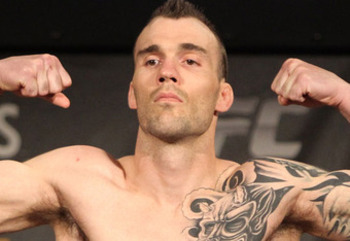 Not long ago Josh Grispi was scheduled to meet Jose Aldo in Aldo's first UFC title defense at UFC 125.
An injury forced Aldo off the card and Grispi was booked to face Dustin Poirier instead. Poirier walked away from that fight with a unanimous decision victory.
Grispi came into his fight with Roop as a heavy favorite.
Roop has been inconsistent in his UFC career, as he has been unable to string together two consecutive wins since joining the promotion in 2008, compiling a record of 3-4-1.
In his two most recent fights, Roop delivered a highlight-reel knockout at WEC 51 when he KO'd Chan Sung Jung with a perfectly placed headkick, earning him Knockout of the Night honors.
Roop followed up that performance with a first round TKO loss to Mark Hominick at Fight for the Troops 2.
Roop was a huge underdog against Grispi, but he walked away with a TKO win after delivering a body shot that dropped Grispi in the third round.
The win will surely help Roop stay in the good graces of the UFC, while the second consecutive loss to a fighter he was a heavy favorite against may drop Grispi out of the top 20.
The two straight losses have spelled a very quick descent down the rankings for the once highly ranked Grispi.
Danny Downes Is a Gamer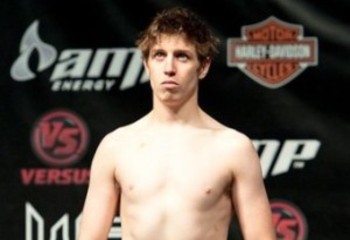 Anyone that saw the kimura that Jeremy Stephens slapped on Danny Downes had to be amazed that Downes did not tap.
His arm was bent at an angle that would have had most fighters (justifiably) tapping out, but Downes hung in there and refused to submit.
Downes then ate a couple of big elbows for his trouble and still refused to give Stephens the satisfaction of a submission win.
Downes was never really in the fight, but the young fighter, who was making his UFC debut, most likely earned a return engagement with the promotion with his gutsy performance.
Kyle Kingsbury vs. Fabio Maldonado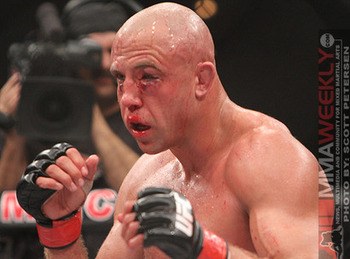 A solid fight between two light heavyweights.
Kingsbury got the best of the first round, delivering some solid knees from the Thai plum, but he did not walk away from the round unscathed as Maldonado was able to land some strikes of his own.
The second round was more of the same as Kingsbury pursued knees from the Thai plum while Maldonado returned the favor by throwing his hands.
The third round began with things looking bad for Kinsbury as his left eye was a mess, looking like it had been made up for a bad boxing movie, while Maldonado was in slightly better shape with a bloodied face.
In the end, the victory went to Kingsbury.
All in all, it was a solid fight that earned the two fighters an extra $40,000 for Fight of the Night honors.
Will either of these guys be challenging Jon Jones any time soon? Nope, but still, good fight.
Ed Herman's KO of Tim Credeur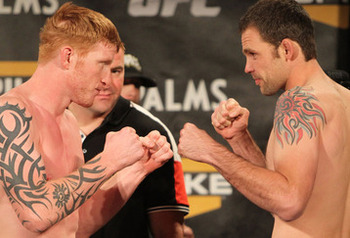 This bout featured two fighters that had not competed since 2009 due to medical issues.
Herman seemed to have no interest in testing his cardio after that long of a layoff, as he dropped Credeur with a nice uppercut and followed that up with a few strikes to his fallen opponent before Herb Dean could rush in stop the fight just 48 seconds into the first round.
A nice return for Herman and a very short-lived return for Credeur.
Clay Guida's Game Plan Against Anthony Pettis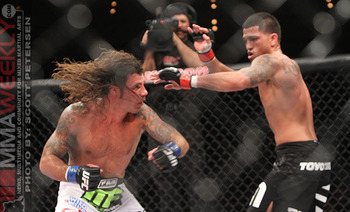 Clay Guida had a solid game plan for his fight against Anthony Pettis and he executed it almost perfectly.
While many could say that the game plan was simple, avoid the strikes of Pettis and take him to the ground and control him, it was far from easy to execute.
When Guida did take Pettis to the ground, he was faced with multiple submission attempts from Pettis and one slip up could have easily given the fight to Pettis.
There has been moaning that Guida used a lay and-pray style to win the fight, but that may be a stretch. While he was not nearly as active as Pettis was, he was far from stalling for the win.
As Guida said after the fight to MMAFighting, "There's no secret anymore: wrestling wins championships. He's the most tricky guy in guard I've ever fought. He's a super talented kid."
Tony Ferguson: TUF 13 Winner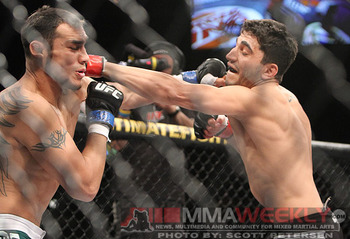 Tony Ferguson faced off against Ramsey Nijem in the finale for season 13 of The Ultimate Fighter and just like his three previous bouts on the show, this one failed to go the distance.
Ferguson used a left hook to drop Nijem to the ground. He then followed that with a right before the referee could come in to stop the bout at the 3:54 mark of round one.
"I don't remember even throwing that," Ferguson told UFC commentator Joe Rogan after the fight.
Whether he remembers the punch or not, it earned him a UFC contract.
Keep Reading