Steve Stricker: The Most Underrated Golfer on the PGA Tour
June 5, 2011
Andy Lyons/Getty Images
Over the last two seasons there have been two golfers who have finished in the top 10 of the final FedEx Cup standings in both seasons. One of those players is last year's champion, Jim Furyk. Any guesses who the other one is?
If you said Tiger Woods, you would be wrong. Phil Mickelson makes for a nice guess, but again it isn't the right one. It could be top-ranked players like Luke Donald, Lee Westwood or an all-time great like Ernie Els.
All of those would be nice guesses, but once again, they are all wrong. That other player is Steve Stricker.
Stricker continues to be one of the Tour's top players, yet somehow he never really gets the credit he deserves. In the last two seasons, Stricker has FedEx Cup finishes of seventh and second respectively, all while winning five tournaments over the course of those two seasons.
Stricker is known for his solid and steady play, and his amazing putting touch. He is a nine-time PGA Tour winner and has enjoyed a career resurgence over the last few years after some incredible struggles.
He found some early success in his career. He won twice in 1996, and that led to a fourth-place money finish. He continued to play solid golf for a few years, though he failed to record any more wins.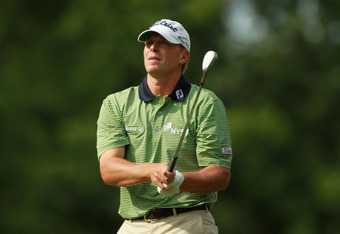 Scott Halleran/Getty Images
In 2001, Stricker won the WGC Match Play championships in Australia. It was his first win in five years. It would also be his last for quite some time.
He would struggle through some injuries and just a total lack of confidence in his game for a few years. It got so bad for Stricker that he even lost his Tour card in 2004.
He began to return to form in 2006, eventually got his card back and was named comeback player in that season, as well as the next year, 2007.
The 2007 season also marked Strickers return to the winners circle. It was his first win in the United States in 11 years, and first win overall in six years.
Since that time, Stricker has done nothing but be successful. He moved up to as high as third in the world rankings in 2007 and has been in the top 10 ever since.
Stricker currently sits eighth in the world rankings, but could easily move back in to the top five with some strong finishes.
Along with the tournament wins, Stricker brings consistency to the golf course. He has made the cut in 33 consecutive tournaments, which is the longest current active streak on tour. While he only currently sits 32nd on this years money list, he has also played in less events than all but two of the players who are ahead of him on the list.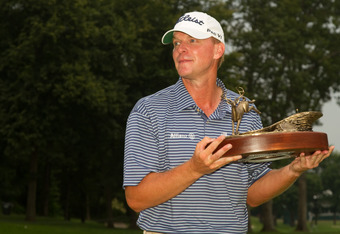 Darren Carroll/Getty Images
Should Stricker win The Memorial this weekend, where he has a third-round lead of three shots, he would jump in to the top 10 on the money list.
Stricker has finished in the top five on the year-end money list in three out of the last four years. That is a feat that matches Tiger Woods and Phil Mickelson. Pretty good company to be in.
On top of his PGA Tour success of recent years, Stricker has also fared very well in team events. Between the 2009 President's Cup and the 2010 Ryder Cup, Stricker teamed with Tiger Woods for seven matches.
As a team, the duo went 6-1 for the United States. Stricker also beat then-world ranked No. 1, Lee Westwood, in match play at last year's Ryder Cup.
So, Stricker has accomplished quite a bit over the course of the last few years. He has multiple wins on tour. He has amassed a sparkling record in team competition and is one of the top money earners, as well as a top 10 player in the world.
For all that Stricker has accomplished, the only thing he is missing is the credit and recognition for it.