College Football 2011: 5 Bold Predictions for the West Virginia 2011 Season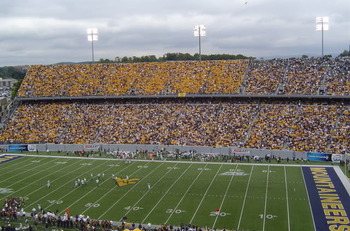 I've seen this done before; this is nothing new to anyone. However, the ones that I have seen about the Mountaineers in the past were nothing that anyone really saw as a "bold prediction." They were more like general predictions with little surprise at all.
So I thought to myself, "self, this really isn't bold at all!" So here we go. Let's have a crack at it, and see if I can come up with some legitimate bold predictions for West Virginia during the 2011 season.
Let me know what you think.
WVU Will Have Two 1,000-Yard Receivers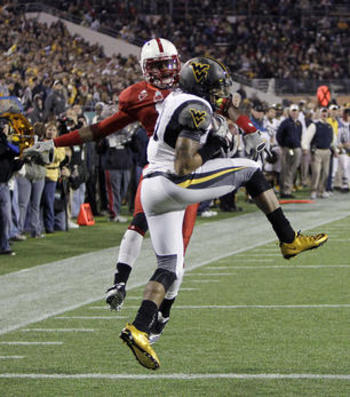 You're thinking, "West Virginia will have two 1,000-yard receivers? Did he say that right?"
Yes, I did. What makes this bold is the fact that the Mountaineers have only ever had two 1,000-yard receivers in its entire history: David Saunders in 1996 with 1,043 yards, and Chris Henry in 2003 with 1,006 yards.
Enter Dana Holgorsen.
Holgorsen's offenses have never passed for fewer than 4,496 yards a season. That's a slew of yards to spread around for your receiving corps. WVU in its entire history has never passed for more than 3,700 yards in a single season.
Coach Holgorsen has already had multiple receivers with at least 1,000-yards on two separate occasions. You have 2009 Houston when he had three 1,000-yard receivers with James Cleveland, Tyron Carrier and Patrick Edwards, as well as 2007 at Texas Tech where he had two 1,000-yard receivers in Michael Crabtree and Danny Amendola.
So do you find it all that far fetched that it could be done at WVU, a school known for its running backs and mobile quarterbacks?
So who will be our two 1,000-yard catchers? My vote goes to Tavon Austin and Stedman Bailey. However, they could come from out of nowhere. Ryan Nehlen impressed during the spring, so maybe he could put up some big numbers.
WVU Defeats LSU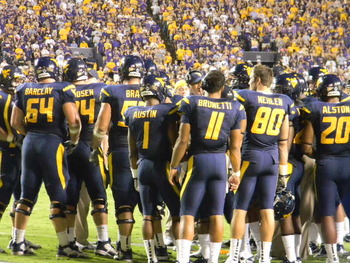 The Mountaineers are 12-5-1 in Morgantown, WV all-time against SEC opponents. The last SEC team that WVU lost to at home was in 1968 when it lost to both Kentucky and South Carolina.
West Virginia traveled to Baton Rouge, LA last season and battled the Bayou Bengals of LSU. They lost in death valley to a final score of 20-14. The crowd was deafening, and both teams displayed poor offensive ability.
LSU managed to score only a single offensive rushing touchdown, with the other points coming from Josh Jasper field goals and a 60 yard Patrick Peterson punt return.
WVU did manage to throw two passing touchdowns, but two missed field goals, a fumble lost and an interception was all that was needed for LSU to come out on top.
With LSU traveling to Morgantown in 2011, it is my firm belief—remember belief is not fact—that the Mountaineers can pull out a victory over what is anticipated to be one of the top ranked teams in the country. With no crowd behind them, LSU will not have the moral support that they have back home in Baton Rouge.
LSU's offensive coordinator is now Steve Kragthorpe, the former head coach of the Louisville Cardinals. If the Tiger's offense operates anything like Kragthorpe's did at the U of L, then WVU just may have a chance.
West Virginia Defeats PITT and USF to Gain the Conference BCS Bid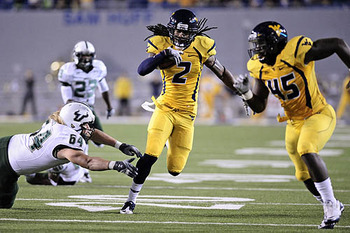 The last two games of the 2011 season are the toughest of West Virginia's conference schedule: The Backyard Brawl against Pittsburgh in Morgantown on Nov 25th, and a final road game against the South Florida Bulls in Tampa on Dec 1st.
These two games between these three teams will more than likely decide the Big East champion for the 2011 season.
Nothing much has to be said about the Backyard Brawl. It is the most heated rivalry in the Big East and this game has had huge implications in the past. We can expect this game to be no different.
USF is believed to be one of the top three teams in the Big East this spring, so if they and West Virginia can manage to live up to all of the hype, then this could possibly be the de facto Big East championship game.
Bill Stewart and Dana Holgorsen Will Get Along Just Fine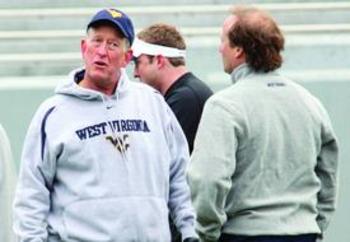 It is the perception of the media and a lot of fans that West Virginia's head coach in waiting situation will create some awkward moments and may cost WVU some offensive production and maybe even games.
I have written an article on this subject before, and it is my firm belief that these two men will behave very professionally throughout the 2011 season. The fact that this arrangement is for one year and one year only is another reason that I think it can work. If this was going to be a prolonged situation that would last until Stewart wanted to retire, then I think I would agree with those that think it won't work.
It will be nothing like Bobby Bowden and Jimbo Fisher at Florida State where you had Fisher in the background for several seasons.
West Virginia's Running Game Will Be More Effective Without Noel Devine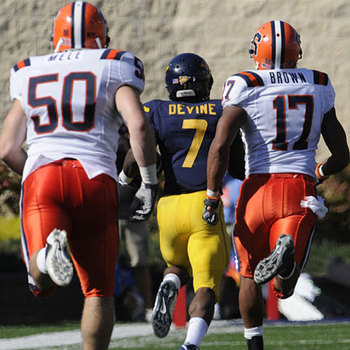 Last season was not a horrible season for the Mountaineers running game. However, I would like to see how it would have turned out if Devine would not have had hurt his foot during the LSU game last season. The fact of the matter is that he did, and he never really fully recovered throughout the rest of the season.
Noel had 209 carries for 936 yards, with an average of 4.5 yards per carry. This is not typical Noel Devine, and you could tell throughout the season that there was something not quite right with Devine. You can even look at his highlight videos from other seasons and compare to highlights from 2010 and see that there was something wrong. To be honest with you, I could not even find a video that covered only Devine in 2010 past game three last year. However, he did get those carries and to be honest with you, he did not do half bad even being hurt—that shows you the kind of athlete he is.
Imagine if some of those 209 rushes had gone to someone like Tavon Austin.
Austin had only 15 carries last year, and he was able to gain 159 yards and average 10.6 yards per carry. You give Austin one quarter of the carries that Devine received last year, and we could have seen more yards, more touchdowns and maybe even one or two more wins.
Austin won't be that guy this year. He is a receiver and in Holgorsen's offense a receiver is a receiver, not a running back. So it will be up to Trey Johnson, Shawne Alston, Andrew Buie, Ryan Clark and Matt Lindamood to carry the torch for the West Virginia running game. All of which are talented athletes, and any one of them could end up being the next great WVU running back. The good thing about this new offense is its depth at running back. If one goes down there are plenty of talented backups to step in and run it.
By the way, could you imagine a healthy Devine in Holgorsen's offense? The defense would not know what to do, cover Devine or cover the receivers? I for one will miss Devine, and hope he finds a home in the NFL.
Not so Bold Predictions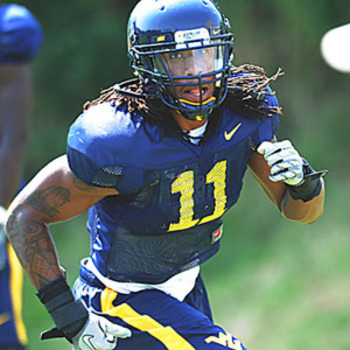 Here is my list of not so bold predictions:
1) WVU will go 11-0 against the Marshall Thundering Herd.
2) Geno Smith will outperform all other Big East quarterbacks.
3) Bruce Irvin will have 10 or more sacks.
4) WVU will go undefeated on the road. Away games are at Maryland, Syracuse, Rutgers, Cincinnati and South Florida.
Maryland and USF are the toughest two games on the away schedule, but both are very winnable games.
Let me know what you think.
Keep Reading

WVU Football: Like this team?