Alex Rodriguez, Roger Federer, Li Na and Saturday's Sports News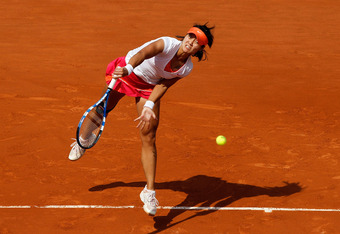 Matthew Stockman/Getty Images
Li Na started playing professional tennis in 1999, but unlike many American tennis phenoms, it took her 10 years to win her first Grand Slam tournament at the French Open.
Since she defeated Kim Clijsters in January in the final of the Sydney International—her first WTA "premier" level title—Na's star has taken off.
Matched up against defending champion Francesca Schiavone, Na dominated, winning in two sets 6-4, 7-6 (0).
Na is the first Chinese player to win a Grand Slam tournament and figures to be a force on the WTA for years to come. She is currently ranked No. 4 in the world.
Roger Federer has a bit more of a track record than Na. Tomorrow, he will go for his seventeenth Grand Slam title, against Rafael Nadal. The two players, regarded by many as the two best in the world, have not matched up with one another in two years.
Nadal is the favorite because the game is on clay—his wheelhouse—but the way he has been playing recently, the odds might not change on another surface. Regardless, the final tomorrow will be must-see TV.
"It will be one for the ages," Andre Agassi said in The New York Times. "Any time you see these two, Nadal and Federer, go head to head, it's one of the most memorable moments. And to have it happen in a final — we have been spoiled, we're so used to watching them."
Alex Rodriguez and girlfriend Cameron Diaz have also split up, according to The New York Daily News. His personal struggles haven't been getting in the way of his play though, as Rodriguez is hitting .370 over the last 14 days.
Aaron Gleeman of NBC Sports wrote, "....since breaking up with his wife, the 35-year-old Rodriguez has dated and broken up with Kate Hudson, Madonna, and now Diaz, which is an eclectic mix to say the least. Hudson is 32, Diaz is 38, Madonna is 52, and Madonna's arms are 107."
Stay tuned for all the latest news in the world of sports.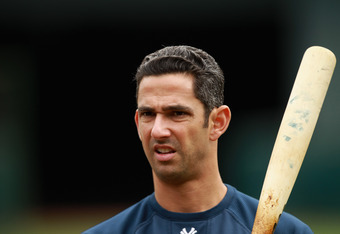 Jorge Posada Has Struggled Recently for the New York Yankees
Derek Jeter, Jorge Posada and Mariano Rivera are the faces of the franchise. Will that be enough to keep Posada on the roster despite conflicts with management and poor performance?
Posada is hitting .173 so far this season. Although he has hit six home runs, he is not hitting at opportune moments with only 17 RBI.
He is also not really a catcher anymore and if he can't add value to the team as a hitter, he can't add value to the team at all. He is now splitting time with Andruw Jones as DH. Teams like the Yankees can't afford to waste roster spots out of respect.
Posada already refused to play once this season because—get this—they dared to bat him ninth in the lineup. Derek Jeter came out behind his teammate and supported Posada, but eventually even legends get old.
Shaq's departure with the Celtics, Favre's demise with the Jets and Vikings, Jordan with the Wizards even heroes wear out their welcome. The difference with Posada is he is no longer good, not even a little. The other players at least had value when they were scuffling along the end of their careers.
Not Posada. It is unlikely he will end the season a Yankee. Maybe he'll retire, maybe he'll be designated for assignment, maybe he'll be traded (although I doubt that last one unless he requests it).
Regardless, Posada's contributions won't be forgotten. His recent foils will.
This article is
What is the duplicate article?
Why is this article offensive?
Where is this article plagiarized from?
Why is this article poorly edited?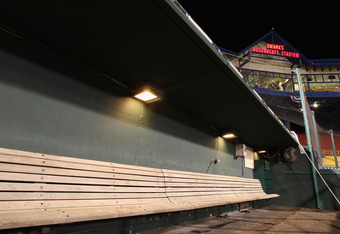 UConn Hopes To Make Run In College Baseball Behind Two Top Draft Picks
UConn has won three men's basketball championships, seven women's basketball championships and made a BCS bowl in football last season.
Baseball has never been a primary focus at UConn, but this summer two players are doing their best to put UConn on the map. Right now, UConn is ranked No. 48 after being upset in the Big East tournament. A long run seems unlikely.
But the U.S. beat Russia, the Red Sox won the World Series, heck, Notre Dame beat the unstoppable UConn women just a few months ago.
But great players do great things, and UConn hasn't had great players in a long time. The last time an MLB team took a UConn player in the first round was 1988 and that player was Charles Nagy.
Barnes and Springer will almost definitely buck that trend and show fans once again that impossible can happen. Both were named semifinalists for the Golden Spikes award last year.
Barnes is an ace pitcher who throws a high-90s fastball—even when his arm is tired at the end of games. He's gotten bigger, faster and stronger and figures to continue developing into a talented player.
Springer is an outfielder who brings raw hitting and speed to the table. While his hitting can develop (he currently has trouble with off-speed and breaking pitches) his fielding is already at a high level.
Both players have a tough job ahead of them leading UConn in the tournament (if they receive a bid), but they will be rewarded with high draft picks regardless.
This article is
What is the duplicate article?
Why is this article offensive?
Where is this article plagiarized from?
Why is this article poorly edited?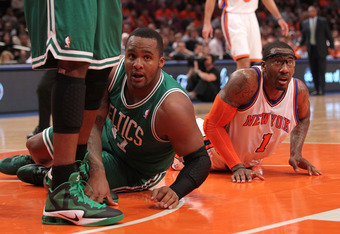 NBA Rumors Are Going Around That Big Baby Wore Out His Boston Welcome
Big Baby Davis has been a favorite of Celtics fans since he joined the team. His high-effort style of play and creative ways of scoring endeared him to the Garden faithful. And then 2011 happened.
In the playoffs, Davis struggled to guard Joel Anthony of the Miami Heat. Sure, he was playing out of position, but when you play the Heat, Anthony shouldn't be doing anything. The Celtics had enough to worry about with the Big Three that Joel Anthony shouldn't have even crossed their mind.
But he did, and the Celtics lost the series and the Heat are in the Finals.
Davis is an offensive genius—he has to be in order to get shots up against bigger players, but his lack of size and speed kill him on defense. High-effort players only go so far.
The Celtics are looking toward a post-Big Three era. If they pay Davis as a free agent, he will likely have to start after Garnett's contract expires next season. Glen Davis is not a starting power forward on a championship team.
With guys like Carl Landry and Samuel Dalembert on the free agent market this year, the Celtics will have other options.
This article is
What is the duplicate article?
Why is this article offensive?
Where is this article plagiarized from?
Why is this article poorly edited?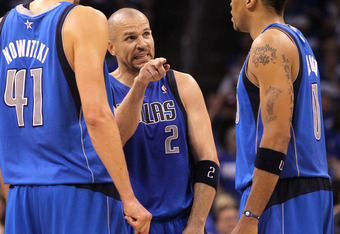 Dallas Mavericks Veterans Poised For First Ring in 2011 NBA Finals
It's the fairy tale that never happens—aging veterans who have never received a Championship ring taking on the young guns.
Shawn Marion, Jason Kidd and Dirk Nowitzki—heck, even Jason Terry and Peja Stojakovic—have had long careers preying on lesser NBA players, doing everything but winning the big one.
The Heat is a dynasty in the making. The LeBron James, Dwyane Wade experiment worked. For the foreseeable future, the NBA Championship goes through Miami.
The Mavericks don't have that kind of time. Their core won't be able to stick together much longer, and the crew is one that deserves rings.
Marion's Career Stats: 16.8 ppg / 9.3 rpg / 1.9 apg
Kidd's Career Stats: 13.2 ppg / 6.5 rpg / 9.1 apg
Nowitzki's Career Stats: 23 ppg / 8.4 rpg / 2.7 apg
Stojakovic's Career Stats: 17 ppg / 4.7 rpg / 1.8 apg
Terry's Career Stats: 15.8 ppg / 1.9 rpg / 4.1 apg
Look at those numbers. Sure, LeBron, Wade and Bosh have superhuman numbers in their short careers, and Mike Miller has contributed to the NBA in his own right, but it's not the same.
Dallas deserves this title as much as any team has ever deserved a title—and it's players all understand the difficulties in winning in the NBA.
This article is
What is the duplicate article?
Why is this article offensive?
Where is this article plagiarized from?
Why is this article poorly edited?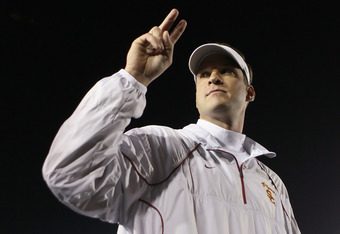 Lane Kiffin Got His Dream Job Coaching USC Football
Lane Kiffin dropped everything to coach USC football. He dropped the job he had only recently received with the Tennessee Volunteers and left students rioting on campus.
But it was all worth it—or so Kiffin thought. After Kiffin took the job in January 2010, USC was slapped with a two-season postseason restriction that June.
Southern California is a recruiting hotbed, but it is more difficult for Kiffin to get the best of the best when there is no postseason incentive. It is nearly impossible when he has fewer scholarships.
Recently, things have gone even further downhill for USC. Not only did their appeal to play in the postseason in 2011-2012 get rejected, but running back Marc Tyler faces possible disciplinary action according to an SB Nation blog covering USC football.
And yet USC remains one of the top schools in the country. They have talented players coming back. And then next offseason, the sanctions will be gone.
The combination of the recruiting hotbed that is Southern California and Lane Kiffin's potent recruiting skills could make USC a juggernaut back atop the polls in no time.
Kiffin is saying the right things, telling the AP, "We have been operating with these sanctions for a year now, and have felt their effects on multiple fronts. We will continue to execute the plan we have in place to make the most of the hand with which we have been dealt."
When Kiffin first arrived, he thought he had a Royal Flush. In 2012, however, Kiffin might just be able to win with a 7-2 off-suit.
This article is
What is the duplicate article?
Why is this article offensive?
Where is this article plagiarized from?
Why is this article poorly edited?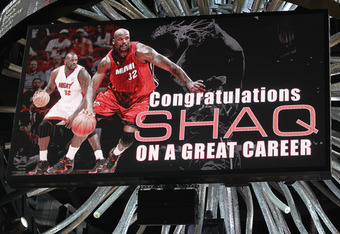 Shaquille O'Neal Could Find Himself On TV Next Season
Shaquille O'Neal is one of the most media-savvy NBA players in a generation of media saturation. Charles Barkley is one of the most controversial broadcasters out there. He is also a legend who few people can speak over.
And Shaq will likely find himself in the middle of a bidding war between television networks instead of basketball teams—and he's ready, "I do plan on entertaining you for the next 19 years,'' Shaq said in a press conference. "Whether it's TNT, ESPN, CNN, whoever wants to hire me. My offices open up on Monday, give me a call.''
Please be TNT.
If Shaq and Barkley were on the same show, Shaq would not be afraid to argue with Barkley—and Shaq's the type of guy who can win an argument without saying a word. Just look at this poor guy who tries to roast him. Debates would be heated and fascinating for viewers.
Just imagine this in studio. This fight was over ten years ago and it is unlikely any bad blood would prevent the two from working together.
Besides the comedy factor, Barkley and Shaq are among the best players in NBA history. They would provide unmatched inside-the-game knowledge. And then they would make fun of each other. Every time.
Or he could find himself on a serious pre-game show trying to seriously analyze games. But that would be just turrible.
This article is
What is the duplicate article?
Why is this article offensive?
Where is this article plagiarized from?
Why is this article poorly edited?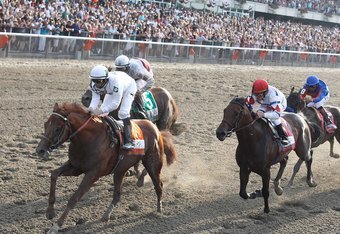 Winners of the Preakness and Kentucky Derby Face Off In Belmont Stakes 2011
Horse racing fans have been waiting for a Triple Crown winner since Affirmed won the Holy Trinity of races in 1978.
Triple Crown hype begins with the first sip of a Mint Julep. Lately, it has only lasted until the fans have slurped the last of their Black-Eyed Susans. Belmont is such an afterthought, people might not even know if it has an official drink (it does, the Belmont Breeze).
Does the race still matter if there is no potential for a Triple Crown winner?
It depends.
For horse racing fans, absolutely. While superhorses can be fun to watch, nothing beats the thrill of a tightly contested race between two great horses.
While no horse has stood out from the field this year, Shackleford and Animal Kingdom made the Preakness an exciting race. Although Animal Kingdom started the race in last place, he made a strong move at the end losing by a nose.
Casual sports fans will tune out the Belmont. People like to see history. For the same reason that Mark McGwire and Sammy Sosa's home run race drove baseball ratings in the summer of 1998, a race for the Triple Crown would drive horse racing ratings.
Horse racing is a nostalgic sport, and only a chance at history can bring it back. Back when boxing and baseball were king, horse racing was the next best thing. The most notable writers of the day, (Hunter Thompson anyone?) wrote decadently at races alongside scores of the country's depraved.
Belmont won't be big this year. It wasn't last year and it might not be next year. But when Belmont does get big—and it will—horse racing has a chance to restore some of that nostalgia, even if only for a bit.
This article is
What is the duplicate article?
Why is this article offensive?
Where is this article plagiarized from?
Why is this article poorly edited?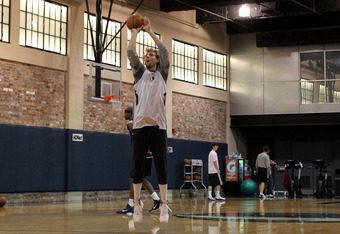 Is Dallas Mavericks Forward in a Class With Larry Bird, Elgin Baylor and Tim Duncan?
Dirk Nowitzki is a difficult player to rank. He is unique—a seven-footer who is as comfortable shooting threes as he is hitting an off-balance shot; a player who has taken heat throughout his career for a perceived lack of toughness.
People often relate rebounding numbers to toughness. Nowitzki is no slouch on the boards—averaging eight per game throughout his career. But seven-footers should always be pulling down double-digit rebounds, or so the argument goes.
The fact is Nowitzki's game does not lend itself to pulling down every rebound. He takes perimeter shots and is not in position for every carom.
"He's going to go down as one of the great players that played this game, regardless," Tyson Chandler told The Kansas City Star. "Critics are always going to have something to say, but if you're getting my perspective on things, I'm impressed.
Where does he rank among the all-time greats? Truly great players don't fit into molds. Larry Bird might have been the first three-point assassin, Tim Duncan plays more like players from the 1950s than anyone in the league today. Dirk is a seven-footer who excels playing one-on-one.
But for now, we'll put him on Karl Malone's level—somewhere below Bird, but ahead of virtually everyone else.
This article is
What is the duplicate article?
Why is this article offensive?
Where is this article plagiarized from?
Why is this article poorly edited?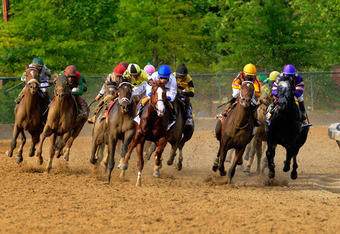 Shackleford Could Win 2 Out of 3 Triple Crown Races if He Can Win at Belmont Stakes
Shackleford beat Kentucky Derby winner Animal Kingdom at the Preakness last month. Can he do it again in New York?
This will be the 22nd time the Derby winner and Preakness winner match up at Belmont. Preakness winners have won nine races while Kentucky Derby winners have come out victorious four times.
In an especially weak year of three-year-old horses, Shackleford might be the best of the group. Animal Kingdom was inexperienced prior to the Kentucky Derby, but came out of nowhere (20-1 odds) at Churchill Downs. Shackleford was the more experienced horse, but ran a poor race.
Even though Shackleford won the Preakness, right now Animal Kingdom looks tough to beat. If the Preakness had been another couple tenths of a mile, he might have pulled ahead and been looking at a possible Triple Crown. Jockey John Velasquez surely knows this and will likely start pushing earlier at Belmont.
Shackleford will have to run an even better race, and so far all signs are looking up, trainer Dale Romans told The New York Times.
"I am excited he's doing so well and coming into the race the right way. I think he's going to be very competitive," Romans said. "I thought he went around there really well, and it looked like he did everything the way he was supposed to."
Few people know a horse as well as a trainer, but with horse racing, results are always up in the air. That's why big money is made (but mostly lost) at the racetracks.
This article is
What is the duplicate article?
Why is this article offensive?
Where is this article plagiarized from?
Why is this article poorly edited?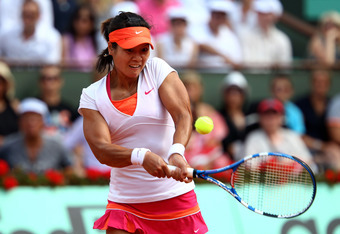 Li Na's Star is Rising After Her Historic Accomplishment At Roland Garros
Li Na did something no Chinese person has ever done before: won a Grand Slam event. Can a woman become more popular than an injury-prone giant in a country where "Tiger Mom" might be the most famous woman?
In an article explaining why her star might eclipse Yao's, Xiaoni Chen of CNN writes, "To many Chinese, "China's number one sister" is a maverick. She has a tattoo, has dyed her hair many different colors and has even been known to yell at her husband in public."
Great players are not automatically sports figures. Muhammad Ali fought for civil rights, Magic Johnson is still fighting HIV. Li has the opportunity to become a sports figure in her own country through her unusual, progressive and quintessentially American actions. These figures are the ones who become popular.
Yao plays in the ever-popular NBA, but Li has the chance to take a stand.
After Li won the French Open, China rejoiced. Yao only played five games last season and figures to be a free agent after this season. His history of injuries, and the poor history of health for players his size don't bode well for a long stay at the top of China's sports popularity.
Li won't have much time at the top either. She is already 29 in a sport where the biggest stars can be teenagers. She wants to play for another two or three years, but eventually wants to have children.
Eclipsing Yao in China would be an accomplishment, but changing the mentality of at least some people in China is not unachievable for this woman who has already achieved so much.
This article is
What is the duplicate article?
Why is this article offensive?
Where is this article plagiarized from?
Why is this article poorly edited?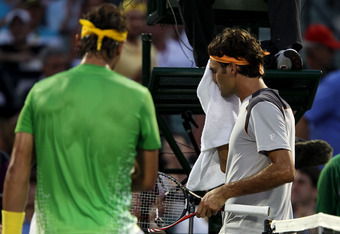 Roger Federer and Rafael Nadal Might Be the Biggest Rivals In Tennis History
Roger Federer and Rafael Nadal have met in the finals of seven (soon to be eight) Grand Slam matches.
McEnroe/Connors, Agassi/Sampras—does Federer/Nadal have the same cache?
Yes—and then some. Both players rank among the best to ever play the game. Each has a set of specific strengths and weaknesses that colors each match they compete in. Nadal, for example, is a master of the clay court. Federer has that shot running backward, between his legs.
"It always seems to me that Rafa needs to be in a French Open final to make it special, and I got the match I guess I was hoping for," Federer said in The New York Times.
Agassi and Sampras had the battle for America's hearts. McEnroe and Connors had the battle of the generations. What do Federer and Nadal have? Swedes and Spaniards are certainly not natural rivals.
For these rivals, it is truly the battle for greatness, maybe even the greatness of being the greatest. Never before have two players so dominant, so talented peaked at the same time. When such talent converges, rivalries are born naturally. There's no way to prevent it.
It would be like if Tiger Woods and Jack Nicklaus were playing together at Augusta, like Babe Ruth and Hank Aaron going for 61 in the same season.
So enjoy it while it lasts, because like any sports rivalry, it will end sooner rather than later.
This article is
What is the duplicate article?
Why is this article offensive?
Where is this article plagiarized from?
Why is this article poorly edited?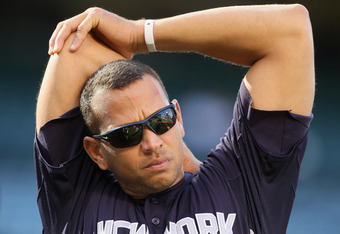 Alex Rodriguez's Love Life Could Affect His Performance at the Plate
The pinnacle of Alex Rodriguez and Cameron Diaz's relationship—at least for outside observers— came during the Super Bowl when they were caught on TV popping popcorn into each other's mouths.
Now that the relationship is over, will Rodriguez return to the field with a more singular focus? Or allow the story to affect his game?
These question are especially relevant to Rodriguez. Although his recent stats have been good (.370, two steals and a home run over the past two weeks), slumps are always possible—even for the best players.
When he first arrived in New York, fans questioned his ability to handle the spotlight. When the steroid allegations first came out, Rodriguez was thrust onto the front page of newspapers across the country.
Now, with a break-up and his controversial cousin's presence on road trips putting Rodriguez in headlines again for all the wrong reasons, is a slump on the horizon?
Rodriguez has seemingly allowed outside distractions to affect his performance before. It took him 28 at-bats to to get from 499 home runs to 500 with hype surrounding every at-bat and a record 46 at-bats to get from 599 to 600.
He also cited "pressure" as his reason for using steroids, according to Joe Posnanski of Sports Illustrated.
"[Rodriguez] did feel overmatched. He felt intense pressure to live up to the contract, to his reputation, to the expectations that were now even greater than before. And that's what drove him to juice," Posnanski wrote.
Pressure to perform from Yankees fans is constant, and Rodriguez appears to have grown accustomed to the everyday variety. But previous A-Rod slumps have coincided with women issues, like this 2007 incident covered in the New York Post.
If Rodriguez does start slumping, regardless of the actual reason, his split with Diaz will be cited by fans far and wide.
With upcoming series against the Los Angeles Angels of Anaheim (arguably the best rotation in baseball this year), the Boston Red Sox (speaking of pressure) and the Cleveland Indians (the best record in the AL), Rodriguez can't afford to struggle. Not now, at least.
This article is
What is the duplicate article?
Why is this article offensive?
Where is this article plagiarized from?
Why is this article poorly edited?