The 25 Sexiest Cheerleader Squads in Sports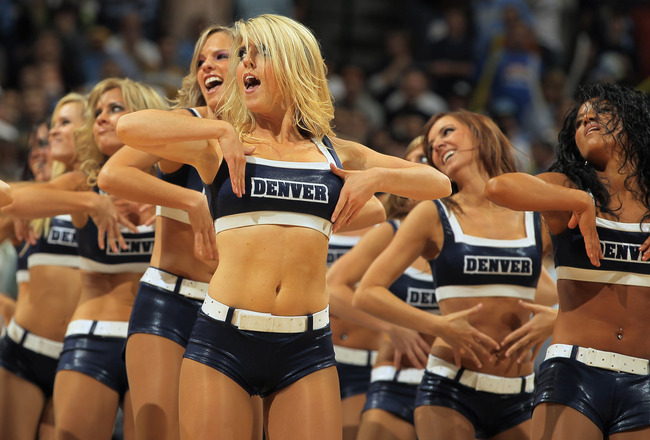 Doug Pensinger/Getty Images
You've seen all the best cheerleaders in the NFL, best cheerleaders in the NBA and best cheerleaders in the NCAA lists.
It's time we started comparing cheerleaders of different sports to each other. After all, they're all part of the same hot-girl professional sports cheerleader sorority.
What? That sorority doesn't really exist? Well it does in my head, OK?
Here are the 25 sexiest cheerleader squads in sports.
25. Los Angeles Clippers Dancers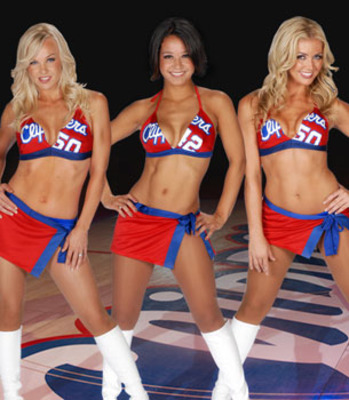 The Clippers may be second-class citizens when it come to basketball, but when it comes to cheerleaders, well...OK...they're also second-class citizens.
But being second-class to the Laker Girls still makes you pretty awesome.
24. Houston Texans Cheerleaders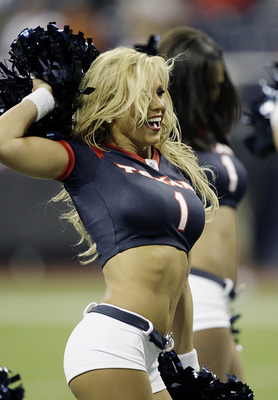 Bob Levey/Getty Images
Tiny shorts? Check.
Tiny football jersey? Check.
Sexy cheerleader pose? Check.
One of the hottest cheerleading squads in sports? Checkmate.
23. Chill Titanettes Cheer Squad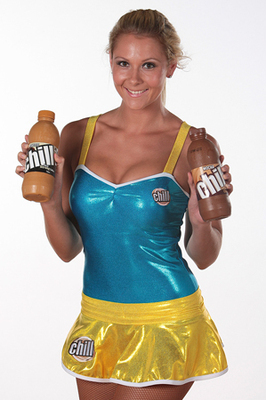 We don't watch much of the sport in the US, but rugby has some hot cheerleaders.
Many of the cheerleading squads are actually sponsored themselves. This group is sponsored by some unappealing beverage called Chill that I somehow really, really want to drink right now.
22. USC Song Girls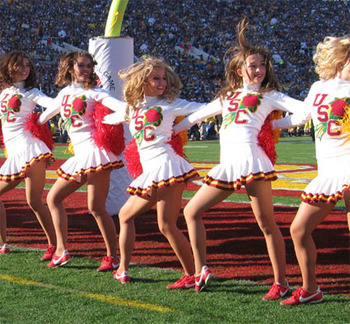 Who knew that cheerleaders could be so sexy while wearing sweaters?
The USC Song Girls have figured out how to be sizzling hot while remaining relatively covered up. Fight on!
21. Carolina Panthers Cheerleaders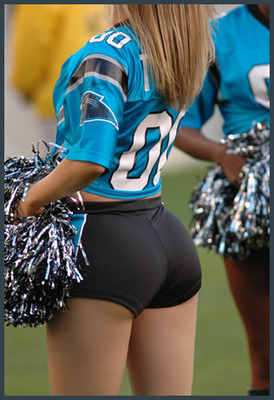 Uuuuuh...Carolina Panthers...ummm...football...ummm...hot...
I'm sorry, but for some reason I'm finding it very hard to concentrate.
20. Houston Rockets Power Dancers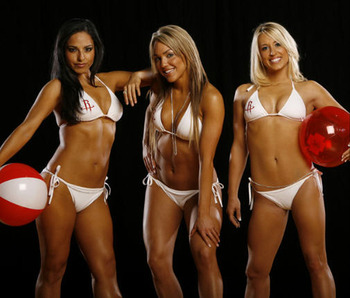 The Rockets aren't normally thought of as having hot cheerleaders, but this picture makes them serious contenders.
I don't know how many beaches there are near Houston, but these girls are certainly ready.
19. Denver Broncos Cheerleaders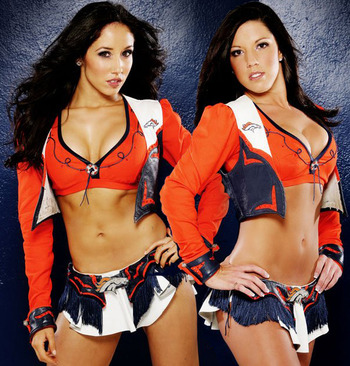 It's normally cold in Denver, but when the weather starts to heat up, so do the cheerleaders.
In their little cowboy-themed outfits, it's hard not to consider them one of the hottest cheerleading squads in sports.
.
18. Washington Wizards Dancers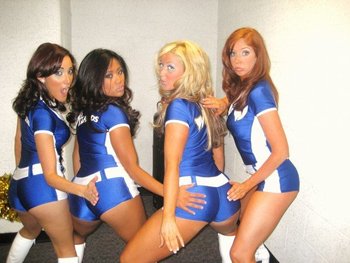 When you were horsing around with your friends at school, did you ever have a teacher that told you to "stop playing grab-ass"?
I did, but the Washington Wizards cheerleaders apparently did not. This was part of a set of naughty photos that surfaced a while ago.
For having such a terrible team, the Wizards girls sure know how to party.
17. Cincinnati Ben-Gals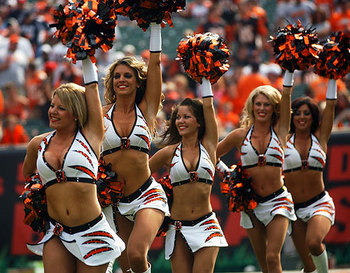 For such a hard-luck franchise, they sure do have some hot cheerleaders.
I'm hereby starting a petition to change their name to the Sin-cinnati Ben-Gals. It would be much more appropriate.
16. University of Texas Orange Squad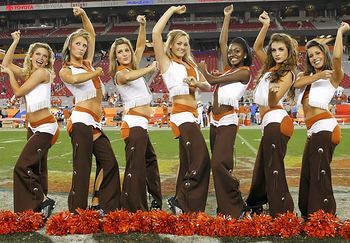 Get 'em cowgirl!
Those outfits and those moves just aren't fair. It's easy to see why UT has one of the best football programs in the nation...and one of the hottest cheerleading squads.
15. Dallas Mavericks Dancers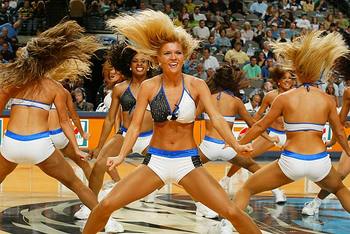 Mark Cuban spends as much money as he needs to on high-priced players, and it looks as if he's done the same in order to assemble the hottest cheerleaders possible.
14. Denver Nuggets Dancers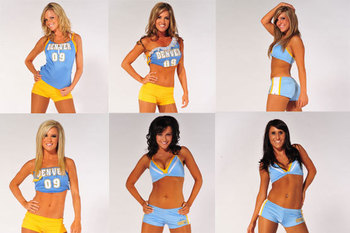 This is like an absolutely incredible remake of The Brady Bunch.
It doesn't look like the high altitude is affecting them one bit.
13. Arizona State Cheerleaders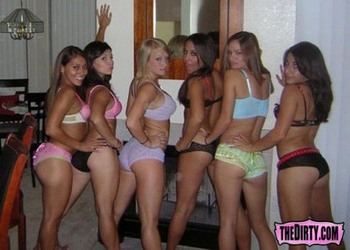 I don't know how they look in their uniforms, but these Arizona State cheerleaders sure look good out of them.
Can you believe they canceled the cheerleading team for a year because of this? I think it's cause for celebration.
12. Sacramento Kings Dancers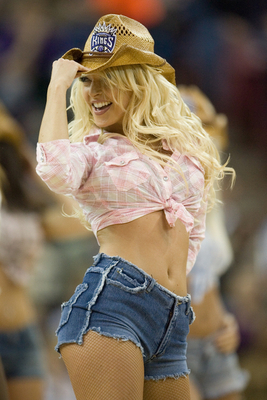 Now that the Kings are going to stay in Sacramento (at least for another year), I can think of one way to make the fans forget that whole moving thing.
Maybe have more cheerleaders like this at the games? Or maybe bring back some old ones?
11. Los Angeles Kings Ice Girls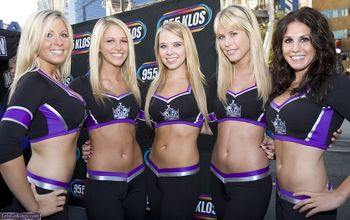 Hockey may not be the most popular sport in Los Angeles, but it definitely has some of the hottest dancers.
The Kings have some young talent and in a few years they may be able to compete with the Laker Girls.
10. Washington Redskins Cheerleaders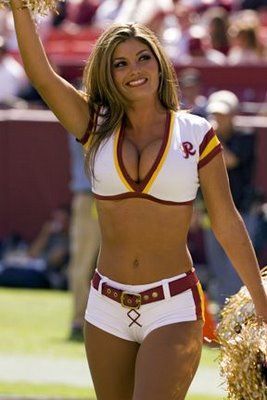 9. Baltimore Ravens Cheerleaders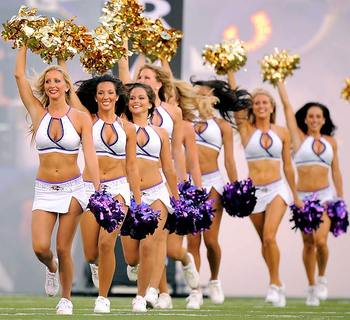 Am I the only one that gets just as excited to see the cheerleaders run out of the tunnel as I do for the players?
With the Ravens, I'm sure the answer to my question is 'no.'
8. UCLA Cheerleaders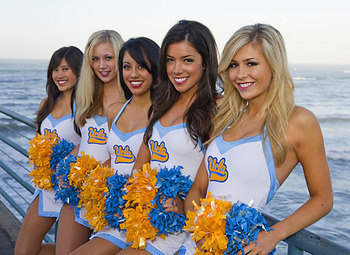 Not to be outdone by their cross-town rivals at USC, UCLA boasts some of the hottest cheerleaders in the country.
Something about that California sun at the beach...
7. Boston Celtics Dancers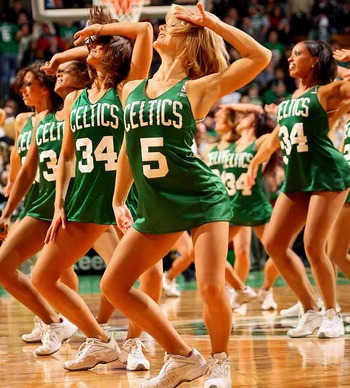 The Celtics' rivalry with the Lakers doesn't only exist with the players. Both teams' dancers are at the top of the list for NBA supremacy.
6. Florida Marlins Mermaids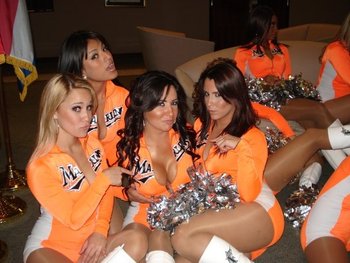 I bet you didn't know that baseball teams had cheerleaders. Well the Marlins need to do anything they can to get butts in the seats.
Picking a fleet of smoking hot women to dance around at your games is a good start.
5. Laker Girls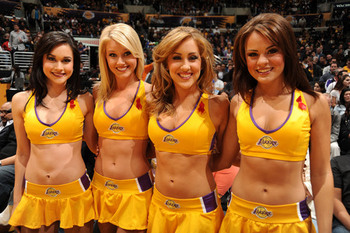 There's a reason Jack Nicholson goes to every single Lakers game. And it's not the players.
Lakers girls hold a special place in the hearts of all Los Angelenos, and they are nearly as famous as the franchise itself.
4. Miami Dolphins Cheerleaders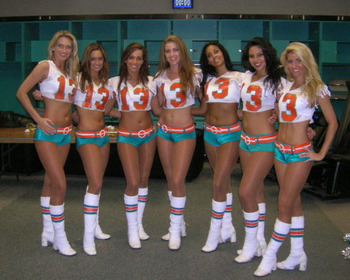 Pretty maids, all in a row...
The Dolphins cheerleaders are iconic in the sports world, and there's a good reason. You have to love a group of smoking hot girls that pays tribute to a legend like Dan Marino.
3. Dallas Stars Ice Girls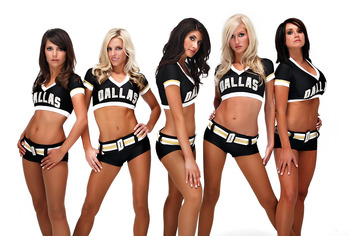 So technically they're not "cheerleaders," but they definitely cause the crowd to erupt in applause every time they show up on the ice.
Judging from the cheerleaders from different sports, I'm led to believe that every woman in Dallas is a 10.
2. Miami Heat Dancers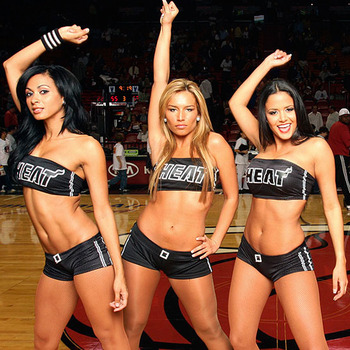 There's a reason they're called the Heat.
Miami is known for its beautiful, spicy, scantily-clad women, and the Miami Heat dancers certainly do not disappoint.
1. Dallas Cowboys Cheerleaders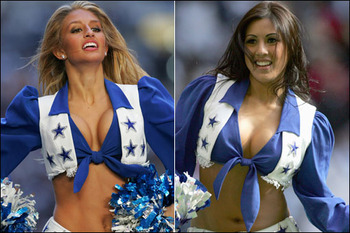 When you think of cheerleaders, you think of the Cowboys cheerleaders. That's the way it is and that's the way it always will be.
Hot girls who want to become cheerleaders will always aspire to cheer for the Cowboys, so the rich will keep getting richer.
And we're the ones who benefit the most.
Keep Reading