10 of Football's Great Underdog Sides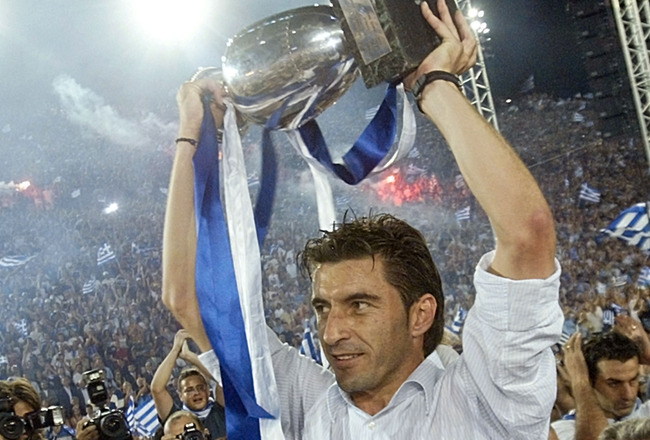 Milos Bicanski/Getty Images
There seems to be little place for the underdog in modern football. With the game now so utterly dominated by money, it is tougher than ever for a team with a lower profile or less resources than their rivals to come out on top.
In the Premiership, the title race and even the battle for Champions League qualification is regularly contested by the same elite group of clubs. Yet the underdog is the type of team that will always have a special place in our hearts, and every once in a while, a smaller team will have their moment of glory.
This article looks back at some of the great underdog teams of the past and their triumphs. Note that this article focuses only on teams that had actual success within a tournament or league, so one off triumphs, for example Hereford's famous giant killing of Newcastle United in the FA Cup, will not be considered, as it did not lead to a trophy.
Please also be aware that this list is made up only of British sides and international teams due to the impossibility of compiling a list using teams from all over the world, given the number of underdog triumphs there have been. This is, of course, far from a definitive list. Simply a selection of underdog victories which capture the imagination.
Nottingham Forest- 1978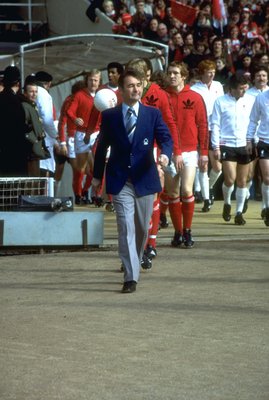 Getty Images/Getty Images
The previous season, Nottingham Forest had finished third in the Second Division. Their manager was Brian Clough who had already lifted the championship with Derby County and was rebuilding his reputation after disastrous spells with Brighton and Leeds United. Despite the high profile of their manager, few would have predicted the success Forest would achieve and just how quickly it would come about.
Forest added Peter Shilton to their side, and he proved a vital component as Forest conceded just 33 goals in what was back then a 42-game season, John Robertson thrilled the fans with his wonderful wing play, and the likes of John McGovern, Kenny Burns and Larry Lloyd provided defensive solidarity.
Clough's team lost only three games all season, finishing seven points clear of nearest rivals Liverpool, a considerable gap back then considering only two points were awarded for a win. They also defeated Liverpool, thanks to a Robertson penalty, in the League Cup final in March to lift their first trophy for 19 years.
The side also swept up the end of season awards. Burns won Football Writers Player of the Year, Shilton won PFA Player of the Year and Tony Woodcock won PFA Young Player of the Year. Unsurprisingly, Clough was crowned Manager of the Year.
The side played some excellent football as they claimed a League Cup-League Championship double. It was a remarkable triumph for Clough, his assistant Peter Taylor and the club as a whole. The next season, Forest would win the European Cup and then defend it the following year, but it was during the '77/78 season that Forest were true underdogs. They remain the last side to win the First Division in England in the season following their promotion to the league.
Greece- 2004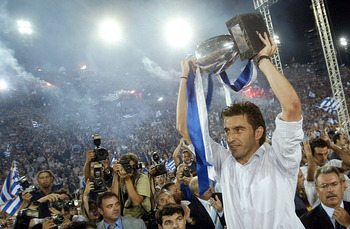 Milos Bicanski/Getty Images
Always an obvious choice for any list of underdogs, Greece's triumph at the 2004 European Championships was remarkable. Grouped with Russia, hosts Portugal and their neighbours Spain, few would have even given Greece a chance of progressing beyond the group stage. But they pulled off a shock 2-1 victory over their hosts in the opening game, before drawing 1-1 with Spain. They were defeated 2-1 by Russia in the final group game but progressed ahead of Spain on virtue of goals scored.
In the knockout stage, they defeated France and the Czech Republic, both games finishing 1-0. They faced a rematch with Portugal in the final, with their hosts eager for revenge after the humiliation of the opening game. But Greece held out, and in extra time, Traianos Dellas netted the winner, stunning the footballing world.
Greece's triumph was based largely on their defensive solidarity (they didn't concede a goal in the knockout stage of the tournament), and great credit must go to their manager experienced manager Otto Rehhagel.
Greece are occasionally condemned for the defensive style of football they played in the tournament. However, when the resources available are so limited in comparison to their opponents, that style of football was the only way in which Greece had any hope of being competitive, and their victory is a true triumph for the underdog.
Aberdeen- 1983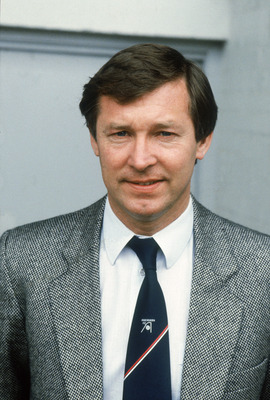 David Cannon/Getty Images
Aberdeen's Cup Winners Cup win of 1983 was surely one of the greatest underdog triumphs. Aberdeen finished third in the Scottish league that season, illustrating the improbability of their success. The side they faced in the final, Real Madrid, finished as runner-up in La Liga.
Even when Aberdeen thrashed Swiss side FC Sion 11-1 on aggregate in the preliminary round, few would have foreseen what was to come. They narrowly made it past KS Dinamo Tirana in the first round proper before a comfortable victory over Lech Poznan to set up a quarter final with German giant Bayern Munich.
Remarkably, Aberdeen once again triumphed, winning 3-2 in the second leg after a 0-0 stalemate in the first, and followed it up with a first leg annihilation of Belgian side Waterschei, winning 5-1. A 1-0 defeat in the second leg made little difference.
This brought Aberdeen up against Real Madrid. Though not a vintage Madrid team, they should still have had more than enough to overcome Aberdeen. It truly was a David and Goliath match up, Madrid, one of the most famous sides in the world with their six European cups, facing Aberdeen, who had managed only two league titles in their own country.
Yet somehow, Aberdeen did it, taking the game to extra time where John Hewitt scored the winner to secure one of the great European upsets. Even with all he has accomplished since, it must surely still rate amongst Sir Alex Ferguson's finest achievements in management.
Uruguay- 1950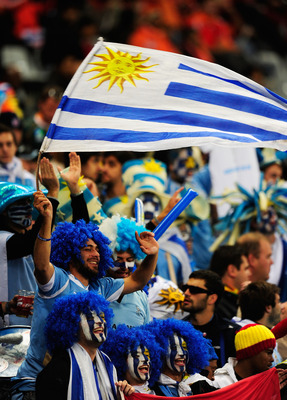 Jamie McDonald/Getty Images
That Uruguay where such underdogs owes perhaps more to the brilliance of the Brazil team at the time, but the fact remains that Brazil were huge favourites going into this game. Indeed, such was the level of confidence that an early edition of a Brazilian newspaper published a picture of the team underneath the headline, "These are the world champions."
Uruguay had been the first world champions, but it must be remembered that last triumph had taken place 20 years before, and this was a different team. Brazil were the hosts, had already scored 21 goals in the tournaments and with 13 in their previous two games, were on rampant form. With how the competition was structured, they needed only a draw in order to seal the title, though nothing less than a win was expected.
The Maracana was packed, with an official crowd of 174,000, though it is estimated there were really over 200,000. The stage was set for them to be crowned world champions.
Unfortunately for them, Uruguay didn't seem to be willing to stick to the script. Uruguay set up to stifle Brazil and managed to keep things level until half time. Shortly after the break, Brazil took the lead. However, Uruguay hit back 20 minutes later, and the packed Maracana fell silent. Just over 10 minutes from time, Alcide Ghiggia hit the winner.
The greatest side in the world had been overcome, and Uruguay had reclaimed their trophy. Whilst perhaps not the biggest underdogs there have ever been, their victory was a huge shock for the footballing world and for Brazil. Indeed, a Brazilian playwright said of the defeat, "Everywhere has its irremediable national catastrophe, something like a Hiroshima. Our catastrophe, our Hiroshima, was the defeat by Uruguay in 1950."
Wimbledon- 1988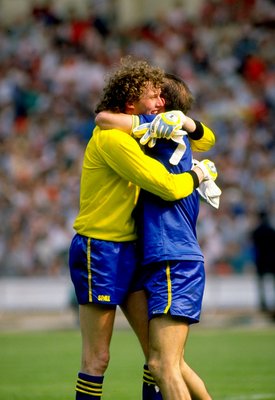 Getty Images/Getty Images
Wimbledon's rise to the First Division itself had been a hectic scramble. Within six years, they had risen from the fourth division to the first. Their football left much to be desired, with the beauty of the game sacrificed for results. This will have been of will concern to their fans though, and Wimbledon's journey culminated with their glorious FA Cup triumph of 1988.
The journey to the final saw them overcome West Brom, Mansfield Town, Newcastle United, Watford and Luton Town, a reasonable enough list of scalps as it is. In the final, however, they came up against the great beast of the English game, Liverpool FC.
They had already won six league titles and an FA Cup in the '80s alone and were looking to complete a League-Cup double here. Their starting XI featured the likes of Alan Hansen, Bruce Grobbelaar, Peter Beardsley, John Aldridge and John Barnes. If football were played on paper, it would have been a comprehensive win for Liverpool.
The game itself is the stuff of FA Cup legend, with Lawrie Sanchez handing Wimbledon the lead. In the second half, Liverpool won a penalty, and Aldridge stepped up. However, Dave Beasant stopped it, becoming the first 'keeper to save a penalty in an FA Cup Final at Wembley.
Wimbledon held off more pressure from the champions to defend their lead until the final whistle, at which point, the "Crazy Gang" went wild, as against all the odds, they had overcome one of the finest sides in Europe.
Denmark- 1992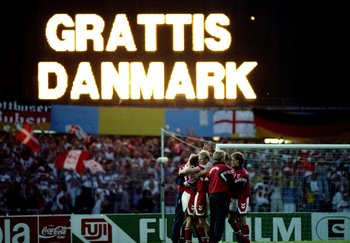 Shaun Botterill/Getty Images
Though not quite on a par with Greece's European Championship in terms of its shock value, Denmark's victory at EURO 92 was still rather unexpected. Denmark weren't even going to be playing in the tournament, but Yugoslavia, who won Denmark's qualifying group, were banned for political reasons, and Denmark stepped in as a late replacement.
After this reprieve, they began the tournament unspectacularly, drawing 0-0 with England in their opening game before losing 1-0 to hosts Sweden. They needed to win their final game against France to progress. Denmark took an early lead, but France hit back, and it looked like Denmark would be heading home. However, 12 minutes from time Lars Elstrup scored to send them through to the semifinals.
There, they faced Holland. Twice Denmark took the lead, but they were pegged back both times, Holland's second equaliser coming heartbreakingly late, in the 86th minute. The game went to penalties, and Denmark scored with all five of theirs, whilst Marco Van Basten missed for Holland to send Denmark through to a final with a newly unified Germany.
The Dane's took the lead after less than 20 minutes, and with just over 10 to go, they wrapped up their victory with a Kim Vilfort goal, sealing one of the finest moments in the nation's sporting history.
Denmark was a team without any genuine star quality. The closest they had was goalkeeper Peter Schmeichel and Brian Laudrup. The victory was made even more impressive by the fact that Brian's brother, Michael, the side's star playmaker, had retired from international football and didn't appear in the tournament.
With the way in which they "qualified" for the tournament, their late goal against France and their penalty shoot out victory over Holland, it seems that, if a team was ever destined to win an international tournament, it was Denmark in 1992.
Liverpool- 2005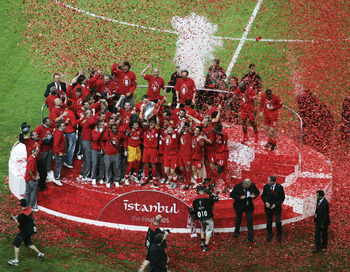 Getty Images/Getty Images
Liverpool's Champions League triumph in 2005 has to go down as one of the greatest shocks in the competition in its more modern format—perhaps the greatest. Liverpool only finished fifth in the Premiership that season, showing the weakness of their squad. However, by a mixture of managerial brilliance, some magnificent individual performances and luck, they managed to win the tournament.
Liverpool's campaign very nearly ground to a halt in the group stage, with the side needing to score three goals to progress having fallen 1-0 behind against Olympiacos. A Steven Gerrard wonder goal eventually saw them through, but thoughts of the final were nothing more than a dream for Liverpool fans.
Confidence grew as they thumped Bayer Leverkusen 6-2 on aggregate before being drawn against Italian champions Juventus. A narrow 2-1 win at Anfield led to a nervy second leg in Turin, with one goal capable of swinging the balance of the tie, but Liverpool, without Gerrard, hung on for a 0-0 draw to progress.
Chelsea were next up, and once again the triumph was achieved by the narrowest of margins, a 0-0 draw at Stamford Bridge followed up by a 1-0 win at Anfield thanks to a controversial Luis Garcia goal, edging Liverpool through to the final.
There, they faced the might of AC Milan, a side boasting the likes of Kaka, Andriy Shevchenko, Andrea Pirlo and Paolo Maldini. Milan raced into a 3-0 lead, and at half time, it appeared that it was all over for Liverpool.
An early second half header from Gerrard gave Liverpool hope, and within six minutes, they were level thanks to further strikes from Vladimir Smicer and Xabi Alonso. The game eventually went to penalties, and Jerzy Dudek imitated former Red's 'keeper Bruce Grobbelaar's "Wobbly Legs" tactic. Dudek saved two penalties whilst Serginho blasted his over the crossbar. Shevchenko missed the vital kick, handing Liverpool the European glory and completing one of the greatest comebacks and one of the greatest underdog victories, in football history.
West Germany- 1954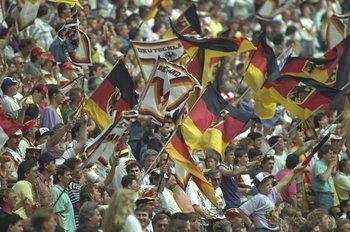 Getty Images/Getty Images
The idea that Germany defeating Hungary would be a shock result would seem ridiculous in modern day football, given the current state of the two teams. But back then, Hungary were regarded as perhaps the finest side in the world. They had become the first side to defeat England at Wembley with a 6-3 victory there the previous year in a game which they dominated and had been unbeaten in 36 games by the time of the final.
Hungary had already humiliated Germany in the group stage, beating them 8-3. They had also beaten favourites Brazil and defending champions Uruguay. Germany, meanwhile, were unseeded but managed to overcome Yugoslavia and Austria in the knockout rounds to set up a showdown with Hungary.
The final began as many expected it to as Hungary dominated, and after eight minutes, they had already established a two-goal lead. Yet Germany struck back with two swift goals of their own, and after 18 minutes the game was tied at 2-2. Playing on a muddy, wet pitch which hampered their legendary passing game, Hungary were unable to score again, and in the 84th minute, Helmut Rahn scored to win Germany the trophy.
In a country still suffering the aftermath of the Second World War, the victory helped raise national spirits—indeed, it was the first time since the war that the German national anthem was played in public. The match was christened "The Miracle of Bern," such was its unexpected and seemingly impossible nature, even within Germany itself.
Sunderland- 1973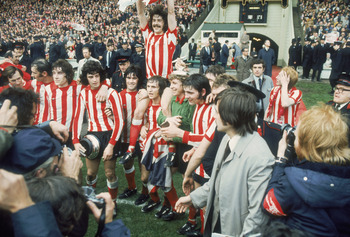 Getty Images/Getty Images
Sunderland's FA Cup triumph in 1973 is a story which illustrates the magical nature of the FA Cup. Sunderland were languishing in Division Two at the time and only finished sixth. It would be difficult to foresee the triumph when they began their campaign with a draw against Division Three Notts County before defeating them 2-0 in a replay. They were also forced into a replay against Division Four side Reading, and though they eventually progressed, their form didn't seem particularly promising.
They once again faced a replay in the next round, but this time against Division One Manchester City, who they beat 3-1 at Roker Park to give fans hope that perhaps they could pull off a middle, and they received a favourable draw for the next round, fellow Division Two side Luton Town. For the first time they managed to progress without the need for a replay, winning the game 2-0 to sit up a semifinal against Arsenal.
The Gunners would eventually finish as runners up in the league and were heavy favourites to finally bring Sunderland's cup run to an end. But shockingly, Sunderland once again won, a narrow 2-1 victory sending them to Wembley.
There, they would face the leagues third placed side and the cup holders, Leeds United. Though Sunderland had performed admirably so far, Leeds were still expected to bring an end to their dreams. They were a side with no full international players, whilst Leeds had stars such as Billy Bremner, Allan Clarke and Johnny Giles and were managed by Don Revie.
Ian Porterfield gave Sunderland a shock lead, and despite pressure from Leeds which forced Jimmy Montgomery to pull off a double wonder-save, Sunderland held on. It was, and still is, their only trophy since the Second World War.
Luton Town- 2009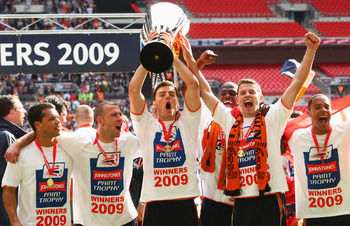 Phil Cole/Getty Images
The Johnstones Paint Trophy may not be the highest profile tournament in the world, and this may stand out as a somewhat controvertial, perhaps bizarre, choice. Yet Luton's victory in the 2009 edition of the competition is admirable regardless. Though perhaps not the biggest on-pitch upset, it stands out as meaningful resistance by the club. Indeed, it could be said that it represented a victory for the club against the FA themselves.
The club had been handed a 30-point deduction after going into administration, a penalty which had, essentially, condemned the club to relegation out of the Football League. Despite this, Luton continued to battle on and reached the final of the Johnstones Paint Trophy at Wembley, where they faced Scunthorpe United, a side which would go on to win promotion to the Championship via the league one playoffs that very season.
Luton twice took the lead but were pegged back both times by Scunthorpe, with their second equaliser coming just two minutes from the end of normal time. However, Claude Gnapka scored early in extra time, and it proved to be the winner, with Luton celebrating in front of around 40,000 of their fans who had made the trip to Wembley.
Just eight days later, Luton were relegated from the Football League. Luton may not be the most popular football club in England, but putting all that aside, this victory stood as a last act of defiance, almost a refusal to be beaten by whatever penalty be thrown at them.
Keep Reading