NBA Finals 2011: Game 2 Choke Should Make Heat Fans Very Nervous Going Forward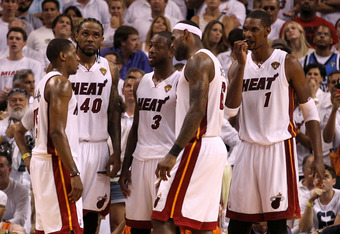 NBA Finals 2011 Give Miami Heat Fans Reasons to Be Nervous After Game 2 Choke
As Game 2 of the NBA Finals 2011 got rolling, things looked pretty good for the Miami Heat. They'd locked down the Dallas Mavericks down the stretch in Game 1, and looked like the better team for a good portion of Game 2, taking a 15 point lead midway through the fourth quarter.
But, from that point on, the Heat managed to fritter away that lead with terrible possessions, bad shot selection, and some shoddy defense down the stretch, eventually falling thanks to a Dirk Nowitzki layup with 3.6 seconds left, 95-93.
While Dallas evened the series with the win, a major achievement in and of itself, they managed to accomplish something else, something bigger, in the process: they reminded Heat fans why they should be incredibly nervous going forward.
For Heat fans, Thursday night had to give them a strange feeling of deja vu.
They jumped out to a big lead, and then promptly squirreled it away, thanks to the kinds of mental lapses and offensive impotence that plagued them throughout the regular season, and were responsible for a good number of their prolonged slumps, as well as their inability to beat the NBAs best teams.
The Heat had largely managed to avoid these kinds of collapses in the playoffs, but reminded everyone why teams like Boston, Los Angeles and Chicago were seen as more likely title contenders in these playoffs.
The fact is, Miami was prone to these kinds of late lapses all season long. Their late-game strategy and execution were lacking, and against a veteran squad like Dallas, you can't give them those kinds of chances.
Suddenly, Dallas holds the edge heading into Game 3. They play the next three games in Dallas, where they went 29-12 in the regular season. They've shown themselves capable of hanging with the Heat when their shots aren't falling, and they've shown they can rally from a significant deficit.
If you're a Heat fan, that should make you incredibly nervous, given your team's lack of fortitude down the stretch. The Mavs are finishers, while the Heat have shown themselves to struggle down the stretch for much of the season, and in Game 2.
This series is far from over, but Thursday night should give Miami fans pause heading into Game 3. Their team needs to prove that Game 2 was just an exception, rather than a return to the rule, and no one's quite sure whether they can do it.
Most recent updates:
This article is
What is the duplicate article?
Why is this article offensive?
Where is this article plagiarized from?
Why is this article poorly edited?

Miami Heat: Like this team?