NBA Finals 2011: Who Has the Hottest Fans, Dallas or Miami?
After an impossible comeback led by clutch plays by Dirk Nowitzki, the series is tied at 1-1 heading to Dallas.
While the two teams solve their differences on the court, we here at B/R will solve the fiery debate everyone has been passionately arguing about at the water cooler.
Which fan base is hotter?
Because I am a cheater, cheerleaders and dancers were included, because to be honest, there weren't too many pictures of fans to choose from on the internet.
But I will quit my babbling. Let the melee begin!
Begin Slideshow

»
What's the difference between the current Big Three in LeBron, Wade and Bosh and these three girls?
Two rings.
Hey, I am making Heat jokes while I still can. Sue me.
The unlucky fat kid in Willy Wonka is wondering how in the hell these three ladies can pose in a large vat of chocolate and not be sucked up by a large tube.
The answer: Hot chicks get away with everything.
The two girls on the outside are all about having fun and dancing.
The girl in the middle doesn't have time for silly games like basketball or stupid nonsense like dancing. She became a dancer to spread feminine power.
This is all happening while every fan in the building is yelling at them to get off the court because a game is going.
This was during a regular season game, so the girls couldn't hear the 20 fans in the building.
Gabrielle Union is in a relationship with Dwyane Wade.
Wade proves that he can whine about pretty much anything, even manicures.
Wade looked to the referee for support on his opinion.
Of course, the ref was more than happy to oblige.
I think the mad scientist who was looking for perfect child bearing hips to pump out his new breed of human finally found his girl.
Sure, these two Miami Heat fans are cute.
And I am all for showing a lot of skin.
But can we direct our attention to a Pauly D clone in the background, sporting an AK-47 tat?
Of course he is shirtless. Of course!
To a non-observing crowd, this cheerleader may seem to be putting on a sexually charged dance.
But in actuality, she is checking if her new deodorant is working how it's supposed to.
It is. Thank Goodness.
Perhaps this lady got lost on the way to a dance club, but was let in without questions by the Heat staff.
This is exactly what I want my children to see when I take them to a Heat game in the future.
Especially my daughter.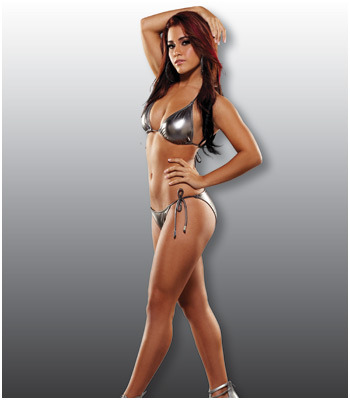 Think this picture is awesome?
There is plenty more where this one came from.
The entire Heat Dance Team posed in silver bikinis for no reason, whatsoever.
A parade should be thrown for the person who can think of a random idea as good as this one.
Well, Heat.
That was a pretty good run.
This girl thinks they have it in the bag and have already won this contest.
What will the Mavericks have in store?
The ball has been placed in the Mavericks court and they have reacted appropriately by having a gorgeous female with a Mavericks shirt painted on.
How do you get the job of painting on hot chicks and where in the sam hell do I sign up?
They say it's all about the name on the front instead of the name on the back.
I tend to disagree after stumbling upon this great gift a Dirk fan gave the world.
God bless you, sweetheart.
You think this guy's mind is scrambling right now, waiting for his moment to make the move?
What are you waiting for?
What a better time than an empty arena?
I guess the creepy photographer is still there.
This sexy Maverick's fan does her best impression of an avant-garde movie.
She seems to be exploring the complexities of drinking a bottle of beer.
Will she drink, or won't she.
That is the question.
Show me a picture of the Miami owner drunkenly hugging an attractive female and I will give it its proper due.
But as far as I know, they don't.
This pictures awesomeness may have just given the Mavericks the lead.
Maybe the fact that Dirk spent his mornings passed out next to hot girls wearing his XXL shirt until the wee hours of the morning had something to do with 2006 meltdown against the Heat.
2011 Dirk is a new man.
He knows to wait until after the Finals have been won to be doing things like this.
Hanging out with two lumberjacks while I cope with the fact that I have the same mutation as The Thing from Fantastic Four would put a huge, cheesy smile one my face too.
Again, another random photo shoot.
Why are the girls at a pool? Is Dallas known to have pools?
And I don't mean to nitpick, but couldn't the photographer get a little bit close?
Just a little?
Puerto Rico native Zuleyka Rivera won Miss Universe in 2006.
She is currently dating J.J. Barea, who is listed as 6'0, but is probably more like 5'10
Rivera is listed as 5'9.
I bet Rivera is the only reason they let Barea into the Mavericks locker room. No way the security guards think he is an actual NBA player.
Kudos to the Mavericks dancers for having the looks and the intestinal fortitude to pull off a costume that is straight out of the movie Hellraiser.
The designer had to have thrown a dress up in the air and attacked it with scissors to come up with this look.
I want to say that this was close since I am a hater of the Miami Heat.
But it really wasn't.
Damn the Miami Heat Dancers and their several photo shoots of several women posing at the same time.
Dallas made a real run with the painted on jerseys and Zuleyka Rivera, but it just wasn't enough.
...Sigh...
Congratulations Miami Heat.
You have hotter fans than the Dallas Mavericks.
There, I said it.