NBA Finals Live Coverage: Ring or No Ring, This May Be the End of the Miami Heat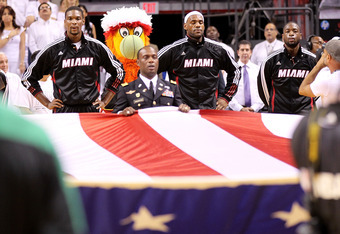 NBA Finals Live Coverage could be the end of the Heat team
No, it's not sour grapes but rather the truth. The Heat as they are constructed now may not survive the offseason. It could be a bittersweet ending to a truly historic season.
Every NBA players knows that the CBA is up at the end of July and the ramifications of that are going to be harsh for NBA teams and their players. The bottom line is that the NBA is going broke with what is considered a "soft cap." This means that the teams have a salary cap but are allowed to go over it for special players or just because they can personally afford to.
Now the commissioner David Stern is saying that he'd like to see a hard cap that means teams would have a limit and couldn't go over it.
What does this do to the Miami Heat?
Well if the hard cap goes down from $58 million(which it is set at now) then the Heat would have quite a bit of trouble keeping all three…especially if they still wanted to have other players on the team.
However, Larry Brown Sports might be right about their assessment of David Stern's position on the Miami Heat.
Larry Brown writes:
Though the numbers indicate Miami could be in a tough position, this is a sky is falling scenario. The Miami Heat has been the best thing for the NBA since Michael Jordan, and David Stern knows that. There's no way he would jeopardize his cash cow so I wouldn't worry too much if I were a Heat fan.

NBA Free Agents 2011: One Player Every Team Should Consider Signing
He might be right, but to allow a soft cap would put NBA team right back to wear they started and destroy the competitive edge to the smaller market teams that a hard cap would provide.
The sky may not be falling, but it's certainly looking gloomy.
Most recent updates:
This article is
What is the duplicate article?
Why is this article offensive?
Where is this article plagiarized from?
Why is this article poorly edited?