Dan Hardy and 10 UFC Fighters Who Are Hanging on By a Thread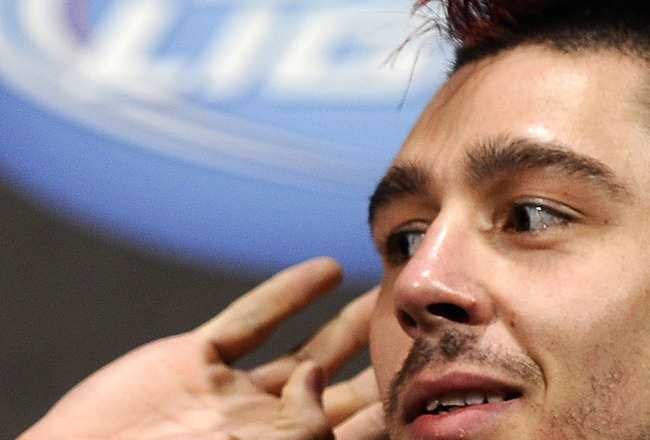 Jeff Zelevansky/Getty Images
These 10 fighters need a win, and they need it bad. They are all currently on losing streaks, and that is something that reduces their chances of fighting in the leading MMA organization in the world.
Some of have upcoming bouts where their careers will be on the line. Others are waiting to hear from UFC matchmaker Joe Silva on whether or not they will actually get another chance or a pink slip.
Whatever is the case, expect them to fight as if their careers are on the line in their next bouts.
No. 10: Jason Brilz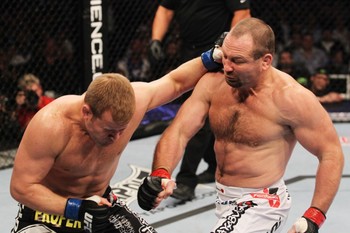 Light-heavyweight fighter Jason Brilz had some momentum built up when he lost a close split-decision to Antonio Rogerio Nogueira as a late-replacement at UFC 114.
His follow-up bout was a devastating 20-second knockout loss to Vladimir "The Janitor" Matyushenko at UFC 129.
His UFC record is even at 3-3 so another fight is well warranted. It's a must-win fight for him.
No. 9: Andre Winner
Ultimate Fighter competitor Andre Winner has some of the fastest hands in the UFC, but they haven't helped him in his previous two fights.
He dropped back-to-back defeats to Dennis Siver and Nik Lentz to take his UFC record to 2-3.
His next fight will be against the very exciting Anthony Njokuani at UFC 132. A win or a fight of the night performance may save his UFC career.
No. 8: Tyson Griffin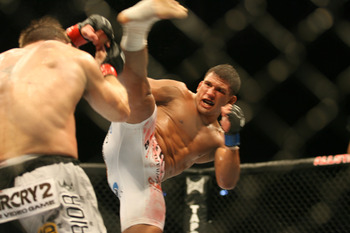 Tasos Katopodis/Getty Images
Former lightweight Tyson Griffin made the decision to jump down to featherweight after he suffered his third loss in a row to Nik Lentz.
The controversial split-decision that many thought Griffin had won was a much-needed victory that he was robbed of. Other losses to Takanori Gomi and Evan Dunham preceded the loss to Lentz.
The 145-lb. division will be a well-suited spot for Griffin, who isn't the biggest lightweight in the world. He will be fighting Manvel Gamburyan at UFC Live.
No. 7: Dan Hardy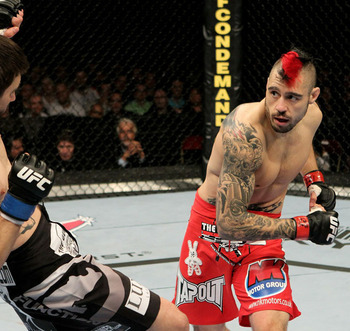 Tickets recently went on sale for the August 14th show featuring a main event between former UFC welterweight title challenger Dan Hardy and Chris Lytle.
Hardy is on a three-fight losing streak, suffering losses at the hands of Carlos Condit, Anthony Johnson and current UFC Welterweight Champion Georges St. Pierre.
Hardy couldn't have gotten a tougher test to break his losing-streak, but it's one that is guaranteed to be a fight of the night, which may save his UFC career, win or lose.
No. 6: Steve Cantwell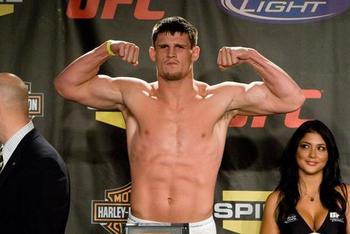 Former WEC Light-Heavyweight Champion Steve Cantwell hasn't had an easy running in the UFC's most stacked division.
His lone win inside the leading organization was to Razak Al-Hassan all the way back in December of 2008.
Since then, he lost decisions to Cyrille Diabate, Brian Stann and Luiz Cane.
No future fights have been announced yet. He deserves at least one more.
No. 5: Matt Brown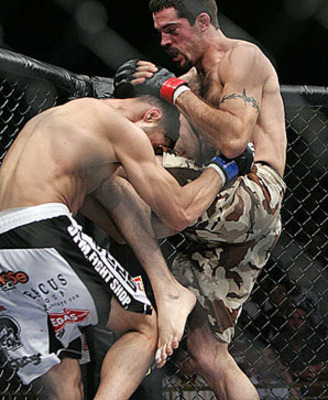 Ultimate Fighter competitor Matt "The Immortal" Brown will be fighting for his future at UFC Live on June 26th. His opponent will be Rich Attonito.
With three consecutive losses to Chris Lytle, Ricardo Almeida and Brian Foster, Brown will fight like he has never fought before. Expect him to put on an exciting fight versus Attonito.
His three-fight losing streak followed a three-fight winning streak.
No. 4: Joe Stevenson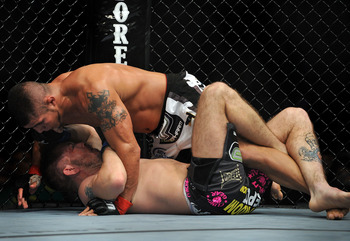 Jon Kopaloff/Getty Images
Alongside Tyson Griffin, Joe Stevenson will be making his featherweight debut at UFC Live on June 26th, and it will be against Javier Vazquez.
He recently lost for the third time in a row when he lost a decision to Danny Castillo. A brutal KO loss to Mac Danzig preceded as well as a decision loss to George Sotiroupolos.
His last win came against Spencer Fisher in 2009.
No. 3: Kendall Grove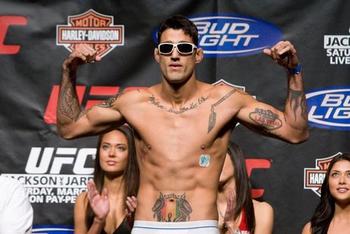 Kendall Grove couldn't keep up with his win one, lose one pattern at UFC 130 when he lost a unanimous decision to former LHW fighter Tim Boetsch.
Grove is currently 4-6 in his last 10 bouts and has an overall record of 12-9. That doesn't look very good in the eyes of fans and it could possibly lead him to receiving his walking papers sooner or later.
He will probably get one last chance to redeem himself.
No. 2: Tito Ortiz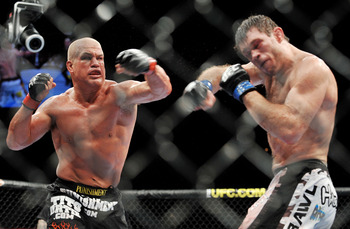 Jon Kopaloff/Getty Images
Former UFC Light-Heavyweight Champion Tito Ortiz has been hanging onto a thread for a few years now, and it will all come down to his UFC 132 meeting with Ryan "Darth" Bader.
Ortiz hasn't won a fight since 2006 when he defeated Ken Shamrock for the third time. His last meaningful victory that was decisive was against Patrick Cote in 2004.
Of course, his record isn't what is keeping him in or out of the UFC. It's his drawing power, and that's what he is hanging onto. As long as he has that and wants to keep fighting, expect to see him around for a long, long time.
No. 1: Brandon Vera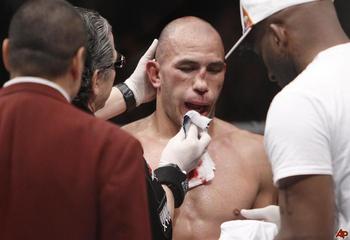 Photo by AP
Brandon Vera's dreams of holding the light-heavyweight and heavyweight championships simultaneously are just that, and his "lucky" return to the UFC was all based upon his previous opponent, Thiago Silva, who falsified his urine sample.
Vera is 3-5 with one "no contest" in his last nine bouts, and he has to know he needs to win to stay in the UFC. An opponent hasn't been named for his return, but it's probably going to be somebody he can beat.
Keep Reading