EPL Transfer Rumours: Drogba, Henderson, Higuain, Hughes, Parker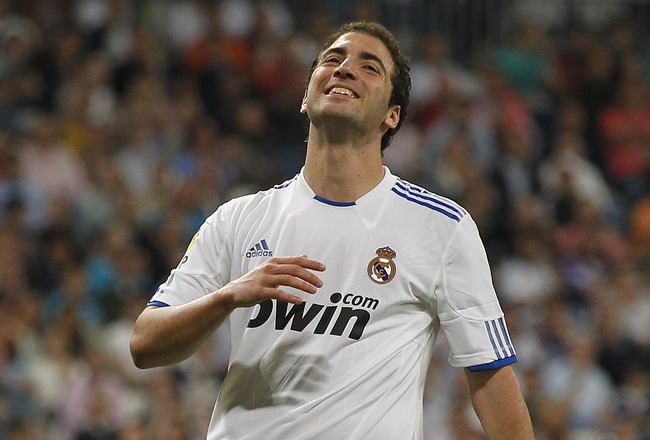 Angel Martinez/Getty Images
It currently seems fashionable to link every vacant and even occupied managerial position with any man and his dog, and there are more rumours today circulating about the Aston Villa post vacated by Gerard Houllier yesterday ''by mutual consent."
Find out about the latest name linked to the Midlands club as well as the latest on the Football Writers' Player of the Year, a Galactico on the move, a young England hopeful who may be moving to Anfield and the future of a seemingly disenchanted Chelsea forward.
As always, feel free to leave comments and speculate on the latest transfer gossip in the media circus that is the ''off'' season in English football.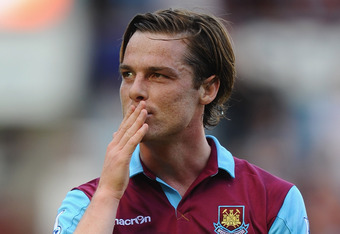 Scott Parker has admitted that he will probably leave West Ham in the next few weeks following the club's relegation from the Premier League.
''Not many players do get picked from The Championship. That is just the way it is'', said the 30 year-old midfielder ahead of England's Euro 2012 qualifier against Switzerland on Saturday.
Tottenham Hotspur is the most likely destination for the England international and Football Writers' Player of the Year, as Spurs manager Harry Redknapp has already had a bid rejected for Parker and has on several occasions spoke of his need to bring in more ''characters'' to White Hart Lane.
With the Irons in dire financial straits and looking to recoup transfer fees and slash the wage bill, a bid of $15 million could be enough to convince them to part with the fans' favourite and a deal could be tied up before the end of this month.
http://www.espn.co.uk/football/sport/story/94197.html?CMP=OTC-RSS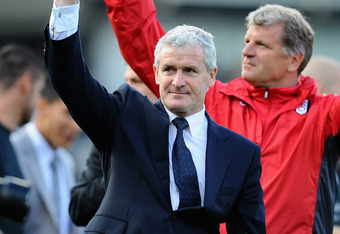 ESPN confirms today that the contract of Fulham manager Mark Hughes expired last night, making the former Manchester United champion a very attractive prospect for Aston Villa owner Randy Lerner, who has just waved goodbye to Frenchman Gerard Houllier.
Hughes has enjoyed another successful season at Craven Cottage, where he led his team to eighth place with 49 points from 38 matches, despite important injury issues and a small transfer budget.
Although talks are expected to start soon to extend his stay at the London club, it would be naive to think that Hughes would ignore the lure of a club with a bigger fanbase and stadium, more money and more ambition.
Chairman Lerner will also realise that he will need to act quickly to prevent stars such as England trio Darren Bent, Stewart Downing and Ashley Young from leaving what could soon resemble a sinking ship. And a move for a highly-rated manager such as Hughes could bring a wave of optimism back to the club.
http://soccernet.espn.go.com/news/story/_/id/925267/mark-hughes?cc=5739
http://soccernet.espn.go.com/news/story/_/id/925267/mark-hughes?cc=5739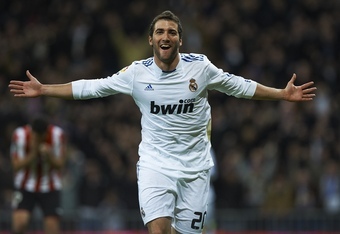 The Daily Mail today indicates that Real Madrid may be prepared to cash in on Argentine forward Gonzalo Higuain for as little as $25 million as they look to improve an already star-studded squad ahead of next season.
With 13 goals in 25 La Liga appearances last term, Higuain, 23, is young and has an impressive goalscoring record at the highest domestic and international levels.
This makes him one of the top European transfer targets this summer, especially in light of the fact that Tottenham Hotspur only paid the Spanish club $15 million for Dutchman Rafael Van der Vaart, who has been a revelation in the Premier League.
It seems that the front runners in any transfer chase that may transpire would be Arsenal, Spurs and Manchester City, although Higuain is unlikely to accept playing in the Europa League. Couple that with indications that compatriot and lead role Carlos Tevez is to stay in England next year and it would appear that the Gunners are favourites to land Higuain.
http://www.dailymail.co.uk/sport/football/article-1393281/Arsenal-Spurs-Man-City-target-Gonzalo-Higuain.html#ixzz1O43sYkJr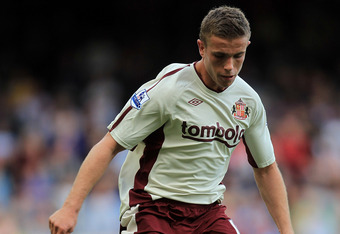 After yesterday's reports that Liverpool were targeting Wigan Athletic's young Irish midfielder James McCarthy come fresh rumours that Kenny Dalglish is considering making a $20 million bid for Sunderland's 20 year-old playmaker Jordan Henderson.
He is tipped to be a future England international by manager Steve Bruce who commented earlier this season:
''Jordan has everything you need from the modern-day player; he has a lovely feel for the ball but he's also already 6ft 2in and has terrific energy. He was the player who made the most impact on me when I arrived here and he's the player I've had most enquiries about."
And now it seems that Liverpool owner John W Henry is prepared yet again to back legendary boss Dalglish with a big early bid for the midfielder in order to avoid being dragged into an auction by other top-six clubs.
http://www.dailymail.co.uk/sport/football/article-1393252/Liverpool-lead-13m-chase-Sunderland-midfielder-Jordan-Henderson.html#ixzz1O43Y1f9U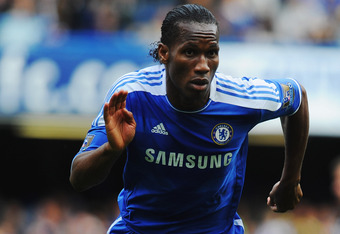 MirrorFootball today reports that AC Milan are lining up a $16 million to tempt 33 year-old Chelsea forward Didier Drogba to Serie A.
The Ivorian has struggled this season in the Premier League after contracting malaria and then having to share playing time with $80 million new boy Fernando Torres.
With Carlo Ancelotti recently relieved of his position as manager of Chelsea having presided over a trophyless season at Stamford Bridge, several Blues players might feel unsettled and could be targeted by top European clubs with money to spend.
That includes the Rossoneri who, despite winning the league title in Italy, left the UEFA Champions League at the quarter-final stage after failing to overcome a Tottenham Hotspur defence which conceded nearly 1.5 goals per game in the Premier League last season.
If AC Milan fails to persuade the Ivorian to depart, they will target Real Madrid loanee Emmanuel Adebayor instead.
http://www.mirrorfootball.co.uk/news/Chelsea-Manchester-City-transfer-news-Didier-Drogba-wanted-by-AC-Milan-who-will-go-for-Emmanuel-Adebayor-if-bid-fails-article743632.html