Chase Utley, Josh Hamilton and 10 Stars Whose Teams Most Need to Stay Healthy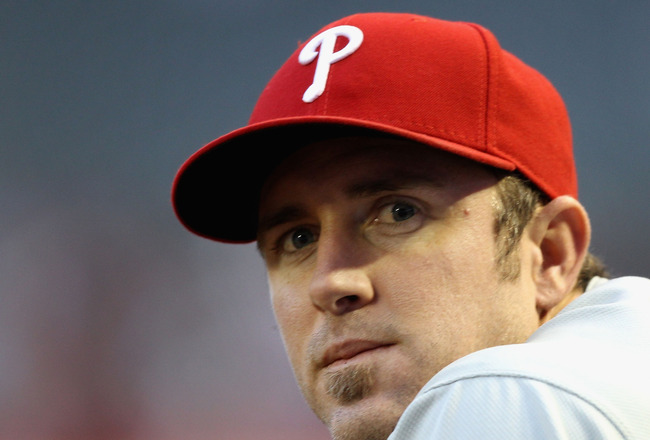 Christian Petersen/Getty Images
I had the pleasure of attending last Monday's Phillies/Reds game, when Chase Utley made his season debut.
Utley was announced to the home crowd and you could feel the stadium swell. Every fan came to their feet, even me, a Reds fan and perennial Phillie basher.
There are certain players you have to appreciate. The presence they bring to their clubhouse. The respect they command on the diamond. And what they mean to their fanbase.
Chase Utley went 0 for 5 that night. Yet, the electricity he brought with him, fresh off the disabled list, crackled in the air. Some guys are that important -- beyond the numbers, beyond the box score.
The following are ten guys who, as their team pushes toward a goal, mean everything in that pursuit. Ten guys who carry the success or failure of their clubs on their very shoulders.
10. Josh Hamilton, Texas Rangers: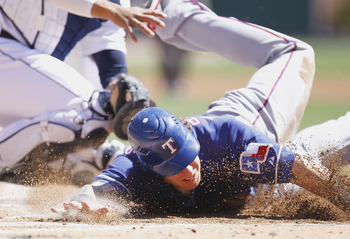 Gregory Shamus/Getty Images
When Josh Hamilton went down with a shoulder injury on April 12 the Rangers were 9-2. Hamilton had hit in 10 of 11 games, and had an OBP of .409. In the 5+ weeks he was on the shelf, Hamilton's squad went 15-21, and watched AL West rival Seattle slowly gain ground.
Hamilton returned to Texas' lineup on May 23, and the Rangers have gone 5-3 since.
All in all, it's clear that Hamilton deserved last year's AL MVP. He is, to be sure, extremely valuable.
Yet, for two important reasons, Hamilton barely makes this list.
First, despite their early record, the Rangers have a VERY good offense.
Michael Young, for instance, has taken well to his new position (DH), hitting .341 with 31 RBI. Mitch Moreland is showing no signs of a sophomore slump, hitting .300 with 7 homers. And Mike Napoli, Adrian Beltre, and Nelson Cruz all have double-digit home runs.
Add all that production to a lineup that boasts Ian Kinsler, and you have a team capable of scoring runs in bunches (second in the AL over the last 7 games).
Yet, even if they experience a power outage, the Rangers may still win the AL West because, well, IT'S THE AL WEST.
Not only does it only have four teams (1-2 less teams to beat out every year en route to the playoffs), but the West just doesn't look very strong. The Rangers currently lead, but are only three games over .500 (29-26).
Meanwhile, on the strength of twin aces Felix Hernandez and Michael Pineda, the Mariners (28-26) have managed to stay afloat. And Oakland, thought to be a dark horse at the season's outset, currently flounders at the bottom with a league-worst offense.
If one team has a chance to put it all together, it would be the Angels (29-28), but it's doubtful that Howie Kendrick will continue to play out of his mind, and Jered Weaver has looked extremely normal in May after an inhuman April, where he amassed 6 wins.
In short, the Rangers have enough firepower to press on even without their star, but it's quite possible they won't need it.
9. Hanley Ramirez, Florida Marlins: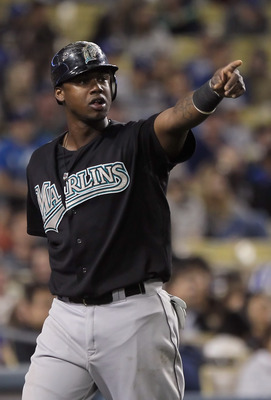 Jeff Gross/Getty Images
If real baseball were anything like fantasy, I'd recommend the Marlins cut Hanley Ramirez and start Emilio Bonafacio, Donnie Murphy or Steve Urkel.
That is, when I drafted Hanley #3 overall and assumed I was getting a steal, I didn't think his contribution to my team would roughly equate to four golf pencils and a rosin bag.
I don't need him to win the MVP race, but put Hanley's .210/.306/.309 stat line against the other top draftees, and he looks like an overweight donkey.
(Not that I'm bitter or anything.)
Fantasy venom aside, it's important that Hanley recovers from the stiff back, his most recent ailment (not to be confused with the I-can't-hit-an-elephant-with-a-f&$#ing-tank disease.)
Even with Mike Stanton clubbing monster dongs (11) and Gaby Sanchez near the top of the league in batting average (.322), the Fish are 12th in the NL in runs scored, and need every bit of offense they can muster in order to keep pace with the underperforming-yet-too-stacked-to-lose Phillies.
Florida is only two games back, and that's with Ramirez playing like a fat bag of peanuts. If he can rebound from the "worst pain he's felt in his life" soon enough to actually contribute, Florida could surprise everyone and topple the big ugly giant in Philly.
8. Lance Berkman, St. Louis Cardinals: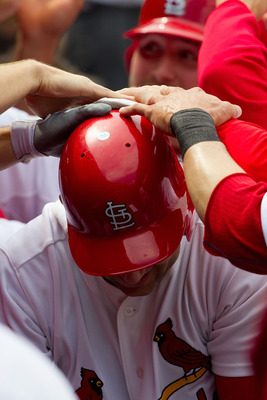 Dilip Vishwanat/Getty Images
I still don't know what to make of this team. If you told me in January that Adam Wainwright would be SOL for the season and Albert Pujols would be hitting .267 in June, I'd laugh, initiate a wicked high-five with the first person I saw, and celebrate consecutive Division Championships for the Redlegs.
Unfortunately, as only the Cardinals seem to do, they've found a way to win. At 33-23, the Cards have gotten surprising contributions out of some unlikely names. Kyle Mclellan, fresh off a season spent in the bullpen, has spot-started for two months and accumulated six wins. Kyle Lohse (a human powder-keg in Cincy) has been a freaking magician, piling up seven wins and a 2.13 ERA.
Yet, in addition to great pitching (because, let's face it, St. Louis always has great pitching), it's been a few hot bats that have the Cardinals ten games over.
Matt Holliday (.342/.433/.542) is an early MVP candidate, but it's the ridiculous contribution from Berkman that's eased the Pujols pain. At 35 and coming off a lethargic year in New York, Berkman signed with the Cards and, at the time, the rest of us laughed.
Now, unfortunately, Berkman's back to channeling his inner-puma, ripping the NL Central to pieces to the tune of 11 home runs and a .338 average.
Holliday is just as crucial to the Cards' continued success, but at 35 and (for the first time in years) playing a position that actually requires him to move, Berkman is more of an injury risk.
7. Jose Reyes, New York Mets: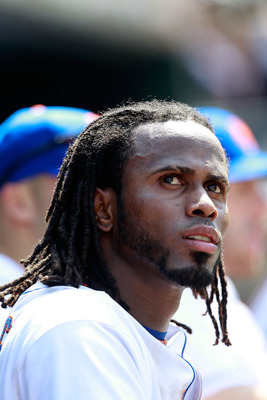 Chris Trotman/Getty Images
In the unlikely event that there are Mets fans who still care enough to read, I'll make this as quick and painless as possible.
The Mets are terrible.
Their front office is a mess, their finances are nonexistent, and their freaking owner trashed them publicly.
Still, they've got some valuable trade pieces.
So, as the rebuilding process begins in Queens, the Mets need to hope Reyes continues to rebound well from injury.
Currently Reyes leads the All-Star voting for NL shortstops, and is playing out of his mind (.335/.382/.493). If he can sustain that pace through June and into July, the Mets stand to gain a haul in return from an offense-starved contender.
6. Brandon Phillips, Cincinnati Reds: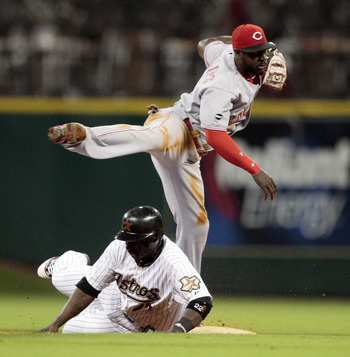 Bob Levey/Getty Images
After winning the NL Central last season, most fans assumed the Reds would remain atop the division for years to come. After all, most of the building blocks in Cincy are young and talented and will likely improve.
However, the sad truth that most people gloss over is that the Reds got a CAREER year from Jonny Gomes (86 RBI) and more than they ever could have expected from an aging Scott Rolen (20 HR, 83 RBI, a sixth All-Star appearance).
And, though they lead the National League in runs scored, the Reds haven't been able to lean on the power of Gomes and the clutch performance of Rolen to pick up their unstable pitching staff, a luxury they had for much of 2010.
Enter Brandon Phillips.
Though Jay Bruce had a monster May and Joey Votto has been his usual superlative self, a major reason Cincy is still afloat is that Phillips has gone from a .270 hitter who wilts in the clutch to a go-to RBI man, hitting .318.
St. Louis has proven it can hang, and Milwaukee is starting to come on, so if Gomes continues to struggle and Rolen can't stay on the field, the Reds will need Phillips to stay healthy and hot for the season's duration.
5. Chase Utley, Philadelphia Phillies: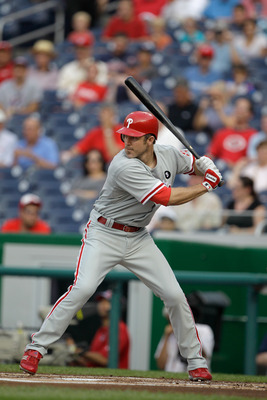 Rob Carr/Getty Images
In the nine games prior to Chase Utley's return to the lineup, the Phillies averaged 1.7 runs per game. Their record was 3-6 in that span. In the nine games since, they've averaged 5.6 runs per game, and have gone 6-3.
Never mind that Utley's only hitting .222. Or that he's only got one home run and two RBI.
The Phils were looking for a spark; something, ANYTHING, to kick-start a lineup full of Wilson Valdez', Ben Franciscos, and John Mayberry Jr.'s.
Well, it looks like they got it.
Thanks to an historic starting rotation, the Phils lead the NL East by two games. However, without Utley in the lineup, they're just another good team.
4. Brian McCann, Atlanta Braves: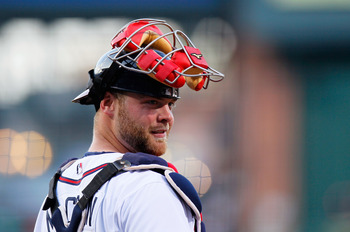 Kevin C. Cox/Getty Images
The Braves knew they'd have a tough time with the Phillies. They weren't prepared, however, for the uprising of the formerly-moribund Marlins.
Though playing well at 30-26, the Braves sit in 3rd place, thanks largely to the inspired play of Florida.
Things, however, could be worse.
All-Star catcher Brian McCann is off to his best start in years, picking up the slack for unimpressive sluggers Chipper Jones (.257, 4 HR), Dan Uggla (.178, 16 RBI), and Jason Heyward (.214, 14 RBI, and on the DL).
If we ever had questions about the perils of catching, Buster Posey's recent, season-ending dust-up with Scott Cousins answered them. It's why durable catchers are at such a premium, and why good-hitting backstops normally get moved to the outfield or first base.
For as much as McCann has had to carry them offensively (Atlanta is 9th in the NL in offense), the Braves might be wise to follow Oakland G.M. Billy Beane's lead : when you feel the heat, get the hell out of the kitchen.
3. Jose Bautista, Toronto Blue Jays: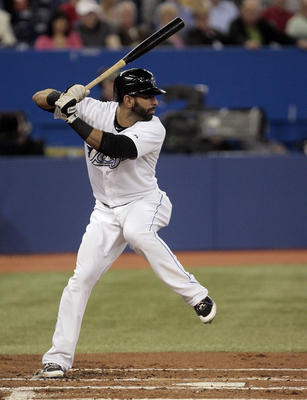 Abelimages/Getty Images
Another one I won't spend much time on.
First, I'm not as ga-ga over this guy as a lot of people are. All this "best player in the game" talk just needs to end. Fast.
It's ludicrous.
The dude had 54 home runs last year. An excellent stat, no doubt. However, even though he leads the world in every offensive category so far this season, prior to 2010 he averaged a whopping 10 homers per season, and hit .238 over 6 seasons.
Not exactly Pujols numbers.
For this list, though, Bautista's place among the game's current greats has very little relevance. He is on an unimaginable tear right now, and the only reason the Blue Jays can even sniff the first place Yankees. Without Bautista, Toronto would rank 11th in the AL in both home runs (currently 7th) and RBI (currently 5th).
With Bautista the Jays have about a five percent chance of making any noise in the East.
Without him? Zero.
2. Travis Hafner, Cleveland Indians: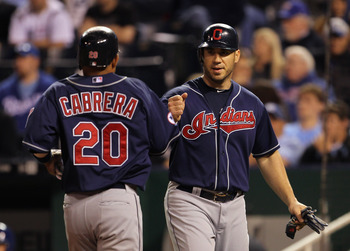 Jamie Squire/Getty Images
It just seems like one of those magical seasons for the Tribe.
Maybe it's Tressel-gate reverse karma. Maybe it's a Lebron-inspired make-up call from the Man upstairs. Or maybe it's just a result of a few fire-sales gone right.
For whatever reason, the Cleveland Indians have shocked the baseball world by leading not only the AL Central (by 5 games over Detroit), but also the AL in total. At 32-20, the Tribe seems to be firing on all cylinders.
All cylinders, that is, but one.
Travis Hafner, Cleveland's resurgent slugger, strained his oblique on May 18th, and is yet to return. Since then, the Tribe has gone 5-7 and lost a considerable amount of steam they amassed in the first portion of the year.
Despite surprisingly solid pitching (rarely does losing guys like CC Sabathia and Cliff Lee STRENGTHEN a pitching staff) admirable contributions from role players, and the possible emergence of Asdrubal Cabrera, the Indians are not far out of the reach of the Tigers and Sox, two teams with solid talent.
When "Pronk" returns (and there is no set timetable as of yet), he'll need to continue his production and stay out of harm's way. After all, Orlando Cabrera, Michael Brantley, and Jack Hannahan can only do so much.
1. Pablo Sandoval, San Francisco Giants: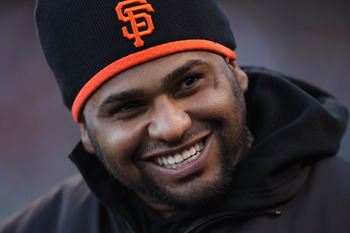 Ezra Shaw/Getty Images
The math here is simple:
An offense that ranks 26th in the MLB
-
All-Star catcher Buster Posey
+
A team that expects to be back in the playoffs
=
Uh Ohhhhhhhhhhhhhhhhhhhhhh.
The Giants need Sandoval's .313 batting average and 14 RBI (14 at-bats) in a worse way than they ever expected to.
Time for the Kung Fu Panda to get serious.
Keep Reading

Philadelphia Phillies: Like this team?