College Football 2011: The Hottest ACC Coeds and a Season Preview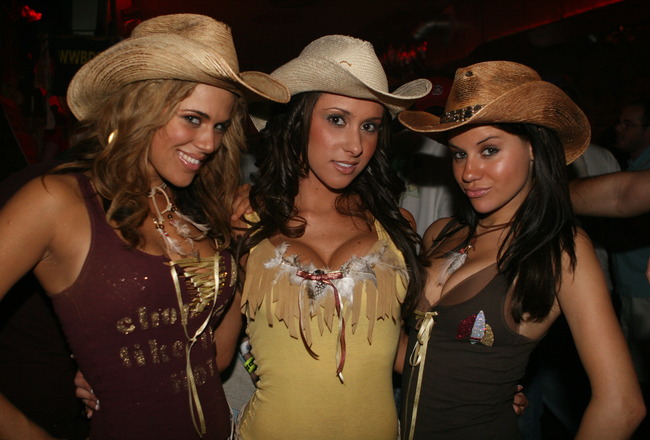 With summer almost upon us, only a few months remain until another exciting college football season.
That can only mean one thing:
Tailgating with hot coeds every Saturday.
With the reemergence of Florida State as a national power, and Virginia Tech being a force yet again, the ACC looks to be more than just a basketball conference.
So let's take a trip to the East Coast and see what the ACC has in store for us in terms of talent on and off the field.
No. 6: Duke, Coastal Division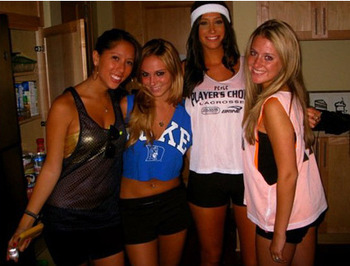 The Blue Devils have only 13 wins in the past five years. They only had three wins a year ago. It probably didn't help that their defense gave up 450.1 yards per game last year.
This looks to be another year where college football is something to pass the time while Duke fans look forward to basketball season.
Even if these girls could barely lift their phones, maybe the Duke program should put them out on the football field.
Hey, they can't get any worse right?
Players to Watch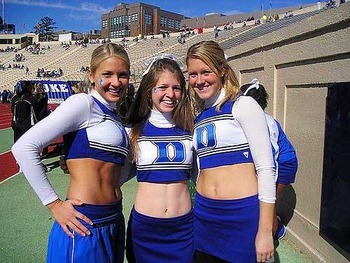 Sean Renfree--QB
After a season in which he threw 17 interceptions, Renfree must bounce back for his second full season at the quarterback position.
Coach David Cutliffe has had success building quarterbacks like Peyton Manning and Eli Manning.
What can he do with Renfree?
Avert your eyes from the girls to the right and only look at the left. I feel like the Wizard of Oz. Do not pay attention to what's behind the curtain!
No. 6: Wake Forest, Atlantic Division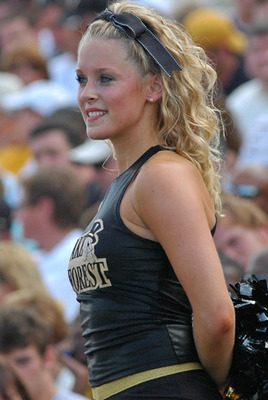 What a difference five years can make. After winning a conference title in 2006, Wake Forest finds themselves at the bottom of the barrel after a three win campaign in 2010.
Wake Forest will have to improve their offensive line if they want to have any chance of competing in the ACC this year.
They also need to improve their availability in the hot girl department. Not a lot to work with in terms of attractive females from Wake Forest. Not on the internet anyway.
Players to Watch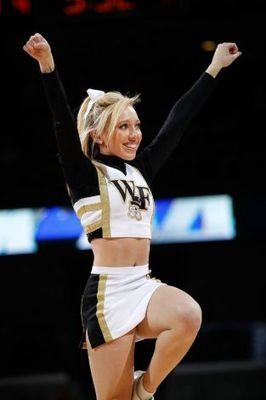 Josh Harris--RB
If he can stay healthy, which is a big if with the question marks at offensive line, the red shirt sophomore could do a lot of good for the Demon Deacons.
If not, this cheerleader will have to cheer for another average basketball season after another average football season.
No. 5: Georgia Tech, Coastal Division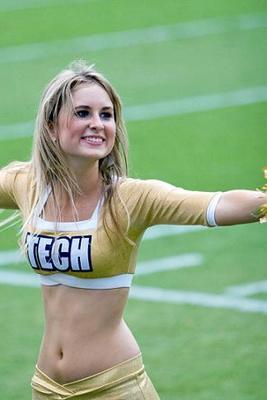 There were many factors when the Yellow Jackets lost five of six at the end of the year in 2010.
Josh Nesbitt's broken arm didn't help, nor did implementing a new 3-4 defense under Al Groh.
But maybe the biggest reason Georgia Tech struggled was losing 20 fumbles last season.
If Tevin Washington wins the job over redshirt freshman Synjynn Days, he can run well enough to juke past defenses with the flexbone offense.
With a full year to grasp the 3-4, maybe the Yellow Jackets can be a winner again.
The football team may need some changing, but the cheer leading talent doesn't need any help.
Players to Watch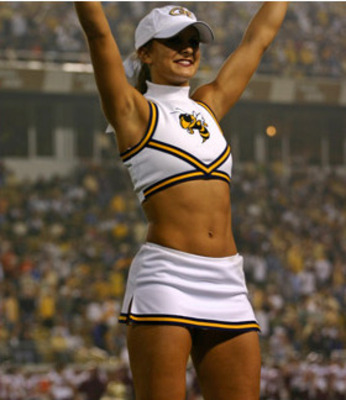 Orwin Smith--RB
The multi-talented junior not only can run the ball well, he also has great hands and possesses the ability to do damage in the open field.
Smith averaged 9.7 yards per carry and also racked up 195 yards with 12 catches last year. With Smith spreading the defense, it might create some open space for Tevin Washington to create havoc as well.
Jeremiah Attaochu--LB
If Attaochu's size and speed equal what the Yellow Jackets hope for this year, the much improved sophomore will be a big help to Al Groh's 3-4 scheme.
The defense has to be better, or Yellow Jacket fans will begin to cry for a replacement at defensive coordinator.
No. 5: North Carolina State, Atlantic Division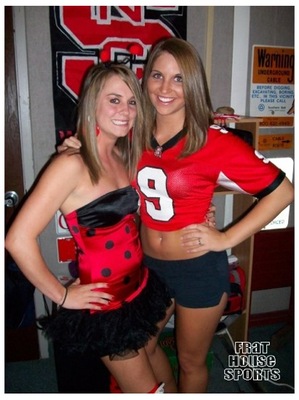 N.C. State has 13 starters coming back after a successful nine win campaign in 2010.
However, the Wolf Pack lost Russell Wilson to baseball after he signed a pro contract in June 2010. N.C. State will miss his 8,545 yards and 76 touchdowns he provided over a three year span.
Ah, Halloween. These two girls remind me of why it's my favorite holiday.
Players to Watch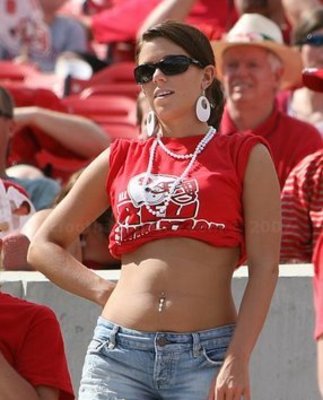 George Bryan--TE
Bryan is one of the best tight ends in the ACC. If the senior can continue to be a force, and there is no reason he shouldn't be, he can provide a big and effective target for new quarterback Mike Glennon.
Audie Cole--LB
The 6'5, 230 pounder was a former quarterback. N.C. State moved him to linebacker, but Cole's athleticism made the transition easier than most. He was third on the team in tackles (86) last year and hopes to acquire even more this season.
No. 4: Virginia, Coastal Division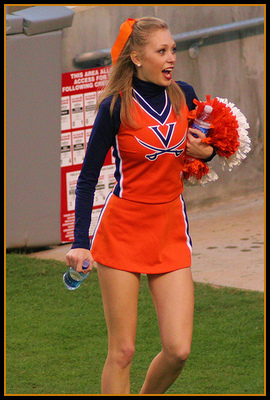 Hopefully, the Cavaliers have adjusted to Mike London's 4-3 defense after struggling to adjust from the 3-4. Virginia gave up a whopping 5.1 yards per carry last season, as well as 28 rushing touchdowns.
But after a year under their belt, and a more mature defense led by tackles Nick Jenkins and Matt Conrath, and cornerback Chase Minnifield, Virginia looks to be a contender this year..
Virginia can only go up after not appearing in a bowl game since 2007.
Slim pickings for Virginia. Then internet is like a barren wasteland when it comes to finding UVA girls who are actually attractive. Thank the Lord this cheerleader saved me.
Players to Watch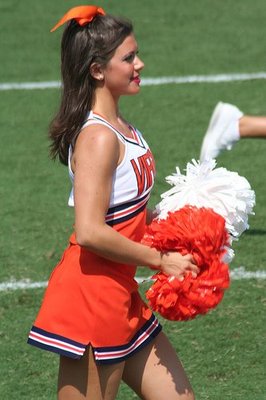 Kris Burd--WR
Not too many know about this guy, but Burd caught 58 passes for 799 yards in 2010. He hopes to improve upon those stats in his senior season, which would give him the acclaim he deserves.
Chase Minnifield--CB
The senior will lead an experienced defense and hopes to be one of the nation's leaders in interceptions again this season after finishing with six last year.
But seriously Virginia. You can't get more beauties online?
No. 4: Clemson, Atlantic Division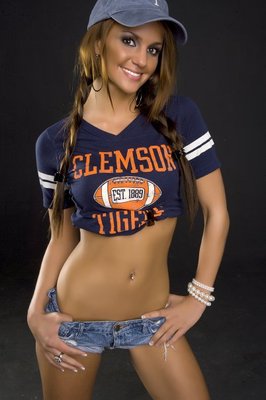 The Tigers are coming off a season of disappointment, recording only six wins despite having dynamic pass-rusher Da'Quan Bowers.
Despite having one of the top recruiting classes in 2009, Dabo Swinney has failed to put a real contender on the field. Another season like last year, and Swinney could find himself on the hot seat, if he isn't there already.
Ladies, help me out. What do you call an article of clothing like those jeans? They're too short for jorts and it isn't a skirt, so...
Players to Watch
Andre Ellington--RB
The junior gets to have the job of replacing C.J. Spiller. He showed last year that he can produce. In just nine games, Willington rushed for 686 yards and 10 touchdowns before missing four games because of a toe injury. He will have to do even better than last year and stay healthy for the Tigers to succeed.
Andre Branch--DE
Bowers, schmowers. Who needs him? They have Branch, who had 5 sacks, 8.5 tackles for loss and also batted down six passes in 2010. Can he be that big of a game changer without Bowers on the line to take some of the attention?
No. 3: North Carolina, Coastal Division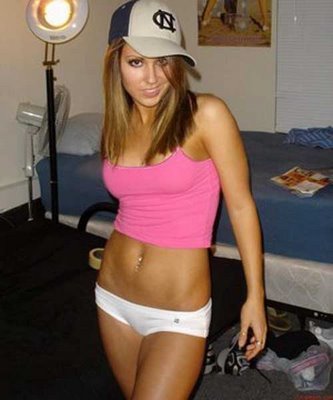 For years, North Carolina was the laughing stock of college football. That is, until Butch Davis took over as head coach. After a few successful recruiting seasons, 2010 was supposed to be their coming out party.
But seven players weren't allowed to participate in 2010 after an NCAA investigation.
Despite all of that, they still finished the season with an 8-5 record and a Music City Bowl win against Tennessee.
This year, the team must use the trials and tribulations of a disappointing 2010 campaign to fuel them if they want to be successful in 2011.
Players to Watch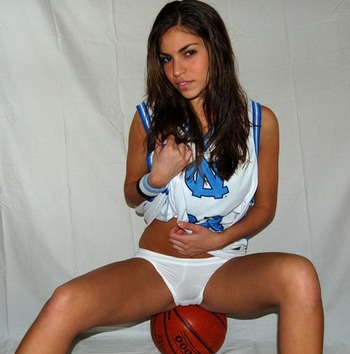 Dwight Jones-WR
Jones took full advantage of having T.J. Yates, who holds 37 school records, as quarterback. With Yates throwing the ball, Jones was able to compile 946 yards on 62 receptions. Will he be able to get those same passes from new starting quarterback Bryn Renner?
Bryn Renner--QB
If the Tarheels want any sort of success this year, they will have to rely on Renner, who is only a sophomore. The Heels have been encouraged by what they have seen from Renner in spring ball.
However, the Tarheels are going to have to do a lot better if they want to convince this girl that North Carolina is only a basketball school.
No. 3: Boston College, Atlantic Division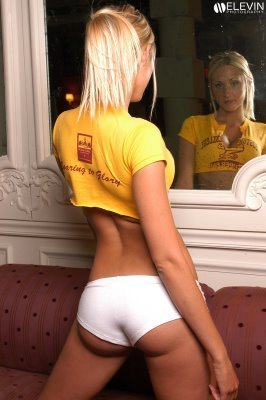 Ever since Matt Ryan was drafted as the third overall pick in the 2007 NFL Draft, Boston College has been unable to find a consistent quarterback to compliment Montel Harris.
Frank Spaziani, in his third year, is a defensive specialist. Maybe the team has put too much emphasis on being a defensive team. The Eagles ranked last in both scoring offense and total offense last year.
As long as they keep producing photographs that take full advantage of a mirror and allow me to see both the front and back of a beautiful girl like this one, I could care less if they continue to play like it's the 1950s.
Players to Watch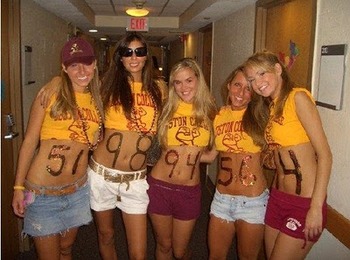 Montel Harris--RB
In his first three years at Boston College, Harris rushed for 3,600 yards. If he rushes for 1,003 more, he will break N.C. State legend Ted Brown's record of 4,602 yards, which was set in 1978.
It will be difficult to do, however. The Eagles are replacing three offensive linemen this year due to graduation. That includes standout Anthony Castonzo, who was drafted this year.
Luke Kuechly--LB
Kuechly, an All-American, led the nation last year in tackles with 14.1 tackles a game. Kuechly will be the focal point of a defense that ranked No. 13 in total defense and No. 1 in rushing. Kuechly has a strong shot of becoming National Defensive Player of the Year.
And isn't that cute. These ladies have put numbers that are usually reserved for the biggest men on the field onto their impressively flat stomachs. I love irony, and apparently, so do the women of Boston College
No. 2: Miami, Coastal Division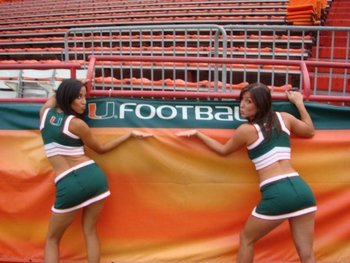 First year coach Al Golden was successful over the last few seasons, as he lead Temple to a 17-8 record in a two year span.
But coaching at Miami is an entire different kind of animal and he will be expected to produce a consistent winner immediately if he wants to keep his job for a substantial amount of time.
Making the conference championship game is a good place to start. Miami hasn't been good enough to play in that game since 2004.
Can we all vote to have beautiful school title presenters like these two at every university? Except the mid-majors. They have to keep proving their worthiness until the end of time.
Players to Watch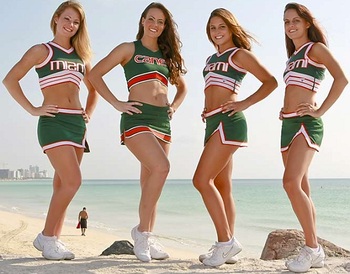 Lamar Miller--RB
The sophomore sensation averaged six yards per carry and even returned a kick off against Ohio State last year.
Although Mike James and Storm Johnson show a lot of promise, it will be Miller who the Canes will look to to carry the majority of the load this year.
Jake Wieclaw/Dalton Botts--Kicker/Punter
Matt Bosher was an All-ACC selection as both a kicker and a punter last year. But since he has graduated, the Canes look to replace his wide range of skills with Wieclaw and a JUCO transfer, Botts. Can they bring the same intensity to these special teams positions as Bosher did?
No. 2: Maryland, Atlantic Division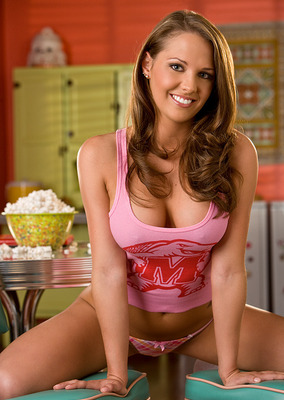 Randy Edsall looks to make his first year as Maryland's head coach a successful one.
Edsall has an impressive resume. He took Connecticut to new heights in the Big East after being a Division I-AA school when he arrived.
It will be exciting to watch what Edsall can do with Maryland this year after winning nine games last year. The Terrapins have the talent to be just as successful, if not more, this year.
If I were to watch the game with this fine young lady who is sporting a lovely pink tank top, I wouldn't be watching too much of Maryland football this year.
Players to Watch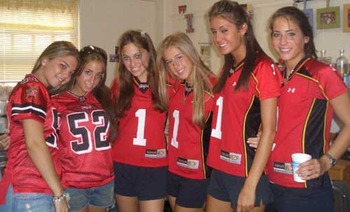 Danny O'Brien--QB
Last years ACC Rookie of the Year looks to put up even bigger numbers this year. He threw for 2,438 yards with 22 touchdowns and only 8 interceptions last season. Hopefully for the Terps, O'Brien doesn't have a sophomore slump with Edsall.
Kenny Tate--LB
Tate was an All-ACC safety last year. But he has been moved to what Edsall refers to as "Star," a position invented by Edsall that combines the positions of safety and linebacker. Let's see if Tate's athletic ability is good enough to play well at the "Star" position.
No. 1: Virginia Tech, Coastal Division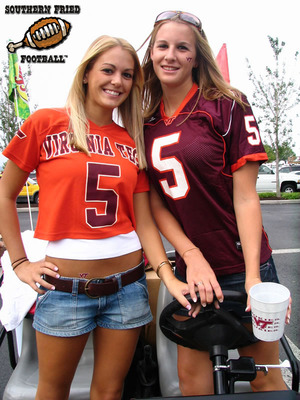 Despite key losses that include quarterback Tyrod Taylor, running back Ryan Williams and running back Darren Evans, Virginia Tech finds itself ranked in the Top 25 yet again.
Although the Hokies have lost kicker Chris Hazley and punter Brian Saunders, Frank Beamer has proven that "Beamer Ball' will always reign supreme no matter who fills in the positions.
Now if we could just get rid of the beggars in golf carts that rule the parking lot outside of the stadium.
Players to Watch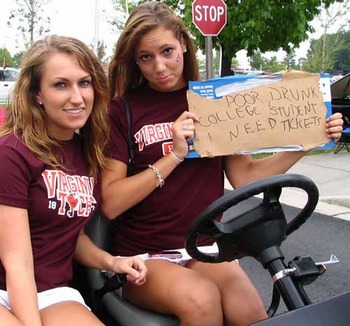 Logan Thomas--QB
It is finally time to see what Thomas is made of after being touted as a big game breaker for the last two years. His athleticism and physical stature show a lot of promise, but an he be accurate with his rocket arm? Only time will tell.
David Wilson--RB
If Virginia Tech hopes to replace the dynamic duo of Ryan Williams and Darren Evans (who combined for 4,251 rushing yards last year) David Wilson must step up.
Wilson rushed for 619 yards, while averaging 5.5 yards per carry last year. He is also on the Hokies track team, where he is a sprinter, as well as a participant in the high jump and triple jump. Wilson used that sprinting ability to return two kicks for touchdowns a year ago.
Barquell Rivers--LB
It will be interesting to see how well Rivers bounces back after rupturing his tendon last year; an injury that kept him out of action last year. Rivers was the second leading tackler on the team with 96 in 2009.
Again, will someone take care of these dead beats? Do they have no sense of self respect to go with their good looks?
No. 1: Florida State, Atlantic Division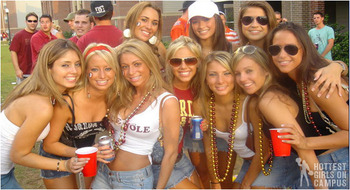 After a few down years at Florida State, these bombshells have a reason to cheer after a turnaround year led by Jimbo Fisher, Bobby Bowden's successor.
FSU found itself back in the ACC championship for the first time since 2005, but lost to Virginia Tech 44-33.
Will Florida State use the momentum of a victory in the Chick-fil-A Bowl and the nation's top recruiting class to reach a BCS bowl?
Who really cares when you can tailgate with these girls all day.
Florida State: Players to Watch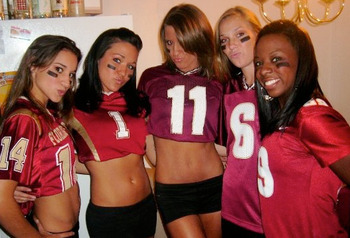 E.J Manuel--QB
Christian Ponder's replacement has only played limited time in 14 games. But in those contests, Manuel has a 153.3 pass-efficiency rating, while passing for 1,678 yards and six touchdowns.
But a stat that has raised some eyebrows is his 10 interceptions.
Brandon Jenkins--DE
Jenkins will lead a maturing defense after emerging as one of the nation's best defensive players and receiving first-team All-ACC honors.
The Required Photograph of Jenn Sterger
Not only is the Florida State football program on the rise, no matter what, they have some of the hottest girls in the nation to cheer them on.
Did you think you were going to get through the entire Florida State section of the slide show without a picture of Jenn Sterger?
They make me do it. If I don't, they send me down to a dungeon to be imprisoned for 3 days with only rats and sewage water for nourishment.
That's a pretty powerful company considering I live 3,000 miles away from the headquarters.
*EDITOR'S NOTE: The writer is lying. And also a bit strange. We will be monitoring him from here on out.
Keep Reading