College Football 2011: Best Places to Eat After the Game for Every Top 25 Team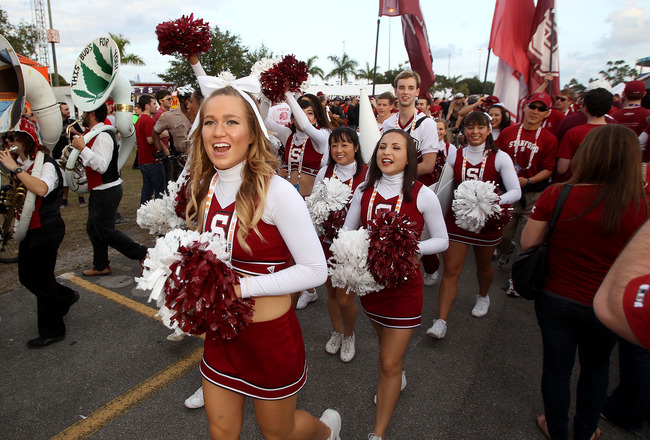 Streeter Lecka/Getty Images
Americans love their football.
And if there is anything we appreciate more than football, it is our food.
This list brings you the best of both worlds, running down the top places to eat after the game in every town of the top 25 college football teams.
Feel free to chime in with other candidates.
So whether you like food, football or both, you are in the right place.
Rankings used are those of College Football Live.
Special thanks to Rich Thomaselli for his assists with this one...
Honorable Mention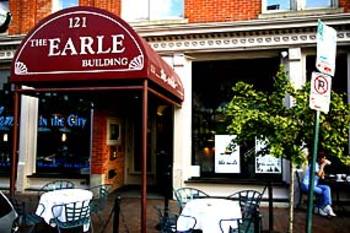 Michigan: The Earle
French cuisine, great place to chill for some Mahi Mahi or Pasta Siciliana after the game.
Tulsa: McNellie's
Great place to hang out after a win...
Miami: Anywhere
It's all good in Miami, especially during crab season.
Georgia Tech: The Varsity
What'll ya have?
25. Arizona State: The Chuckbox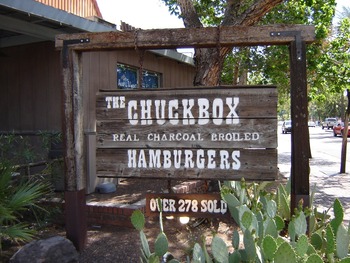 Nothing says college restaurant like an old-fashioned hamburger joint.
The Chuckbox is a short walk from Sun Devil Stadium, and the western theme is particularly apropos given the environment.
Try the Tijuana Torpedo, especially if you dig avocado...
24. West Virginia: Black Bear Burritos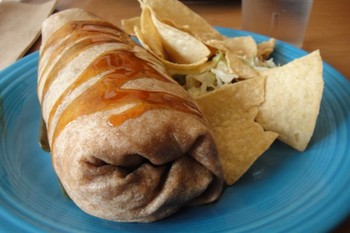 Rumor has it the WV Hot Rod is so good, if you put it on top of your head, your tongue would knock out your brains trying to get at it.
Seriously though, this place gets creative with the burritos, and the kiwi salsa and chips sounds like a great, unique flavor...
There is definitely a local flair to this place, as most of the food is bought from local growers and art from local artists is usually on display.
West Virginia fans are pretty chill too, for the most part.
Sandwich University deserves at least a shout out here, as well.
23. Missouri: Shakespeare's Pizza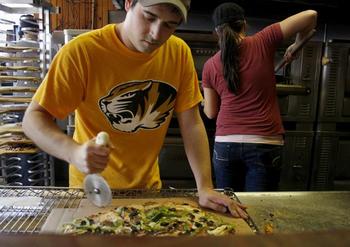 Courtesy of the ColumbiaMissourian.com
Best pizza in town, and quite possibly the state.
Also, if you are with some buddies, one location is more tailored to the college crowd, while the other is usually filled with families.
Their unique way of handling toppings makes this place a winner.
From their website:
"For example, if you order our 16" pepperoni pizza, you should get 28 slices of pepperoni. And if you order our 16" pepperoni, onion, mushroom, peppers, sausage, extra cheese, jalapenos, anchovies, and pineapple pizza... you'll still get a full 28 pepperonis, along with a full portion of every one of the other toppings."
Does pizza get better?
I submit that it does not...
22. Auburn: Momma Goldbergs Deli/Oyster Bar and Grill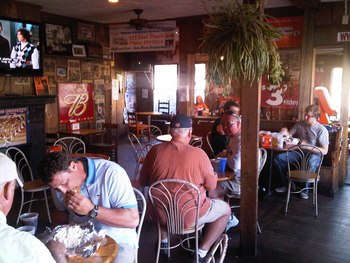 "Momma's Love" is a classic, especially if you like enough meat to cause a heart attack and enjoy Muenster cheese.
From Momma's soups and salads, to build your own sandwich, this place has a classic sandwich joint feel.
If you enjoy seafood, the Oyster Bar and Grill is the best spot for you.
Check it out.
21. Mississippi State: Stromboli's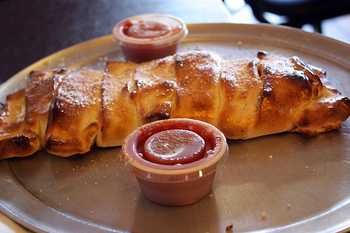 While Mugshot's has incredible burgers and Little Dooey and Petty's serve killer BBQ, the place to go in Starkville is Stromboli's.
While most college towns are replete with pizza joints, this place finds a way to keep it fresh and great tasting with their stromboli.
If you have never had one, get one, quickly...
20. Texas: Cool River Cafe, Steakhouse and Southwestern Grill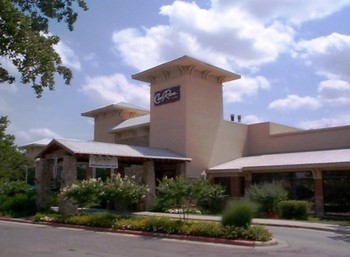 Courtesy of igougo.com
Okay, so the name is a little lengthy, but if you can get past that, they have tremendous steak.
And what could possibly be better to eat after a game in Austin, TX than that?
For those who enjoy their meal in a little more informal setting, check out Dirty Martin's and their burgers.
Just watch out for the chili, it will get you...
19. Virginia Tech: Macado's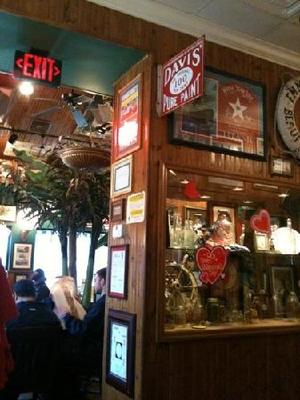 Macado's is the place for sandwiches.
Their menu variety is ridiculous, you could never imagine all these sandwiches.
(No, the Laser Show is not an option)
18. Florida: The Swamp
The Swamp is right across the way from, well, the Swamp.
The Gator hanging overhead really adds to the special ambiance.
(No clue what that is on his head)
Check out their "Freshman 15" Burger.
It'll either kill you or make you hate the thought of ever eating again.
17. Notre Dame: Rocco's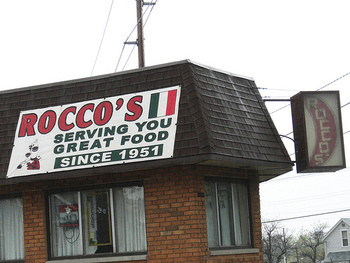 Rocco's has been rumored to have some of the best Italian food in the state of Indiana.
Since it's not exactly the most populous state, that may be a less than firm statement about the quality of their fare, but if it's good enough for Notre Dame students, it's gotta be at least decent.
While generally known for their pizzas, the lasagna is said to be exceptional.
16. Michigan State: Lou and Harry's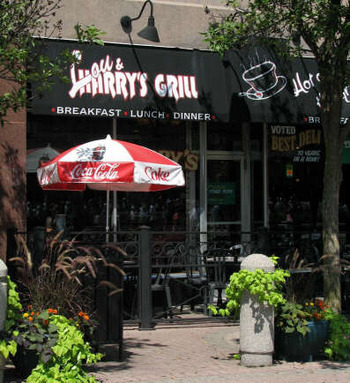 Check this spot out.
If you have had their gyro, you might understand why it can only be described as stupendous.
15. TCU: Carshon's Deli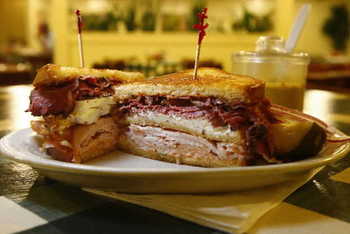 Carshon's claims to be one of the oldest restaurants in Fort Worth, established in 1928 by one, David Carshon.
The Ruthie, Rebecca, Rutherford and of course, the Reuben highlight a great deli menu, and with the recent resurgence in Horned Frogs dominance, the mood is usually celebratory.
14. Wisconsin: Lombardino's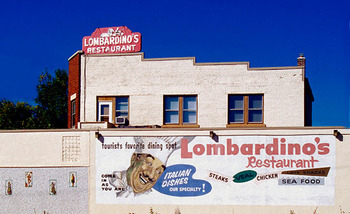 While other places in Madison may cater to a more, shall we see less than discerning crowd, the food at this place is sure to make anybody happy, even Badger fans.
While you may have a tough time swimming through the sea of red to be seen on game day, it's worth the battle to enjoy whatever item is on the menu.
The dinner menu changes roughly every two months, to different Italian regional varieties of food depending on the season, so this one might be fun just for the unpredictability of the thing.
13. Nebraska: Lazlo's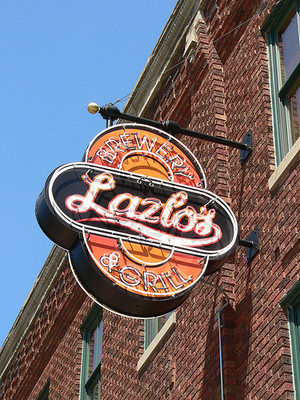 Lazlo's is a great place to hang out after the game in Lincoln.
Try their Lahvosh, all different varieties as an appetizer.
Their cooks are way more consistent than Taylor Martinez, and less volatile than Bo Pelini, so it should be a fairly enjoyable experience.
12. Arkansas: Doe's Eat Place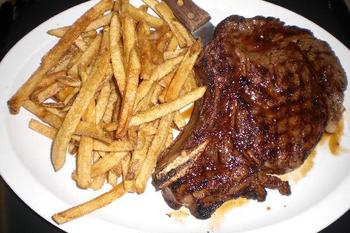 Okay, so it's not exactly right around the corner from the university, but it's worth the drive for their food.
This year might be a good year to catch the Razorbacks in action and then swing by Doe's as the Hogs have a pretty good squad this season.
Doe's serves food family style, so be prepared for sides in large quantities, and the prices are sometimes a bit steep, but it's worth the one-time experience for an out-of-towner.
11. Texas A&M: Freebirds World Burrito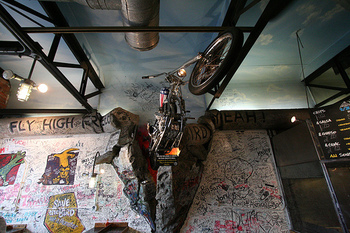 Parking might be a quest equivalent to finding the Holy Grail at Freebirds in College Station, but the food is more than worth it.
According to internet rumors, (and we all know how reliable those are) the burritos at this place are the absolute best you can find anywhere.
The original burrito chain, Freebirds will definitely fill the void after a tough loss, or give even more reason to celebrate after a victory.
10.Ohio State: Varsity Club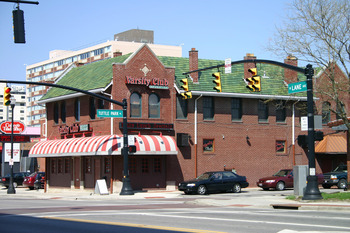 Usually a bit more crowded and with limited parking on game day, Varsity Club offers the perfect spot to chill after a Buckeye game.
The decor is all about the Buckeyes' sports program, primarily football, and the place is usually frequented by OSU fans.
Rumor has it, they had some kind of ritual take place in the basement recently to exorcise the Tressel demons, but the place is still perfect for a bite to eat.
Just try to wear OSU colors that day, or it might get ugly...
9. Oklahoma State: McSalty's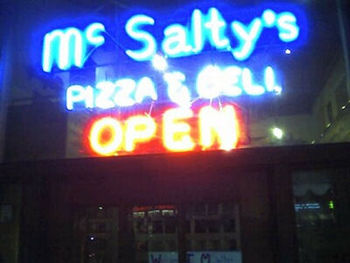 Earl's Rib Palace may have some great ribs, but you can't beat a pizza place named McSalty's.
The pizza is rumored to be good, and the gyros are surprisingly well priced.
Beside all that there is live music to enjoy to help the diner after watching that explosive offense go to work.
8. South Carolina: Salty Nut Cafe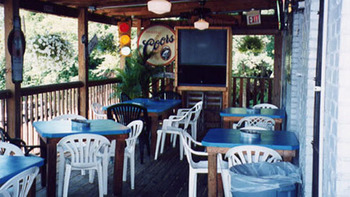 Wow, two in a row with "salty" in the name, I sense a trend here.
With the perfect location, in Five Points, near the South Carolina campus, Salty Nut Cafe has a bit of a homey feel to it.
It is located near some train tracks, so it can get noisy at times, but the burgers are ridiculous, and if you love peanuts, this is the place for you.
There are peanuts everywhere.
George Washington Carver would think he had died and gone to Heaven.
7. Stanford: Palo Alto Creamery Fountain & Grill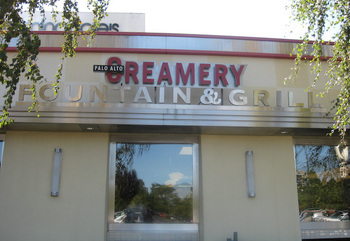 Courtesy of Foodnut.com
"I...drink your milkshake! I drink it up!:
Yeah that movie sucked, but this place sure doesn't.
The fries are awesome, and if you make it to dessert, you will be hard pressed to find shakes anywhere that can compare with the ones to be found here...
6. Florida State: Kool Beanz Cafe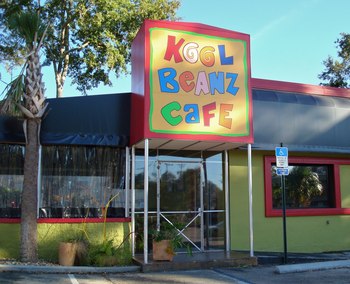 If you are looking for a little local flavor and eclectic fare, Kool Beanz is the spot for you.
From duck to crawdads, to hummus and swordfish, this place offers up a different sort of dining experience.
Great place to stop for lunch or dinner...
Now, if only E.J. Manuel turns out to be as consistent as Kool Beanz' chefs...
5. Boise State: Boise Fry Company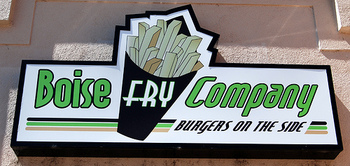 For a great variety of fries, try the Boise Fry Company.
Their menu includes Russet, Gold, White, Sweet, Yam, Purple and Okinawa fires.
What else did you expect in Idaho?
Bison burgers aren't half bad, either
So even if the Broncos ever do suffer a defeat on their "smurf turf", fans can console themselves with a hearty helping of fresh cut fries...
4. LSU: The Chimes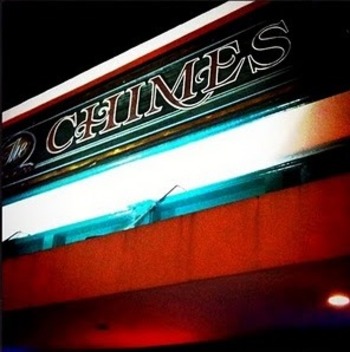 You have to check out brunch here on the weekends, even if it might not be after the game, as it closes at 3 p.m.
The atmosphere is very nice, and it's a cozy place to relax after tough afternoon of cheering on your squad at Tiger Stadium.
Oops, I think Jordan Jefferson just threw another pick...
3. Oregon: Sweetwaters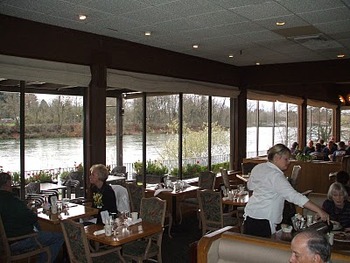 Look, it might not appear to be all that much, but that lady in the background can really turn into the life of the party.
Seriously, you will be hard pressed to find a more beautiful vista than that of the beautiful Willamette river as you muse over the mistakes made by your team after a trip to Autzen Stadium.
It's also the perfect place to unwind after two and a half hours of Chip Kelly's frenetic offense.
2. Alabama: Dreamland BBQ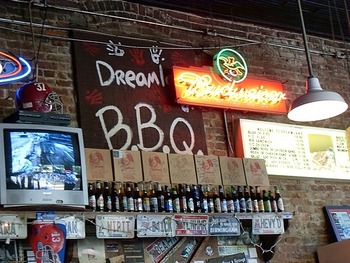 What better spot to hit up after the Tide Roll than a BBQ joint?
Dreamland has been around since 1958, and they have some of the best ribs in the state of Alabama, and maybe the entire country.
The menu consists of standard BBQ fare, pulled pork and chicken, and the sausage on the menu seems to add that extra dimension that makes this place the perfect place to grub after the game.
The very informal atmosphere makes it easy to unwind and enjoy the food and beverages...
1. Oklahoma: Van's Pig Stand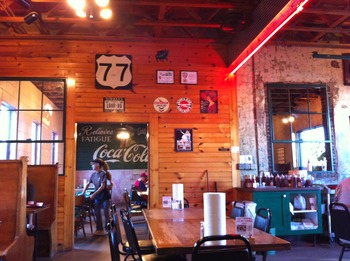 If you are wandering the streets of Norman, looking for some sustenance after a long, hard afternoon of Sooner football, Van's is the place for you.
Order family style, take out, or individually, from their menu of great BBQ options.
The rustic style is enjoyable, and if the Sooners have been victorious, you can guarantee the mood will be almost festive.
Keep Reading