NBA Finals 2011: Miami Heat vs. Dallas Mavericks Game 1 Live Blog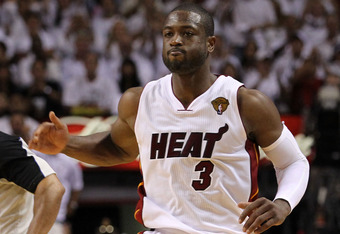 Ronald Martinez/Getty Images
It's the moment we've all been waiting for: The Miami Heat take on the Dallas Mavericks for the NBA Championship.
The majority of basketball fans will be on the Mavericks' side, as the Heat have drawn plenty of controversy this year which dates all the way back from the summer.
Watch out for Dirk Nowitzki, who is shooting a stunning 51.6 percent from three-point land and contributing a whopping 28.4 points per game this postseason. The Mavericks bench have also been outstanding this post season led by Jason Terry and Peja Stojakovic.
On the flip-side, the Heat are the favorites. They are led by the Big Three. Udonis Haslem has provided some much needed support but ultimately, this team is all about LeBron, Wade and Bosh.
Once they get going, they are almost impossible to stop
Get your popcorn ready because this promises to be a good one.
What started with an incredibly dull first half, ended very differently. This one is very simple, the Dallas Mavericks bench did not show up. Terry, Barea and Peja went 4 of 21 and were outscored by the Heat bench.
The Mavericks cannot afford to do that.
At times it appeared as Nowitzki was the only player for the Mavericks. He'd receive the ball and everyone would become spectators. He contributed significantly with 27 points but he cannot do it on his own.
Wade came alive in the second half and added 22 points. Both teams shot under 39% and were atrocious offensively at times. Dallas did a poor job on the glass as they were out-rebounded 46-36 and a stunning 16-6 on offensive boards.
Terry had a great first half, but was non-existent during the second half as was the rest of the Mavericks bench. In the end, Miami executed well down the stretch and the Mavericks had no answer. They missed plenty open looks and allowed Wade to take control of the game.
The bench will have to step up if the Mavericks intend on winning game two. That's all for now, I'm Aaron M and I hope you enjoyed the coverage.
Take care.
Game over, 92-84, stay tuned for the game recap.
Celebrations begin.
Wade to James, HUGEEE dunk that was. 91-79.
Wade to Bosh who produces an emphatic slam. Heat up 89-79 with 1:08 remaining and this one is over.
Ohhhhh Jason Terry, stupid foul. Got caught grabbing Chalmers.
Chalmers makes two and the lead back up to 8 for the Heat. Senseless foul by Terry.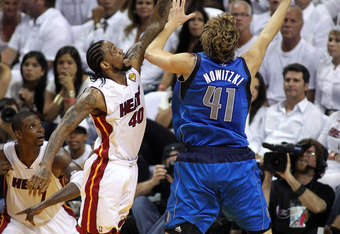 Dirk fouled, once again. The Mavericks give him the ball then become spectators as he makes things happen.
He makes both, 85-79 with 1:36 remaining in the game. Timeout on the floor.
Dirk continues to push, he drains a two point jumper. Two minutes remaining and the Heat lead by 8. Crowd getting comfortable now.
LeBron James with the hi-lite of the night. WOW. Stunning. Exploded, threw it down and got fouled in the process.
Emphatic and nasty.
Heat up 85-75.
Nowitzki fouled and makes both from the line, now a 7 point game with 2:56 remaining.
Wade with a block and Miami get the ball. Crowd alive and this is a nightmare for the Mavericks.
Bammmmm, three pointer by Wade. Heat lead by 9 with three minutes to go and this one appears to be over.
Have to give the Heat credit, when it counted, they were the better team. Still time left to make something happen but they are struggling with that shot.
Bosh fouled, clean strip and Nowitzki laughs it off.
Bosh makes both. 79-73, 3:44 left in the game.
Wade with a huge bucket, Heat up 7 with 4 minutes remaining. Magnificent shot that one and the crowd is as loud as they have been all night.
Marion quiets the crowd with an "And-1."
77-73, 3:58 remaining in the game.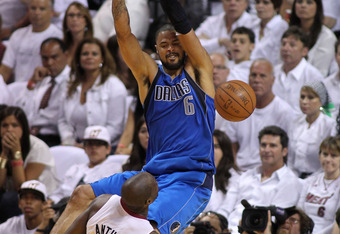 Foul on LeBron James, his fourth.
Heat are in the penalty. Chandler goes to the line and makes one of two. Shots are hard to come by at the moment and you cannot be missing the free ones.
Timeout on the floor, 75-70, Miami with a slim lead. 4:35 remaining in the game.
Dallas missing everything here, not the time you want to start laying bricks either.
Terry misses an open three, he has to hit that one. He has been non-existent this half.
5:30 left in the game, Heat lead 75-69
Heat lead back up to 6. Terry with an air-ball.
Dallas need to play sensibly here.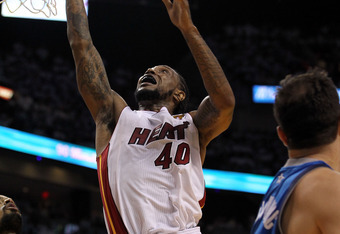 Haslem with an " And1." Have to foul him harder there or don't foul him at all. Timeout Dallas as they try to regroup. 6:34 left in this one and the Heat have a 5 point lead.
Another questionable call on the Mavericks, this time on Chandler for the offensive foul.
7 minutes to go and the Heat lead by three, 72-69.
Stevenson drains an open three, lead down to one possession.
Although both teams have struggled offensively they have been exceptional from three-point land this game.
18 three pointers have been made this game.
The Heat bench is significantly contributing more than the quiet Mavericks bench and this has been the difference.
Wade with a jumper, Heat match their largest lead at 6.
Dirk called for a loose ball foul, both teams shooting under 36%, timeout on the floor.
Bosh falls and the Heat are called for a 24 second shot clock violation.
Dallas make nothing happen offensively but Haslem responds with a short jumper. 70-66 now.
Wow, Haywood with an emphatic block on Bosh.
Nowitzki with another layup. 68-66 now with just under 10 minutes to go in the game.
Haywood makes one of two, 68-64 and Barea gets called for the foul. Senseless one, he was too aggressive when he didn't need to be.
Mike Miller who has been quiet all game nails the three.
Miami have 10 three-pointers. Crowd is alive and Miami lead by five with Haywood going to the line.
This article is
What is the duplicate article?
Why is this article offensive?
Where is this article plagiarized from?
Why is this article poorly edited?